The Arms Trade Treaty (ATT) is a controversial subject garnering much attention internationally in recent months. The first agreement to control arms sales, the Arms Trade Treaty enters into force on December 24, 2014 in an effort to control the illicit trade of weapons that are likely to be used illegally, to cause harm, create destruction, and infringe upon human rights in many areas of the world.
Adequate control over the illicit trade of such weapons has substantial implications for both politics and human rights, as small arms and light weapons are becoming increasingly prevalent in conflicts such as gang warfare, organized crime, civil wars, and terrorism. As the desire for greater control over the illicit trade of such weapons increases, so does the need to effectively track and trace them. The Arms Trade Treaty is the culmination of decades of debate about the need for greater arms control, building on the 2001 UN Programme of Action (PoA) and 2005 International Tracing Instrument (ITI).
Essentially, the Arms Trade Treaty requires governments to report the sale of all arms, aiming to diminish the illicit trade and/or sale of weapons that may be used to violate human rights around the world. With much being discussed in relation to the ATT around the web, we've rounded up 50 insights from thought leaders and industry publications related to the ATT. These excerpts, quotes, and insights encompass the implementation of the Arms Trade Treaty, compelling cases for the need for an ATT, logistics, data management, and weapons tracking implications, and concerns surrounding the impact of the ATT on Second Amendment rights.
Table of Contents:
About the Arms Trade Treaty
The Arms Trade Treaty was adopted by the United Nations on April 2, 2013. As more than 50 states have now ratified the treaty, it will go into effect on December 24, 2014. The following quotes and excerpts provide more detail about the purpose of the Arms Trade Treaty.



1. "The Arms Trade Treaty (ATT), adopted by overwhelming vote by the UN on 2 April 2013, is the first international Treaty aimed at regulating international transfers of conventional arms. The Treaty, though imperfect, sets an important basis for global action to control the conventional arms trade. It creates a new global norm against which states' practice will be measured, by other states and by international civil society." – Summary Analysis of the Arms Trade Treaty, ControlArms, Twitter: @controlarms
2. "The treaty prohibits states from exporting conventional weapons in violation of arms embargoes, or weapons that would be used for acts of genocide, crimes against humanity, war crimes or terrorism.
"It also requires states to prevent conventional weapons reaching the black market." – Barbara Plett, UN passes historic arms trade treaty by huge majority, BBC News, Twitter: @BBCBarbaraPlett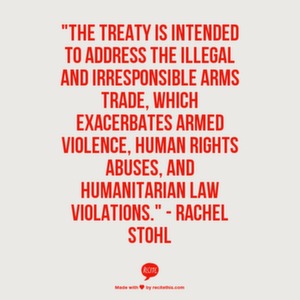 3. "The ATT establishes specific criteria that governments will have to apply when making international arms export decisions. The treaty is intended to address the illegal and irresponsible arms trade, which exacerbates armed violence, human rights abuses, and humanitarian law violations. The treaty applies specific standards to the global arms trade and requires governments to incorporate these standards into their national laws and regulations to cover several aspects of the international arms trade – particularly imports, exports, transit/transshipment, and brokering. The treaty establishes these standards to prevent the diversion of arms from the legal to the illicit market and to help mitigate the devastating impacts that the spread of conventional arms has on populations around the world." – Rachel Stohl, Arms Trade Treaty Reaches Major Milestone, Stimson, Twitter: @rachelstohl
4. "'Industry' is a diverse and large community. Responsible companies are immensely aware of the need for a global norm to regulate a global industry. Working in partnership with our government and civil society partners has been a unique and successful experience." – Andrew Wood, Director of Strategic Export Control at Rolls Royce, as quoted on 50 Celebrating 50
5. "The treaty 'will make a difference over time in contributing to the humanitarian objectives that were the original motivation' for the negotiations, said Thomas Countryman, U.S. assistant secretary of state for international security and nonproliferation, at a public forum at the Stimson Center in Washington on April 5. 'It will make a difference in reducing the supply of weapons to the worst people in the world, to those who are fueling conflict in Africa and elsewhere.'
"The treaty achieves 'a balance between the interests of importing and exporting states,' said Countryman, who was the lead U.S. negotiator of the treaty. 'Most importantly,' he said, it creates obligations for those countries, as well as for 'transit states.'" – Thomas Countryman, U.S. assistant secretary of state for international security and nonproliferation, as quoted by Jeff Abramson in Arms Control Today, Special Report: UN General Assembly Adopts Arms Trade Treaty In Overwhelming Vote, Arms Control Association, Twitter: @jeffabramson

Why the Arms Trade Treaty is Necessary
The Arms Trade Treaty aims to provide a consistent framework for the import and export of weapons, in an effort to reduce the illicit trade of arms which are likely to be used to violate human rights. Violence is increasingly common in many parts of the world; the Arms Trade Treaty is an important first step in limiting access to weapons commonly used in conflict zones.



6. "In 2010, only 90 of the world's governments reported having basic national controls on the import of small arms and light weapons.
"Why is there a legal vacuum in international arms trade?
"Because the world has never agreed to have a set of international rules on arms trade. As incredible as this may seem, we have the most cumbersome rules on selling bananas and MP3 players, but no solid, internationally-binding rules on arms trade." – Oxfam.org, Twitter: @Oxfam
7. "Comparison among national homicide counts, which are usually based on law enforcement and criminal justice system records, is problematic.  Under-reporting; differences between national legal systems in their definitions; and differences in recording practices often make it impossible to compare crime data among countries." – Tracking homicides using vital registration data, Small Arms Survey News, Twitter: @SmallArmsSurvey
8. "Conventional arms are sold to armed combatants in the world's conflict zones — Sudan, Somalia, Syria, Mexico, Colombia, Iraq, Iran, Kashmir, Burma, Darfur, Republic of the Congo, and other countries and regions. These weapons often are used to commit human rights violations and atrocities. Women and children frequently are the victims of these abuses. Ongoing armed combat, fueled by unrestricted arms trafficking, destabilizes entire regions, disrupts all aspects of life, and creates large populations of refugees. Oxfam International estimates that the African continent loses at least $18 billion in annual economic activity from the use of imported conventional weapons — a loss that exceeds the combined annual amount of all international development aid to African nations." – Eileen Harrington, as quoted by Mary Ann McGivern in National Catholic Reporter, originally appearing in the in-house Loretto newsletter, Interchange, Twitter: @NCRonline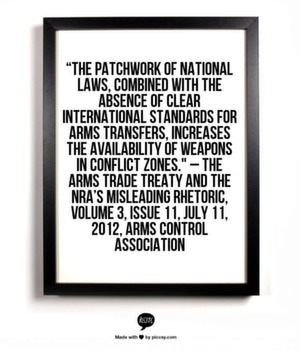 9. "The ongoing conflict in Syria-like recent wars in Burma, Congo, Liberia, Sudan, and Sierra Leone-underscores the urgent need for common standards for international transfers of conventional weapons and ammunition, as well as legally-binding requirements for all states to review exports and imports–particularly for arms transfers that could lead to human rights abuses or violate international arms embargoes.
"While the United States and a few other countries have relatively tough regulations governing the trade of weapons, many countries have weak or ineffective regulations, if they have any at all.
"The patchwork of national laws, combined with the absence of clear international standards for arms transfers, increases the availability of weapons in conflict zones. Irresponsible arms suppliers and brokers can exploit these conditions to sell weapons to unscrupulous governments, criminals, and insurgents, including those fighting U.S. troops." – The Arms Trade Treaty and the NRA's Misleading Rhetoric, Volume 3, Issue 11, July 11, 2012, Arms Control Association, Twitter: @armscontrolnow
10. "It is estimated that roughly half a million people are killed every year with firearms. People are killed in the battlefield as well as by state repression and criminal gangs.
"Many other millions around the world die because they are being denied access to health care, water or food as they are trapped in conflicts fuelled by the poorly controlled flow of arms. In the Democratic Republic of the Congo, for example, it is estimated more than five million people died indirectly because of the armed conflict since 1998.
"And for every person who is killed in armed conflict and armed violence, we have to consider the many more people that are injured and tortured, abused, forcibly disappeared, taken hostage or otherwise denied their human rights at the point of a gun.
"The problem is absolutely massive and on-going as seen now in Syria, Iraq, Libya and South Sudan. Irresponsible arms trading can sooner or later in many parts of the world destroy every area of people's lives and livelihoods." – Brian Wood, Amnesty International's Arms Expert, Global Arms Trade Treaty – a beginners' guide: 50th ratification update, Amnesty.org, Twitter: @AmnestyOnline
11. "I wish every official with authority over arms exports — especially those in Washington, Beijing and Moscow — could experience the human cost of the irresponsible flow of munitions into the hands of dictators, war lords, murderous drug armies, and militias the way I experienced it; one or two deaths at a time, up close and personal.
"Last week's carnage in Nairobi underscores the importance of curtailing the flow of guns into the hands of governments like that of Syria or groups like the Somali-based Al-Shabab who use conventional arms to commit atrocities. The Arms Trade Treaty (ATT), finally signed by the United States last week, is designed to do just that. Let's hope the U.S. signature places more political pressure on China and Russia to follow suit." – Frank Jannuzi, Deputy Executive Director, Amnesty International USA, Journey From the Killing Fields: An Arms Trade Treaty at Last, Huffington Post, Twitter: @FrankJannuzi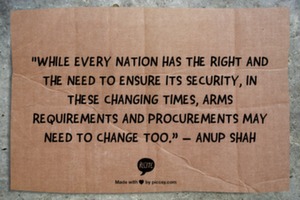 12. "The arms trade is a major cause of human rights abuses. Some governments spend more on military expenditure than on social development, communications infrastructure and health combined. While every nation has the right and the need to ensure its security, in these changing times, arms requirements and procurements may need to change too." – Anup Shah, Arms Trade—a major cause of suffering, GlobalIssues.org, Twitter: @globalissuesorg
13. The U.S. supplies foreign lands with weapons – and, reportedly, loses track of many of them. "A government oversight agency says the Pentagon has lost track of more than 40 percent of the firearms it has provided to Afghanistan's security forces, prompting officials to contemplate a 'carrot and stick' approach to arming the fledgling military.
"A Special Inspector General for Afghanistan Reconstruction report scheduled to be made public Monday says the Pentagon's two primary information systems that track weapons sent to Afghanistan — the Operational Verification of Reliable Logistics Oversight Database and the Security Cooperation Information Portal — are rife with errors." – Maggie Ybarra, Report: 40% of weapons sent to Afghanistan are unaccounted for, The Washington Times, Twitter: @WashTimes


14. According to a report by Liberty News, "Over the past decade, the Pentagon has provided what the report describes as more than 747,000 weapons and auxiliary equipment to the Afghan National Security Forces at a cost of $626 million. Small arms, such as rifles, pistols, machine guns, grenade launchers and shotguns, account for the majority of those weapons.
"Of the 474,823 serial numbers recorded in the oversight database, 203,888 of those numbers — or about 43 percent — had missing or duplicate information, according to data collected by auditors. Auditors discovered in the course of their research that 24,520 serial numbers were repeated in the database, often more than once, and that no shipping or receiving dates were attached to 50,304 serial numbers.
"A multinational military formation known as Combined Security Transition Command-Afghanistan is supposed to be overseeing the delivery and transfer of the weapons to security forces. Data collected by auditors, however, shows that security command has fallen short of accountability requirements.
"Equally concerning to the auditors is that firearms tracking methods employed by Afghanistan's security forces are based on a combination of hard-copy documents, handwritten records and Microsoft Excel spreadsheets, which sometimes are not entered into the system correctly, the report says." – Eric Odom, ARMING THE ENEMY: Pentagon Admits Losing Track of Hundreds of Thousands of Weapons in Afghanistan, Liberty News, Twitter: @ericjodom
15. "Currently there are more laws governing the international sale of bananas and iPods than grenade launchers and AK-47s. As a result, the bullets killing our troops in Afghanistan and the weapons used by warlords to commit genocide in Africa are purchased on the black market, which thrives in this unregulated environment. The Arms Trade Treaty is an opportunity to stem the flow of illegal weapons and ammunition to warlords, dictators and terrorists." – Arms Trade Treaty, American Values Network, Twitter: @AmerValuesNet


16. An effort years and years in the making, the need for tighter regulations on global arms trade has been apparent for decades. In a 2011 press release, "Admiral Stuart Platt, defense contractor, combat veteran, and retired US Navy Rear Admiral gave his unequivocal support to further regulations on arms trade:
"'The nature of battle is changing. Enemy combatants don't have uniforms as they hide in the shadows. Our desire as responsible nations not to hurt civilians often exposes our armed forces to take first fire.
"'We need to follow the logistic trail of arms, weapons, lethal combat equipments and tools. We need to know where they are going so that our leaders can take action in advance. We need knowledge of the flow of weapons.
"'Now for these illegal arms traders today's gun runners, smugglers, terrorists, these people dwell deep in the devil's inferno. Our armed forces are more at risk than they should if arms flow freely in the shadowy networks.'" – Admiral Stuart Platt, as quoted in Faith and Military Leaders Say Victor Bout's Trial Highlights Need for Arms Trade Treaty, The American Values Network, Twitter: @AmerValuesNet
17. Victor Bout was the focus of much discussion surrounding the need for an Arms Trade Treaty back in 2011. In an interview, Andrew Feinstein, a former South African MP and author of the book "The Shadow World: Inside the Global Arms Trade," says, "The boundaries between the formal arms trade and 'the shadow world' are extremely fuzzy. Someone like Viktor Bout [now on trial in New York] has actually done logistics work for the US and the UN. There is often a relationship between a country's departments of defence and the big arms producers, but also between their intelligence agencies and the illicit dealers. There was an Interpol warrant out for Bout's arrest for nine years, and during that time the US was using him in Iraq and Afghanistan." – Andrew Feinstein, as quoted in Quick Study: The Global Arms Trade – Highly lethal and highly under-regulated, Economist.com, Prospero, Twitter: @andrewfeinstein

Illicit Weapons Trade Logistics
Illicit weapons trade is a common problem, and the control of such is heavily dependent on the ability of states to maintain tighter logistics controls. Illicit weapons trade logistics is a complex, interwoven system that presents a multitude of challenges in enforcing import and export controls.


18. "The structure of the small arms black market today is a complex network stretching across the globe, siphoning the gains of globalisation. At heart, it's essential to map out the structure of illicit arms trade which not only includes black market, but also grey market and craft production.
"The journey of small arms begins from the legal circuit and eventually falls into illegal clutches. There are multiple ways through which the legally originated arms get diverted to illegal spheres. Shipping through dangerous routes, stockpile mismanagement, loots, corruption among officials, warzone seizures are a few of them." – Aditi Malhotra, The Illicit Trade Of Small Arms, Geopolitical Monitor, Twitter: @GPMonitor
19. "Beyond specific obligations imposed by binding UN Security Council arms embargoes, many states have recognised the role that some transport service providers have played in helping to transfer arms shipments internationally to unauthorised or unlawful end-users or end-uses. This was recognised in the 2007 report of the UN Group of Governmental Experts on combating illicit brokering in small arms and light weapons, which recommended that all states should be encouraged to adequately regulate through their national laws "closely associated activities" of arms brokering, including "transport [and] freight forwarding". The Group's recommendations, which all states have been encouraged to implement by a 2007 UN General Assembly resolution, backed by 179 states, reflect the widespread findings of arms embargo investigative panels established by the UN Security Council, as well as investigative reports by Amnesty International and other non-governmental organisations. This extensive body of detailed investigative work has highlighted the critical role played by cargo carriers, ship and aircraft owners, shipping brokers, charterers and freight forwarders in supplying shipments of arms and ammunition to arms-embargoed states and armed opposition groups, and to those committing serious violations of international law." – Deadly Movements: Transportation Controls in the Arms Trade Treaty, ControlArms.org, Twitter: @controlarms

Arms Trade Treaty Implementation
The Arms Trade Treaty provides a general focus for a global effort to control the illicit trade of weapons, but individual states maintain the power to determine how the treaty will be implemented within their borders. Much work remains to be done in successfully implementing the Arms Trade Treaty.


20. "The ATT outlines a number of obligations for states-parties to fulfill so that the treaty can be effective in regulating international arms transfers and preventing and combating illicit trade. The treaty text does not provide details on how states should fulfill these obligations, as the approach may vary by country. Experience from other areas shows that states can use different mechanisms to achieve the same goal. For example, an obligation to regulate arms brokering activities, such as introducing a buyer and seller of arms to each other, can be achieved by creating a licensing system for brokering activities or by banning such activities altogether." – Paul Holtom and Mark Bromley, Next Steps for the Arms Trade Treaty: Securing Early Entry Into Force, Arms Control Association, Twitter: @armscontrolnow
21. "All three sides of this triangle matter, you can have comprehensive scope; you can have rigorous criteria; but if you don't have the robust mechanisms and systems and procedures for how to make these things actually work in practice, then it's all just words on paper." – Roy Isbister, Saferworld's Small Arms and Transfer Controls Team leader, Arms Trade Treaty implementation webinar (Twitter: @Saferworld). In this video, Isbister points out that states will need data management systems, as well as lists of items, transactions, and the authority and ability to enforce the controls, in addition to public reporting systems and forums for ongoing discussion.


22. "The ATT framework will not come into effect until it has been ratified or acceded to by a total of 50 states. So far, six countries have ratified the treaty, including Germany, the third largest global arms trader. The implementation of the framework could constitute a problem for smaller, developing nations, as it requires infrastructure and resources to monitor illegal border crossings and other conduits for the proliferation of the illicit arms trade. As author Ben Coetzee from the Institute for Security Studies in South Africa pointed out in his article 'Making the Arms Trade Treaty work in practice is the real challenge for Africa': 'The implications of ratifying the ATT will be enormous for under-staffed and technically decrepit states.'" – Lia Petridis Maiello, UN-Initiative UNSCAR: Helping Smaller Nations Implement the Arms Trade Treaty (ATT), Huffington Post, Twitter: @Lia_P_Maiello
23. "If states were to adopt and successfully implement common standards for arms transfer decisions as established in the ATT, not only will human security be strengthened, the various regulatory approaches that exist in today's increasingly globalized world will be harmonized. Broad implementation of common standards will help 'level the playing field.' It is not in the interests of responsible exporters to see their irresponsible promoting instability. Less well-regulated suppliers entering the market destabilizes countries and regions and adversely affects industry that complies with the current international security framework. Moreover, the global defense industry's reliance on the global supply chain yields great opportunities, whereas divergent national regulatory regimes can complicate business by increasing the burden held by industry and making arms transfer processes more cumbersome and expensive." – Rachel Stohl, senior associate with the Managing Across Boundaries Initiative at the nonpartisan Stimson Center, Coordinating a Global Strategy for the International Arms Trade, The International Relations and Security Network, Twitter: @rachelstohl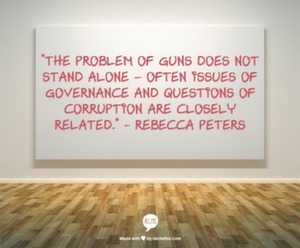 24. When asked, "How can the enforcement of gun-control laws be ensured?" Rebecca Peters responds, "The problem of guns does not stand alone – often issues of governance and questions of corruption are closely related. Police in many countries where armed violence is a problem often do not make the effort to enforce gun-control laws or are involved in the illegal gun trade themselves. Police are also known to misuse their weapons, or to abuse their own positions of power. All these contribute to a desire among citizens be armed – their own government is failing to protect them or, indeed, actively attacks them.
"In addition, there must be policies in place that are designed in such a way that they can be successfully implemented. For example, a gun law should ensure that all weapons are registered, just like cars. Many laws demand that the gun is registered only after it is bought, thereby effectively making registration optional. In some countries, the seller must register the transaction upon purchase of the gun, and the buyer cannot take possession of the gun until the registration process is complete.
"Sometimes laws are designed in such a way that they undermine their own effectiveness – the point in a transaction at which a gun is registered may seem to be very minor, but in fact makes all the difference. IANSA helps to develop principles for effective laws on civilian gun possession, to ensure that laws have the greatest chance of being enforced. In addition, effective enforcement will depend on improving police integrity and record-keeping capacity." – Rebecca Peters, Director of IANSA, the International Action Network on Small Arms, as quoted by IRIN News, Twitter: @irinnews
25. "The Arms Trade Treaty obligates member states to monitor arms exports and ensure that weapons don't cross existing arms embargoes or end up being used for human-rights abuses, including terrorism. Member states, with the assistance of the U.N., will put into place enforceable, standardized arms import and export regulations (much like those that already exist in the U.S.) and be expected to track the destination of exports to ensure they don't end up in the wrong hands. Ideally, that means limiting the inflow of deadly weapons into places like Syria." – Noah Rayman, The Real News at the U.N.: U.S. Signs Arms Trade Treaty, TIME, Twitter: @noahrayman
26. "There is a general understanding that the Arms Trade Treaty (ATT) will be implemented primarily at the national level, with decisions on international arms transfers made by individual states. There is little or no appetite amongst governments for licensing or authorisation decisions to be taken by a supranational body. Accordingly, in order to fully implement the ATT, all states will require a national system for the control of international transfers of conventional arms that includes laws, regulations and administrative procedures and capacities that enable licensing/authorisation provisions, enforcement mechanisms and an external communication function (including, for example, mechanisms allowing outreach to industry, the capacity to produce reports on their international arms transfer activities, and the ability to issue, and respond to, requests for information on international arms transfer matters).
"In order to support and facilitate ATT implementation, provision will also be required for international mechanisms and structures that, inter alia: ensure meaningful reporting, information-sharing, record-keeping and transparency; allow for dialogue among State Parties on issues relevant to the application of the Treaty; facilitate co-operation among States Parties and the provision and co-ordination of appropriate assistance for implementation; and enable problem solving, dispute management and on-going Treaty maintenance and development. Many of these aspects are interdependent in that the approach that is adopted to any one will have implications for the others." – An Implementation Framework for the Arms Trade Treaty, Saferworld, Twitter: @Saferworld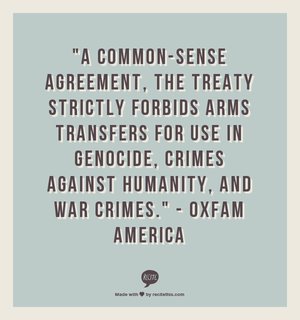 27. The Arms Trade Treaty must be ratified by at least 50 states in order to come into full force. Oxfam America shares an informative infographic depicting the need for an Arms Trade Treaty and notes, "US Secretary of State John Kerry signs the Arms Trade Treaty in New York on September 25th.
"The world's biggest exporter of arms—the US—has joined more than 100 other nations in signing the first-ever international arms trade treaty. A common-sense agreement, the treaty strictly forbids arms transfers for use in genocide, crimes against humanity, and war crimes. Oxfam is urging the US to live up to the spirit of the treaty by not authorizing any transfer of weapons where there is a major risk of violations of international human rights and humanitarian law, such as in the current conflict in Syria.
"Oxfam also called on the US Senate to quickly ratify the treaty, making a strong argument for that important step in a new briefing paper, 'Saving lives with common sense: The case for continued US support for the Arms Trade Treaty.' The treaty comes into force when 50 states have ratified it. Advocates expect that to happen before the end of 2014. In the US, ratification will require the consent of two-thirds of the Senate." – Now is the Time for an Arms Trade Treaty, Oxfam America, Twitter: @Oxfam
28. The Arms Trade Treaty has already reached the 50-ratification benchmark, meaning it will go into effect on December 24, 2014. "With state support moving at an unprecedented pace, the Arms Trade Treaty will enter into force on Dec. 24, 2014, only 18 months after it was opened for signature.
"Eight states – Argentina, the Bahamas, Bosnia and Herzegovina, the Czech Republic, Saint Lucia, Portugal, Senegal and Uruguay – ratified the Arms Trade Treaty (ATT) at a special event at the United Nations this past Thursday, Sep. 25, pushing the number of states parties up to 53.
"As per article 22 of the treaty, the ATT comes into force as a part of international law 90 days after the 50th instrument of ratification is deposited.
"According to a statement by the Control Arms coalition, 'The ATT is one of the fastest arms agreements to move toward entry into force.'" – Joel Jaeger, Arms Trade Treaty Gains Momentum with 50th Ratification, Inter Press Service News Agency, Twitter: @ipsnews


29. The need for more advanced states to assist those without the current frameworks, knowledge, or capacity to implement adequate systems to comply with the Arms Trade Treaty is one that's been frequently addressed in the media, by analysts, and by organizations with vested interest in the advancement of the Arms Trade Treaty. "The adoption of the Arms Trade Treaty (ATT) in the United Nations General Assembly in April 2013 represented the successful conclusion of years of deliberations and negotiations among UN member states. During the process of negotiating the ATT a large number of states in the Global South stressed the need for the treaty to include provisions for financial, technical and material assistance aimed at helping states to fulfil treaty obligations. In particular, states stressed the need for assistance to draft legislation, build enforcement capacities and provide training to customs and law enforcement agencies. The challenges for states that do not have robust transfer control systems and which have limited capacities to implement the ATT were acknowledged by states in the Global North, which also indicated potential areas where assistance could be provided, such as establishing and strengthening legislative and administrative frameworks, and licensing and enforcement capacities." – Mark Bromley and Paul Holtom, Arms Trade Treaty Assistance: Identifying a Role for the European Union, EU Non-Proliferation Consortium, Twitter: @SIPRIorg

Data Management, Weapons Tracking, and Reporting
Implementing the Arms Trade Treaty depends substantially on the implementation of consistent, adequate procedures for tracking weapons, reporting, and managing the volume of data required to maintain tighter control over arms trade among states. Some states will require the aid of those with more sophisticated technology in creating appropriate systems and procedures for weapons tracking and reporting.
30. "Article 10 of the ATT draft text allows states the freedom to record and report their arms trade 'according to their national laws.' States may 'exclude commercially sensitive or national security information.' The current proposal does not consider that the majority of states do not publish national reports on their arms exports and imports, and in several states the national regulations on transparency are minimal, include ineffective requirements, or are purposely weak, thereby reducing record-keeping to an exercise in creative administration. More often, verification mechanisms and law enforcement are underfunded or non-existent. If certain transfers are allowed to go unaccounted for under the guise of commercially sensitive or national security information, the ATT will provide an excuse for governments to hide information on the transfer of arms used in crimes, human rights violations and the excessive accumulation of conventional arms. Only a firm, robust, and mandatory framework for reporting can serve the purpose of a confidence-building ATT; vague, incomplete, unverifiable or 'censored' information will not. – Sergio Finardi, Brian Wood, Peter Danssaert, Ken Matthysen, The Arms Trade Treaty: Building a Path to Disarmament, Solutions, TransArmsUSA.org, Twitter: @SolutionsMag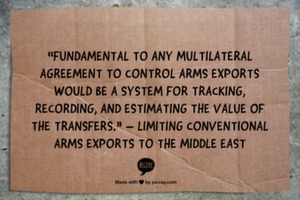 31. The control of global arms trade has been a subject of concern for decades. For instance, even in reports dating back to 1992 the need for a standardized system of tracking and recording data relating to the transfer of arms is presented in a report from the U.S. Congressional Budget Office: "Fundamental to any multilateral agreement to control arms exports would be a system for tracking, recording, and estimating the value of the transfers." – Limiting conventional arms exports to the Middle East, United States Congressional Budget Office, excerpt via Google Books
32. "In his keynote address to the Stimson Center gathering, Assistant Secretary of State for International Security and Nonproliferation Thomas Countryman said that 'providing defense equipment to reliable partners in a responsible manner actually enhances security, stability, and promotion of the rule of law.'
"He argued that a successful treaty would compel countries without adequate export controls to improve their national systems, but he cautioned that even a robust treaty would 'not fundamentally change the nature of international politics nor can it by itself bring an end to the festering international and civil conflicts around the world.'
"Countryman also spoke about U.S. policy on some of the more contentious issues surrounding an ATT, including whether ammunition should be included within its scope. Although the United States already licenses its own import and export of ammunition, he said that the Obama administration had resisted incorporating ammunition because the logistics of monitoring end use through the ATT would be 'hugely impractical.'"
"'We have asked our international partners, who proposed this inclusion, to lay out some specific means where such a fungible and consumable commodity could effectively and practically be accounted for,' said Countryman, adding that he was skeptical that a workable proposal for addressing ammunition through an ATT was at hand. Countryman gave a similar response in his interview with Arms Control Today (see page 21)." – Farrah Zughni, Hurdles for Arms Trade Treaty Underscored, Arms Control Association, Twitter: @armscontrolnow


33. "We suggest there are two areas of focus where the United Nations can make a difference. The first is strict management of government stockpiles. The second is proper marking of all firearm receivers, and more consistent tracing of those found to have been used illegally." – Richard Patterson, Managing Director, Sporting Arms and Ammunition Manufacturers' Institute, Inc., First Committee of the General Assembly of the United Nations, SAAMI.org
34. "Other States are beginning the process of improving their national control systems to be in compliance with Treaty requirements. The ATT outlines a number of obligations for States Parties to fulfill in order to regulate international arms transfers and prevent and combat illicit trade. The Treaty text does not, however, provide specific details on how States should fulfill these obligations.
"Leading efforts in this endeavor is the Stimson Center and its partner at the University of Coventry, which have developed the Arms Trade Treaty – Baseline Assessment Project (ATT-BAP). The project's premise is that to successfully implement the ATT, States must first identify their current requirements and needed capacities and resources. Many States have not cataloged their existing systems or identified the ways in which their capabilities can be applied to ATT implementation. The ATT-BAP helps States better understand these factors by providing a baseline assessment survey and ratification checklist to identify any necessary gaps in their current systems in order to effectively implement the Treaty. Upon completion of the ATT-BAP survey and ratification checklist, States will be able to identify what they already do, what they need to do, and what type of assistance they may require to implement the Arms Trade Treaty.
"Data from each completed survey will be used to highlight established best practices and recommend specific legislative and regulatory requirements and approaches needed for States to implement the provisions of the Treaty. This data will also serve as a tool for future ATT implementation projects, as well as those focused on monitoring the impact of and progress resulting from the Treaty's adoption over time." – Rachel Stohl, Establishing The Baseline – The Arms Trade Treaty, One Year Later, Stimson.org, Twitter: @rachelstohl


35. The present system in the U.S. for tracking the export of weapons is at times ineffective, according to reports. One July 2014 report appearing in Reuters notes, "The U.S. government has failed to effectively track many of the more than 465,000 light weapons it has supplied to Afghanistan's army and police, creating the risk that machine guns and other small arms could fall into insurgent hands," citing a report from the office of the Special Inspector General for Afghanistan Reconstruction (SIGAR), an independent U.S. government watchdog. The report "found that multiple databases maintained by the U.S. government often had missing or duplicate information about weapons provided to Afghan forces."
The article goes on to cite additional problems beyond the U.S.'s tracking programs. "SIGAR said its investigation into weapons oversight found even more serious problems in the Afghan government's system for keeping track of small arms once it receives them." – U.S., Afghanistan fail to track U.S.-supplied small arms: watchdog, Reuters, Twitter: @ReutersWorld
36. "A global system for tracking illicit arms and ammunition is central to improving accountability in the international arms trade and preventing arms getting into the wrong hands. The United Nations negotiations to establish international Marking and Tracing controls present states with an historic opportunity to take a tough stance against the worldwide proliferation of illicit arms and the use of arms for violations of human rights and international humanitarian law and to make real progress." – Marking and Tracing Arms and Ammunition: a central piece of the arms control puzzle, Control Arms, appearing on Essex.ac.uk, Twitter: @Uni_of_Essex


37. "Camcode believes in improving transparency in arms trade by means of weapons tracking," said Jon Keserich, Managing Director. "What began as a program to help organizations identify, track and control property has now evolved into a mission to help defense organizations and nation states prevent illicit trade of weapons used in civil wars, terrorism, organized crime, gang warfare and other conflicts." – Jon Keserich, Camcode Global, as quoted in a press release appearing on Benzinga, Twitter: @Camcode
38. "The tracing of illicit firearms is crucial component of the international strategy and framework to combat the illicit trade in small arms and light weapons in all its aspects." – Interpol, Twitter: @INTERPOL_HQ


39. On the Mapping Arms Data project: "Drawing from existing data sources, the projectMAD website tracks the global trade in small arms, light weapons, and ammunition. Small arms are responsible for the vast majority of conflict deaths and homicidal violence across the globe yet the trade is poorly regulated and penetrated by illicit networks.
"The MAD project increases transparency and promotes accountability in the global trade of small arms and ammunition in order to understand how they threaten security and development throughout the world." – Robert Muggah, the Igarapé Institute, Peace Research Institute Oslo (PRIO), appearing on MultipleJournalism.org
40. In a 2013 article discussing the challenges faced in controlling crime, particularly due to the lack of tracking mechanisms currently in place, Bloomberg reports, "Without a computer database, ATF traces a gun by contacting the manufacturer to identify the distributor, who will know the dealer. One of those three sources typically will be out of business, which forces ATF to sift through 445 million snapshot images of sales records, said Ginger Colbrun, a spokeswoman." – Michael C. Bender, Gun Lobby Helps Block Data Collection by Crimefighters, Bloomberg, Twitter: @BloombergNews


41. "The uncontrolled spread of small arms and light weapons and their ammunition sustains conflicts, exacerbates violence, fuels crime and terrorism, undermines political and economic development and has already caused millions of victims around the world.
"As part of its efforts to tackle this issue, the EU funds the iTrace project (Council Decision 2013/698/CFSP). It provides policy makers with precise, verified information on transfers of diverted small arms and light weapons (SALW), larger conventional weapons and ammunition. The project, which is implemented by Conflict Armament Research, combines an extensive programme of field investigations in conflict-affected countries with a powerful public access weapons tracking database." – EU supports weapons tracking system iTrace, European Union External Action, Twitter: @eu_eeas
42. While the Arms Trade Treaty focuses on international imports and exports, there's huge potential in gathering data on even domestic weapons, such as those used by police forces. In an article on Forbes, Aaron Tilley talks Internet-connected guns for police and how it may be the next step in new technology for police departments: "'There's an overall transition with more sensors out there in the world to invade our privacy,' said Jay Stanley, a senior policy analyst at ACLU's Speech, Privacy and Technology Project, in a phone interview. 'Using sensors to increase transparency with police officers is maybe a silver lining to all of this. … When the police shoot a gun, it's a matter of public importance.'
"Like dash cams or body cameras on officers, the Yardarm sensor could be used to collect more data with what's happening while officers are on duty. It could help reconstruct what actually happened after an incident." – Aaron Tilley, Internet-Connected Guns Are The Next Step For Data-Hungry Police, Forbes, Twitter: @aatilley


43. There's also talk about how the ATT impacts or overlaps with the UN Programme of Action to Prevent, Combat and Eradicate the Illicit Trade in Small Arms and Light Weapons in All Its Aspects (PoA). "The simple truth is that the practical and political impact of the ATT deliberations on the outcome of the 2nd Review Conference and the PoA process as a whole cannot be accurately predicted. What is clear, however, is that while the ATT has the potential to enhance and supplement the PoA provisions relating to international transfers, it cannot and should not be viewed as replacing the PoA in its entirety. International transfer controls are but one aspect of the PoA amid a broad range of arms control measures to which UN member states have committed themselves. The PoA offers a platform in terms of existing small arms control measures that could and should be built on in an ATT, and care should be taken to avoid contradiction and ensure complementarity between the two instruments. The PoA process also provides some lessons learned, including a lack of specificity and benchmarks that make implementation difficult to assess, and the absence of an extensive follow-up mechanism." – Sarah Parker, An Arms Trade Treaty: Will It Support or Supplant the PoA?, SmallArmsSurvey.org Research Notes, Twitter: @SmallArmsSurvey
44. While the Arms Trade Treaty has been ratified by more than the 50 states required to facilitate its implementation, there's still much work to be done. Namely, states must determine universal processes and systems for efficiently tracking the weapons imported and exported by individual states. The data gathered through this process will drive further decision-making. "In order for the ATT to fulfil its potential of bringing greater responsibility and transparency to the international arms trade, states parties and other ATT stakeholders will need to give thought to the mechanisms needed to enable effective treaty implementation and to facilitate universalization. While the treaty lays out a basic framework for implementation, many key decisions can only be taken after it enters into force." – Sibylle Bauer, Paul Beijer, and Mark Bromley, The Arms Trade Treaty: Challenges for the First Conference of States Parties, SIPRI Insights on Peace and Security, Twitter: @SIPRIorg

On Whether the Arms Trade Treaty Infringes on Second Amendment Rights
There is much discussion among advocates for Second Amendment rights, with concerns being raised that the Arms Trade Treaty infringes on Americans' right to bear arms. However, many experts have clarified the Arms Trade Treaty, noting that the ATT does not impact the trade or sale of arms within the United States; rather, the importing and exporting of weapons between the United States and other states around the world.


45. "I want to be clear both about what this treaty is, but I also want to be clear about what it isn't. This is about keeping weapons out of the hands of terrorists and rogue actors. This is about reducing the risk of international transfers of conventional arms that will be used to carry out the world's worst crimes. This is about keeping Americans safe and keeping America strong. And this is about promoting international peace and global security. And this is about advancing important humanitarian goals.
"I also want to be clear about what this treaty is not about. This treaty will not diminish anyone's freedom. In fact, the treaty recognizes the freedom of both individuals and states to obtain, possess, and use arms for legitimate purposes. Make no mistake, we would never think about supporting a treaty that is inconsistent with the rights of Americans, the rights of American citizens, to be able to exercise their guaranteed rights under our constitution. This treaty reaffirms the sovereign right of each country to decide for itself, consistent with its own constitutional and legal requirements, how to deal with the conventional arms that are exclusively used within its borders." – Secretary John Kerry, Remarks at the Arms Trade Treaty Signing Ceremony, as quoted by the U.S. Department of State, Twitter: @StateDept
46. "The treaty begins with a preamble that 'reaffirms the sovereign right of any State to regulate and control conventional arms exclusively within its territory, pursuant to its own legal or constitutional system.' This statement isn't buried in some footnote; it's found at the very beginning of the text. Now please correct me if I'm wrong, but doesn't this mean that our government, and not the United Nations, gets to figure out how guns will be handled within the United States?
And what about the question of end users, because here's where the NRA believes there lurks an attempt to create not just a national, but an international registry of all guns. I quote again from the treaty text: 'Each State Party shall maintain national records, pursuant to its national laws and regulations, of its issuance of export authorizations or its actual exports of the conventional arms…' Now note what it says about imports: 'Each State Party is encouraged to include in those records: the quantity, value, model/type, authorized international transfers of conventional arms actually transferred, details of exporting State(s), importing State(s), transit and trans-shipment State(s), and end users, as appropriate.'
This is in fact no different than what U.S. exporters and importers must now do to comply with State Department and ATF regulations on export and import of small arms. These regulations are required to be followed by anyone who imports guns into the United States. But the operative word in the Treaty is encouraged; not required as in the case of U.S. law. Signatories to this treaty are not bound by any requirements to either compile lists of import end-users (which U.S. importers already compile) or deliver such lists to any international body. The only required record-keeping involves the destination of exports, and correct me if I'm wrong, but only American citizens possess Second Amendment guarantees." – Mike Weisser, What Does The Arms Trade Treaty Really Say?, Huffington Post, Twitter: @HuffingtonPost


47. While many critics of the ATT express concern that the Treaty is merely the first step in a larger gun-grabbing attempt, proponents of the ATT continue to emphasize the fact that the Treaty focuses on international importing and exporting of weapons that are likely to be used to infringe upon human rights. "Rasha Abul-Rahim of Amnesty International thinks that though the U.S. has a large pro-gun population, it has taken steps to further regulate conventional arms sales.
"'Basically the directive pledges not to export arms where there's a likelihood that the weapons transferred will be likely to be used for genocide or other atrocities, or will be used to violate human rights law or international humanitarian law,' Abul-Rahim told german publication Deutsch Welle on Thursday. 'This is a positive development and an indication that the U.S. could ratify in the future.'" – Rasha Abul-Rahim, Amnesty International, as quoted in U.S. advisory council responds to recent ratification of arms trade treaty, Guns.com, Twitter: @Guns_com
48. PolitiFact.com did some investigating into claims by the NRA and political leaders regarding the potential of the ATT to infringe upon Americans' Second Amendment rights. "The National Rifle Association issued a statement after Secretary of State John Kerry signed the treaty saying it 'threatens individual firearm ownership and an invasive registration scheme.' Despite all signs to the contrary, the NRA and other groups opposed to the treaty insist it will create a slippery slope leading to a national gun registry.
"However, previous PolitiFact checks don't back that up. PolitiFact Georgia, in an Aug. 12, 2012 story, interviewed legal experts and concluded, '…even in the unlikely event that the U.N. creates a treaty that provides for domestic registries and the U.S. Senate ratifies it, it would not 'almost certainly force' the U.S. to create one,' as a Georgia congressman had alleged." PolitiFact.com sums up this analysis with, "The claim is all flash and no powder. We rate it False." – Dana Tims, Will the U.N. Arms Trade Treaty infringe on our right to keep and bear arms?, PolitiFact.com, Twitter: @PolitiFact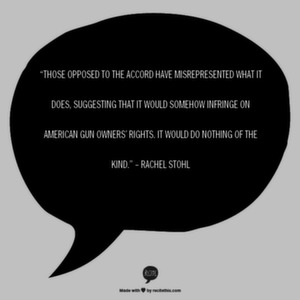 49. "The Arms Trade Treaty is consistent with America's national security interests, foreign policy goals, business interests and moral traditions, which is why United States negotiators worked so hard to create it.
"So what's behind the foreboding whispers? Some truly cynical domestic politics, it would appear.
"Those opposed to the accord have misrepresented what it does, suggesting that it would somehow infringe on American gun owners' rights. It would do nothing of the kind." – Rachel Stohl, Tell the Truth About the Arms Treaty, The New York Times, Twitter: @rachelstohl
50. Some political leaders, such as Texas Attorney General Greg Abbott, have recognized that the Arms Trade Treaty actually does not contain language that infringes on Second Amendment Rights, but continue to cite concerns that the ATT merely opens the door for future regulations that could, in fact, do so. But the American Bar Association squashes these fears: "Counter to Abbott's claim that the United Nations would be able to interpret the treaty in a way that would violate individual ownership rights, the American Bar Association has concluded that Americans needn't fear such an outcome. As the ABA points out in their white paper, import restrictions on firearms have been ruled constitutionally valid. At present, the Bureau of Alcohol, Tobacco and Firearms regulates and tracks the import of firearms into the United States, leaving no need for further domestic legislation regarding the ATT's implementation.
"Exports of firearms, the ABA also notes, are not protected under the Second Amendment. Further, thanks to the efforts of countries like the United States, the ATT is not as strong as some advocates would prefer. Instead, the treaty is written to only affect the transfer of arms between states, not individuals, and only bars that transfer in the event of massive human rights violations on the level of crimes against humanity. The ABA does agree with Abbott, though, that any parts of the Arms Trade Treaty that would violate the Second Amendment would be rendered void." – Hayes Brown, Texas Attorney General Admits Arms Treaty Doesn't Violate Second Amendment, ThinkProgress.org, Twitter: @thinkprogress

Asset Tracking Solutions from Camcode: