Laser-Markable Label Blanks
Durable metal label blanks designed for on-site laser marking.
When You Need the Ability to Create Labels On Demand
Making asset labels on-site can be favorable to buying labels. When lead times are short or you need access to real–time production of labels, on-site printing is the solution. And when permanent, durable labels are required, laser marking on metal is the solution of choice.
Camcode offers an extensive selection of laser-markable metal blanks to fulfill your objectives. We manufacture both stock and custom sizes, including custom shapes, for any application. Our products include three kinds of aluminum and stainless steel, all of which are precisely fabricated in our facility, laminated with industrial strength adhesives and conveniently packaged for immediate use. Our laser blanks products support all types and powers of lasers from a 15 watt CO2 to ND YAG and Fiber lasers.
Camcode is the most experienced manufacturer of metal laser blanks. All of our label materials are manufactured in our facility for ultimate control over material quality and consistency. Other materials in the market come from various sources with significant variability and changes in alloy or color consistency. Camcode offers branded products produced under controlled standards.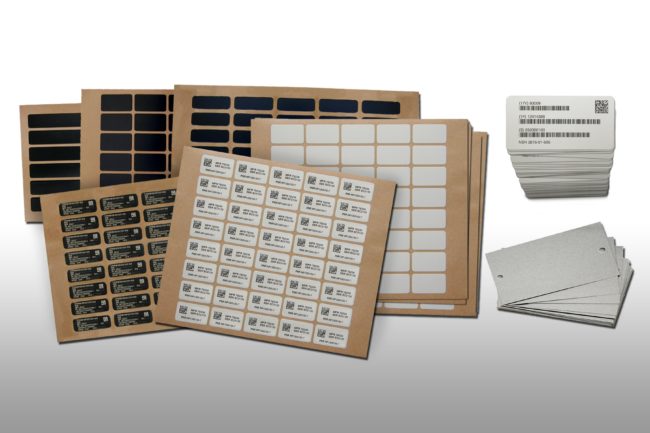 TRUSTED AROUND THE WORLD SINCE 1950






Explore Our Most Popular Laser Markable Label Products
A minimum order (one box) can cost just over $200 depending on the product. Five and 10 box quantities are less per box. Prices depend on the material construction, size and box quantity. Don't see what you need? Our product development team is on standby to design and build your perfect label.
Get a Custom Quote ›
Making On-Site Label Creation Simple
Camcode provides the product variety to make your on-site label blanks project successful. For instance, our foil labels fit into tight spaces and wrap around curved surfaces. Our rigid labels take a pounding and can be fabricated into almost any shape.
In addition to 100 label sizes and a dozen adhesives to choose from, Camcode provides exclusive tools to keep your production at maximum efficiency. Our foil labels come to you in precisely die cut sheets that perfectly locate the label blank on your laser bed every time. For rigid parts we have perfected a laser jig which can be loaded with blanks and then placed onto the laser bed to maintain seamless registration and streamline production. Each jig is supplied with a set up proof that contains the proper coordinates, allowing you to program your laser with exact specifications. These coordinates can be saved, making it easy and accurate each time you load your sheets. Accuracy, speed and consistency are our goals.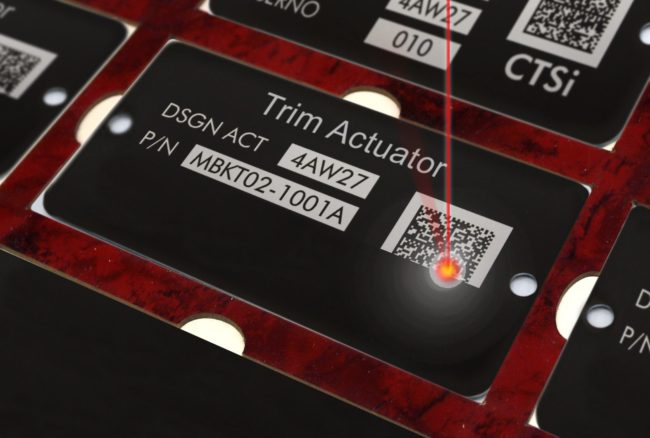 Here's How It Works
Purchase one of our standard size laser-markable labels from our price list (or purchase a custom size to meet your needs). Labels come in .005″ foil die cut sheets ready for the laser or in boxes of precut thicker materials for use with our precision laser jigs.
Create your graphics using software that allows the encryption of a data matrix code. We can suggest software for this purpose.
Position the label blanks on the bed of the laser and mark.
Our tags are immediately ready for attachment to your product.
With Camcode's wide variety of durable label blanks options and our industry experience, we can help you create accurate labels on-site, whenever and wherever you need them. If you need assistance establishing a laser system for UID marking, Camcode can help with that too. See our On-Demand Laser Marking System for UID Labels.
See The On-Demand Laser Marking System ›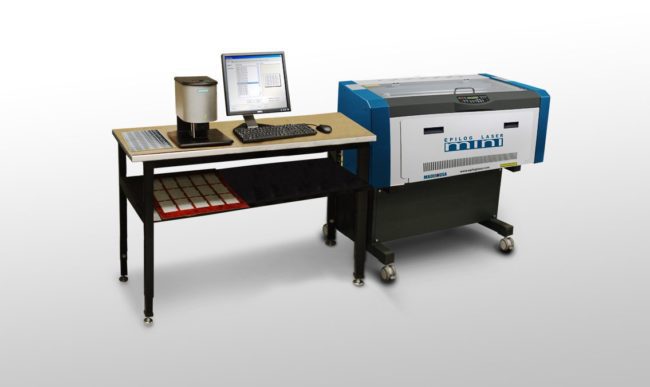 "The turnaround was very fast!"
"I needed some Labels and I needed them in a hurry, and Camcode was on top of it!"
"Our order was 60,000 pieces and we never missed a deadline."
Camcode worked to meet our timelines…ensuring they did not over promise and under deliver. I was impressed. Our order was 60,000 pieces and we never missed a deadline.
Tom P.
Team Lead of Operations and Maintenance Services
Gain Insights Into Asset Tracking and Management
Explore our case studies, blog, buyer's guides, specification sheets and more — and start learning more about the complex world of asset tracking. View All Resources ›
Keep Operations Efficient with Barcode Asset Tracking Tags
If you're having trouble finding the ideal tracking solution for your project or organization, build it with Camcode. Talk to our team today.
Let's Talk ›