Asset Tracking Labels by Material
Find custom barcode labels and asset tags that last the life of your assets.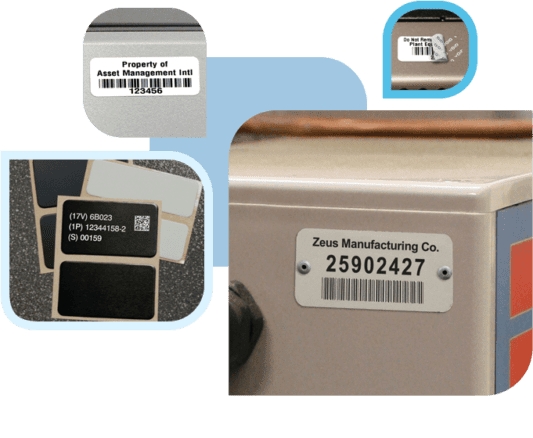 Asset Tags Made with Durable Label Materials
From the warehouse floor to outer space, our durable labels are effective in practically every operating environment. Using industry-certified durable materials, we help you create custom barcode labels you won't need to replace.
Access unparalleled durability with Metalphoto® photosensitive anodized aluminum labels, the preferred material for industrial, military, warehouse, and harsh environment asset tracking programs that lasts over 20 years, even in the most demanding outdoor environments.
Improve the reliability of your asset tracking system, save money on label replacement and eliminate down time due to identification failure or illegibility
Design custom labels using a variety of materials — from metal to plastic to polyester — by working with our engineers to determine your unique requirements and use cases.
Let's Talk ›
TRUSTED AROUND THE WORLD SINCE 1950






Use Any Material to Build the Label You Need
Billions of labels later, we know what works. Check out the recommended uses for our most popular label materials. Don't see the right material on this list? Our engineering team is ready to develop a label for whatever challenges you're facing. Let's build you the perfect label. 
Get A Custom Quote ›
Durability Primary Requirement for Major Gas Supplier
For one major U.S. gas supplier, those extreme weather conditions were a primary concern when evaluating barcode options for their meters.
Read The Case Study ›
Get a Free Asset and Security Label Evaluation Kit
Request a free asset and security label sample kit today and we will send you a kit to test our extremely durable labels in your own operating environment.
Get Free Label Samples ›
Get Insights Into Asset Tracking and Management
Explore our case studies, blog, buyer's guides, specification sheets and more — and start learning more about the complex world of asset tracking. View All Resources ›
"We needed the 'Swiss Army Knife' of tags."
"It was necessary to have an asset tag that could withstand the outdoor elements, yet was simple enough to meet basic tracking needs. We achieved both with Camcode's asset tags."
"We feel we can deliver a better product more efficiently thanks to Camcode's barcode labels."
Keep Operations Efficient with Barcode Asset Tracking Tags
If you're having trouble finding the ideal tracking solution for your project or organization, build it with Camcode. Talk to our team today.
Let's Talk ›