Asset Management Control Portal
Easily standardize asset management across your entire organization with a dedicated online asset label portal.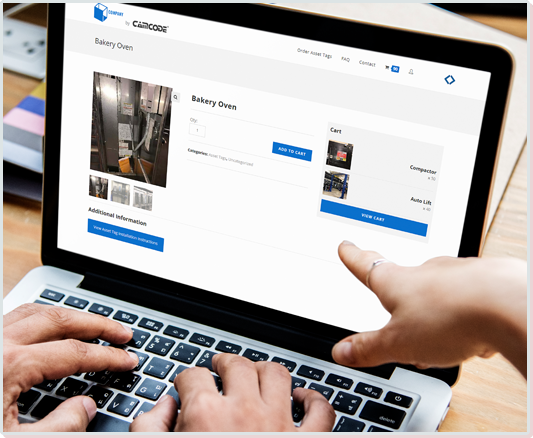 A Single, Online Source of Asset Labels For Your Entire Organization
The Camcode Asset Management Control Portal is a uniquely tailored web portal that allows coordinated procurement and distribution of all asset labels to various vendors, locations, suppliers, technicians, and end users through a single source. Ensure that your assets are tagged at the stage you require and in your database upon their arrival, rather than you or your staff having to coordinate a major asset labeling effort.
Download Information Sheet ›
TRUSTED AROUND THE WORLD SINCE 1950



Features & Benefits
Centralized Asset Data Control
No duplicates & all data is tracked centrally or integrated with your ERP or CMMS.
Enables a variety of users across multiple ordering locations or vendors to easily procure globally unique tags for their area using one secure, centralized portal.
Memorializes a Digital Asset Playbook with specific installation instructions for each asset type.
Asset-Specific Tag Engineering
Engineered tag designs will remain scannable for the life of the asset in its operating conditions (outdoors, kitchens, freezers, etc.).
Supports wide variety of tracking technologies from QR code, barcode to RFID/NFC.
Easy to obtain unique asset ID tags for new items.
Data Collection & Installation Support
Assistance collecting and verifying asset data and/or installing asset tags.
Tailored programs with continued support for accurate set up and sustainment of asset tracking programs.
Why Use The Camcode Asset Management Control Portal?
Customized Online Web Portal
A customized, dedicated online web portal where multiple managers, vendors, franchises, technicians, or locations can order your organization's barcode or QR code asset labels and tags through a single source.
Uniquely Durable Asset Labels
Custom designed QR or bar code labels and tags that are imaged on Metalphoto©, a proprietary anodized aluminum substrate, that remains readable for over 20 years, even in the harshest outdoor environments.
Let Camcode Manage Your Data
Camcode's production systems will track your serial numbers and eliminate the chance of duplication or errors.
Asset Playbook & Installation Instructions
Custom created digital book, complete with photos of each of your labels on your assets, that Identifies where and how to properly affix tags to each asset for easy location and permanent attachment.
Discuss Your Project Requirements Now
For questions, a consultation, or to schedule a free demo, contact our experienced team today.
Let's Talk ›
Get Asset Tags Designed For Your Industry
Whatever assets you manage, our labels help solve your specific industry challenges. Learn more asset tags designed for facilities in your industry.
"We needed the 'Swiss Army Knife' of tags."
"It was necessary to have an asset tag that could withstand the outdoor elements, yet was simple enough to meet basic tracking needs. We achieved both with Camcode's asset tags."
"Our salesperson was very helpful in explaining how bar codes work."
"There was a lot that I didn't understand about the implications of bar code symbologies. Our salesperson was very helpful in explaining how bar codes work, and helped us select a different product than we had envisioned."
James B.
Manager of Information Technology
Keep Operations Efficient with Facility Mngmt Asset Tags
Find exactly what you need. And, if you don't find it, build it with Camcode. Talk to our team today.
Let's Talk ›