Build a Better Warehouse Management System With Bar Code Bulk Storage Labels
Barcode and QR code tracking labels with custom configurable attachments integrate with your warehouse management systems so you can maximize efficiencies across the floor. Explore a wide range of labels and start building your optimal warehouse labeling system.
Get a Custom Quote ›
Reach Your Goals Faster With Our Installation Services
Find the best label and sign material, code type, size, shape, and attachment method for your particular warehouse setup. We'll even help with label installation, so you can start seeing improvements as soon as possible.
Learn More About Our Services ›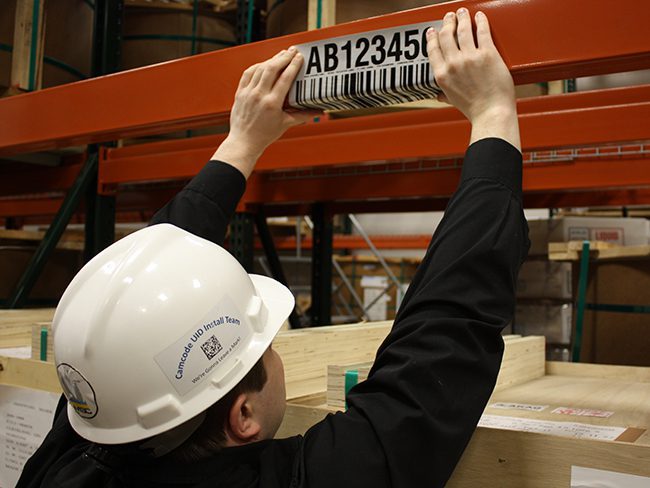 Get a Free Warehouse Label and Sign Evaluation Kit
Request a free  warehouse label and sign sample kit today and we will send you a kit to test our durable labels and signs in your own warehouse environment.
Get Free Label Samples ›
Bulk Storage Warehouse Label Options for Inventory Tracking Applications
Camcode's bulk storage labels are designed to withstand abuse from forklifts and the inclement conditions of both warehouse environments and the outdoors. We offer adhesive backed premium polyester options, or extremely durable Metalphoto foil and rigid options with a high-performance-permanent pressure-sensitive adhesive and/or holes for mechanical attachment. The adhesive is designed to permanently bond to high surface energy metals and plastics, and textured and contoured surfaces on any pallet. Our metal label options have excellent resistance to chemicals, abrasion, solvents; and will withstand exterior exposure in the harshest environments, including extreme cold, heat and UV. When treated with our image intensification process, Metalphoto's expected exterior life exceeds 20 years.
"Camcode took the time to understand our needs."
"Camcode took the time to understand our needs and offer durable solutions that will last throughout the different areas of our warehouse."
"We found Camcode's barcode system to be the most cost-effective and efficient solution."
Things move fast around here, and we needed a barcode system that provided easy and accurate scanning.
Stan M.
Logistics Manager
Discover Warehouse Management Insights
Explore our case studies, blog, buyer's guides, specification sheets and more — and start learning more about the driving efficiencies with warehouse labeling systems. View All Resources›
Evolve with a Scalable Warehouse Labeling System
Find out how a custom warehouse labeling system helps you evolve warehouse management for the digital age.
Let's Talk ›