Durable UID Labels for MIL-STD-130
Track and maintain your assets to keep operations running smoothly.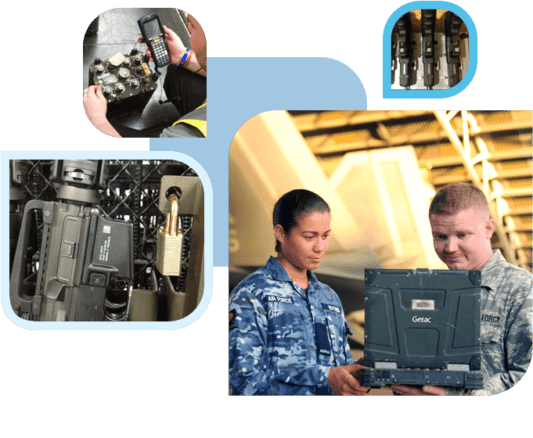 Labels That Meet Defense Standards and Last the Life of Your Assets
Camcode offers more permanent and durable label solutions for UID applications than anyone. Our UID label materials are the most widely specified in the defense industry, and are continually trusted to provide permanent and durable unique identification that lasts a lifetime. Your product choices include a wide variety of UID labels, such as Metalphoto® anodized photosensitized aluminum, Teflon™ UID labels, CARC paint UID labels, Sandshield protective covers, premium polyester UID labels and more. Before producing your UID label or UID tag order, we'll send you a PDF proof of your exact design and data string to ensure it's correct. Every order ships with a certification that the format and quality meet the rules of MIL-STD-130 or STANAG 2290.
TRUSTED AROUND THE WORLD SINCE 1950






UID Labels for Any Application
Whatever your application, our labels help solve your specific defense asset management challenges. Find the asset tags specifically designed for UID organization or project.
Get a Custom Quote ›
Laser Markable Label Blanks To Create On-Site, On-Demand UID Labels
Making asset labels on-site can be favorable to buying labels. When lead times are short or you need access to real–time production of labels, on-site printing is the solution. And when permanent, durable labels are required, laser marking on metal is the solution of choice.
Explore Laser Markable Blanks ›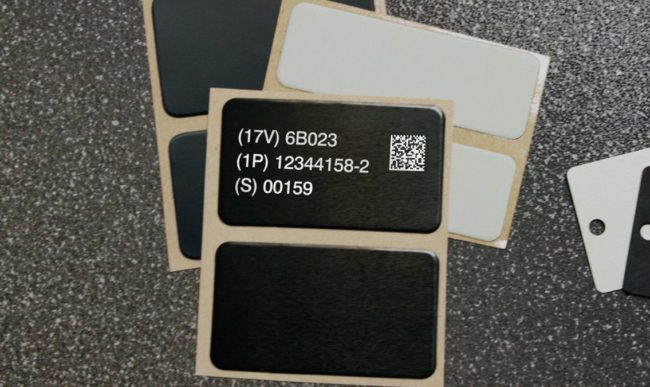 Get a Free UID Label Evaluation Kit
Request a free unique identification label sample kit today and we will send you a kit to test our extremely durable labels in your own operating environment.
Get Free Label Samples ›
UID Labelling Services for MIL-STD-130
We can also help with your UID service needs. From on-site UID label installation to IUID registration, Camcode is your single source for all your UID, Mil-Std-130 and asset traceability solutions.
Explore UID Services ›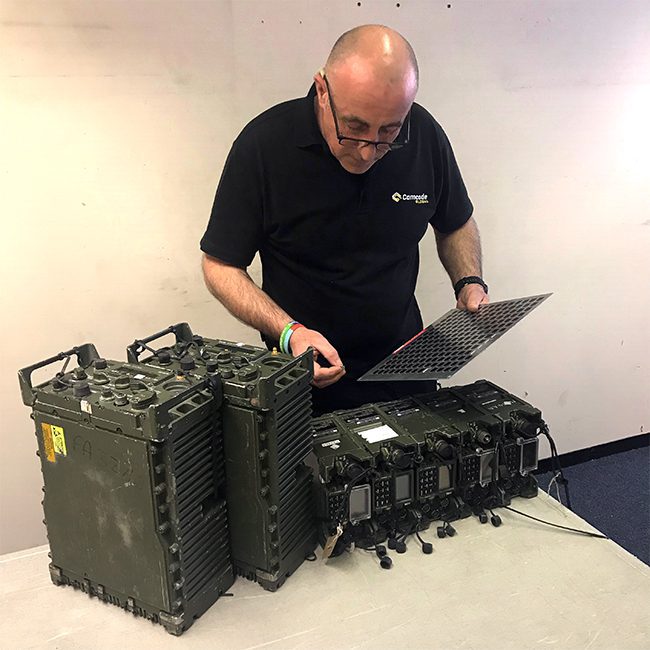 Why do you need UID labels?
UID labels are part of a robust and mandated program for the tracking of U.S. Department of Defense (DoD) designated assets throughout the world.
Remain Compliant
The DoD has designated strict guidelines for assets that must be tracked with UIDs, and the scope includes all military assets related to government organizations and contractors. It is important for contracts to also maintain compliance with the UID tagging requirements of MIL-STD-130 or they could face penalties, canceled orders, or lost contracts.
Enable Traceability
Creating a traceable record for each military asset is the central goal of the DoD UID program. As they have outlined in DFARS 211.274-2, items having a unit cost greater than $5,000 must be included. Additional requirements for serially managed items, mission essential assets, and controlled inventory of any value are also designated. Using UID labels that have been fabricated and attached according to these guidelines ensures traceability in the system.
Ensure Performance
There are specific formatting requirements that must be met for each tag. These include printing a 2D scannable barcode onto an adequate substrate according to proven printing methods. The UID labels must also meet quality standards set by the International Organization for Standardization (ISO) and the Society of Automotive Engineers (SAE).
Maintain Durability
Suppliers and contractors working with government entities are responsible for providing UID labels that are capable of lasting for the expected lifetime of the item. Using a UID label manufacturer that uses proper marking and printing techniques is a must. In addition, it is important to select an adequate substrate for each tag that will be able to withstand the environmental conditions that the equipment is expected to encounter.
Common Use Cases For UID Labels
Much of the challenge in choosing the right UID label for each application involves matching the substrate with the environmental conditions, required level of adhesion on the surface material, and the intended use of the item.
Hard to Bond Surfaces
Many types of military-grade equipment utilize a chemical agent resistant coating (CARC) that provides protection for operators. A CARC surface is especially difficult to bond a label to and many companies have turned to Metalphoto CARC Paint UID labels for a solution that can ensure the right level of hold for these applications.
Curved or Uneven Surfaces
Military equipment comes in all shapes and sizes and there is certainly no standard form factor for many applications. In addition, there are custom-fabricated items that may also meet the UID tagging requirements. One of the best solutions for mounting a UID label on a curved or uneven surface is using a Metalphoto foil UID label. These labels are flexible enough to bend and match the surface contour of the equipment.
Tactical Equipment
It's no surprise that many military applications require a high level of discretion and many types of equipment are cloaked or camouflaged. In these situations, it is best to utilize a tag that has no reflection and has a surface that can avoid detection. A Metalphoto Tactical UID label can be matched to desert tan or army green and is created to blend right in with the equipment surface.
Harsh Environments
Military operations in the Middle East and many other locations may face harsh conditions and desert-like terrain. Equipment used there can sometimes be exposed to these environments for long periods of time, and the sand can take a real toll on surfaces, including tags and labels. The Metalphoto SandShield UID label has been designed with extreme abrasion resistance and is often chosen for external tagging of equipment that will be used on terrain with a lot of sand and rock.
"All of our contacts with Camcode were essential in understanding UID."
"We were quickly able to make the right decisions to lay down a failure-free UID foundation."
Rune K.
Project/System Manager
"We recommend Camcode to our NATO colleagues."
"Whenever we can, we recommend Camcode to our NATO colleagues as a solid, reliable and understanding UID business partner."
Rune K.
Project/System Manager
Discover Insights into UID Identification & Tracking
Explore our case studies, blog, buyer's guides, specification sheets and more — and start learning more about the complex world of asset tracking. View All Resources ›
Frequently Asked Questions About UID Labels
A UID label (unique identification label) is a type of asset label required by MIL-STD-130 to comply with U.S. Department of Defense standards. UID labeling is used for asset traceability by the U.S. government. UID labels must contain specified information in a readable format on a label constructed of durable materials that can withstand the expected conditions the asset will be exposed to.
Metalphoto® photosensitive anodized aluminum is the most widely specified UID label material.
Companies that manufacture and send assets to the U.S. government are required to comply with the UID labeling requirements specified in MIL-STD-130. Companies that manufacture assets that cost $5,000 or more, assets considered mission-critical, or controlled inventory use UID labeling to ensure their products meet the government's required marking specifications.
The U.S. Department of Defense and associated government entities also use UID to participate in the DoD's asset traceability program.
UID for DoD is the unique identification required by the Department of Defense for all critical assets. The UID in this context may be used to refer to the U.S. Department of Defense's asset traceability program, or it may also be used to describe the specific identification markings required for DoD assets.
UID stands for Unique Identification, while IUID stands for Item Unique Identification. Both terms refer to the asset labeling specifications required by the U.S. Department of Defense for critical assets. IUID is most commonly used when referring to the 'IUID Registry,' which is the database that stores all UID asset information.
A UID barcode is a marking that complies with the requirements of MIL-STD-130. These requirements include the recommended barcode symbology (2D data matrix format) and the label format (which includes the part number, barcode, and a unique serial number assigned by the supplier, or the lot/batch number, part number, and the asset's original serial number).
The UID label must be constructed with a substrate material that meets durability requirements. Metalphoto® photosensitive anodized aluminum is the most-specified material by the U.S. DoD and meets the requirements of MIL-STD-130.
Keep Operations Efficient with Barcode Asset Tracking Tags
If you're having trouble finding the ideal tracking solution for your project or organization, build it with Camcode. Talk to our team today.
Let's Talk ›