Specification & Standards Compliance Marking
Ensure compliance with any asset management standard.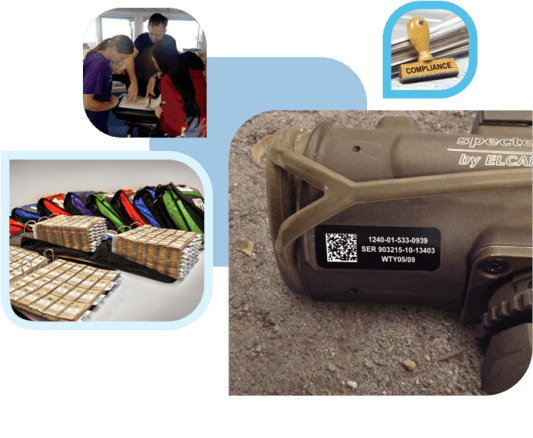 Compliance Made Easy
Many government, military and original equipment manufacturers (OEMs) require their suppliers to mark in accordance with a specification or standard. Standards can be globally adopted across many organizations such as ISO, GS1, UL, CSA, AS9001, Reach, RoHS, STANAG, MIL-STD, DFARS, ASTM, SAE, etc. or specific to an individual company (i.e., Boeing, Wal-Mart, Lockheed Martin, Sikorsky, Raytheon, etc.).
In order to increase the speed and accuracy of inventory management, automate maintenance operations and standardize asset tracking, many organizations require items to be tagged with a "compliant mark".
Camcode offers Metalphoto® anodized aluminum, the material specified by engineers worldwide for durable bar code labels, asset tags, UID labels and nameplates. Because of its ability to perform across a range of challenging environments, Metalphoto meets an array of government, industrial and military specifications including MIL-STD 130 for Department of Defense UID data matrix bar code applications.
See the Specifications Metalphoto Meets ›
TRUSTED AROUND THE WORLD SINCE 1950






What Does Compliance Mean?
Compliance may mean your item simply needs a unique serial number, however, in most cases standards or specification compliance will define:
The data structure (alpha-numeric string that identifies an asset's uniqueness).
The mark technology (material/size), attachment method and placement on the asset.
The registration and validation of the data (if required).
The type of barcode, QR code or other machine-readable code to use.
Failure to comply with a specification or standard can result in rejection of shipment and non-payment. Camcode has over 30 years helping suppliers meet a wide variety of government, military, and industrial specifications. Contact us to learn how easy compliance can be.
Get Help With Compliance Marking ›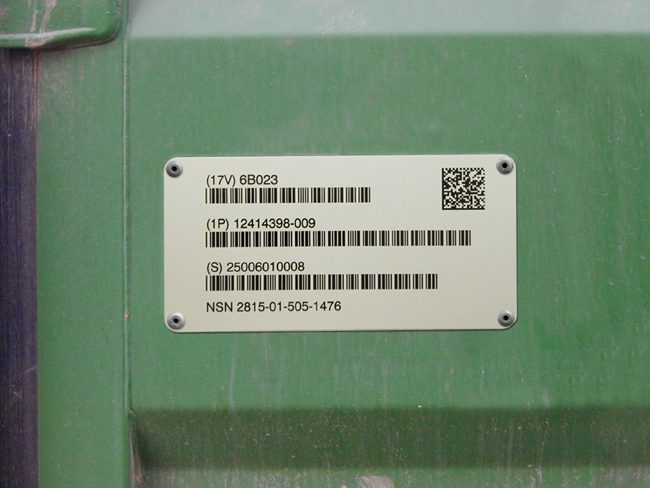 TYPES OF COMPLIANCE MARKING
Defense Standards Compliance
Camcode is a world leader in the implementation of military asset tracking programs. We hold the NATO UID program enablement tender and are currently working with several nations to design and implement their UID programs. If you supply the US, UK, Canada, Australia, Netherlands or any other NATO member's military, you are required to comply with a UID standard.  Contact us to design and procure a compliant UID mark for defense assets.
Explore Our UID Support Services ›
TYPES OF COMPLIANCE MARKING
OEM Specification Compliance
Most tier 1 OEMs have standards that outline how the components of their products are identified with a label, tag or nameplate. Increasingly many of those standards call for item-unique identification with a barcode or other machine-readable mark. Item-unique tagging has benefits for the item's end user as it allows the tracking of equipment and its components for financial and maintenance purposes. Camcode has experience meeting engineering standard requirements for most major OEMs and other large organizations such as utilities, universities, municpalities and retailers.
Find The Right Labels for Your Use Case ›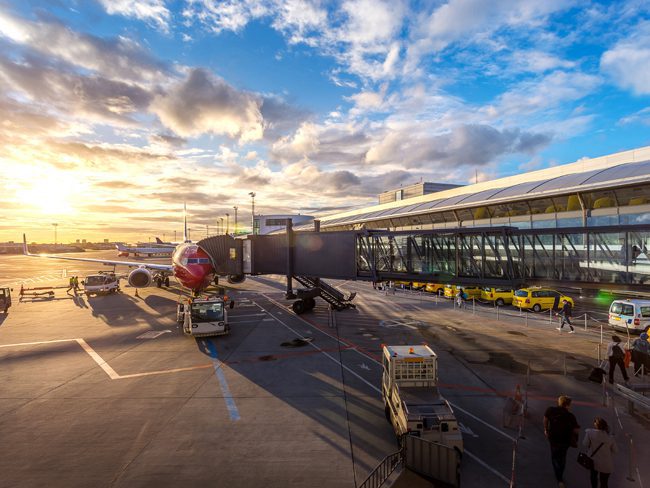 Explore Customized Marking Programs Designed For Your Industry
Camcode has experience in creating marking systems for many industries worldwide.  Explore labeling system solutions designed specifically for yours.
Build Your Custom Label Today
Whether you need a label compliant with ISO, GS1, UL, MIL-STD, ASTM, or another specification, our engineers will help you design an asset tag compliant with whatever standard you need to meet.
Get A Custom Quote ›
"All of our contacts with Camcode were essential in understanding UID."
"We were quickly able to make the right decisions to lay down a failure-free UID foundation."
Rune K.
Project/System Manager
"Camcode did a fantastic job helping us IUID labels for a government contract."
"Camcode did a fantastic job helping us IUID labels for a government contract. They were very knowledgeable and patient while guiding us through the process. The labels are perfect and exactly what our customer wanted. We will definitely use them again!"
Keep Operations Efficient with Barcode Asset Tracking Tags
Find exactly what you need. And, if you don't find it, build it with Camcode. Talk to our team today.
Let's Talk ›