RFID Benefits & Limitations
Radio Frequency Identification (RFID) tags are an ideal asset tracking system in certain applications, however before investing, consider the functionality, durability and security aspects of RFID.
What Is RFID?
Radio Frequency Identification (RFID) is a touchless technology that can be used like barcodes to track information about unique assets such as maintenance records, inspection records, work orders and other asset-specific data.
Implementing RFID requires RFID readers, RFID tags application-engineered for your asset/operating conditions and asset management software that works with RFID tags.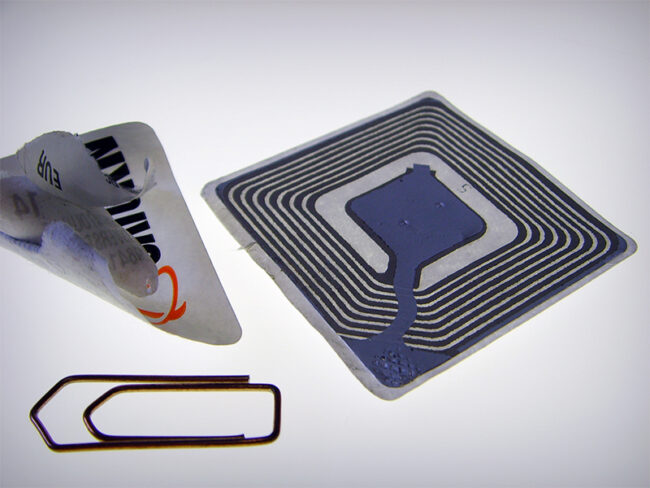 Metalphoto Durability
Sub-surface, inorganic image proven to resist degradation from sunlight, heat, chemicals, abrasion and saltwater since 1950.
RFID Durability
Limited third-party testing or long-term real-world validation.
Metalphoto Scanning
Works with any barcode scanner or smartphone.
RFID Scanning
Specialized RFID reader required.
Metalphoto Range & Rate
One ID/scan. Direct line of sight required.
RFID Range & Rate
Multiple ID/scan when in range. Passive tags scan within about three feet but cannot read through metal or water.
Metalphoto Customization
Attachment method (adhesive, rivet, ties, etc.) and size/shape/thickness can be customized to the application.
RFID Customization
Some customization possible, but most come with a basic stock adhesive and may not adhere permanently to all surfaces.
Metalphoto Cost
Typically, less expensive than RFID, depending upon design and quantity.
RFID Cost
Typically, more expensive than Metalphoto, depending upon design and quantity.
Metalphoto Security
Zero reflection/detection Tactical Tag be tracked to reveal asset/user location.
Metalphoto Anti-Counterfeit
Get a Free Metalphoto Label Evaluation Kit
Request a free Metalphoto label sample kit today and we will send you a kit to test our durable labels in your own operating environment.
Get Free Metalphoto Label Samples ›
Flaws of RFID Asset Tracking
RFID TAGS CAN BE DETECTED BY THE ENEMY
The U.S. military has strict requirements for tracking high-value assets such as weapons, explosive materials, ammunition, body armor, and other supplies. These requirements are set forth in standards such as MIL-STD-130 and MIL-STD-129.
There are two primary types of technologies used to track military assets: unique identification (UID) barcode labels and RFID tags. But are both technologies equally secure? In a recent investigation of how the U.S. military uses technology to track firearms and guns, the Associated Press (AP) found that RFID tags pose concerning security risks.
View Video ›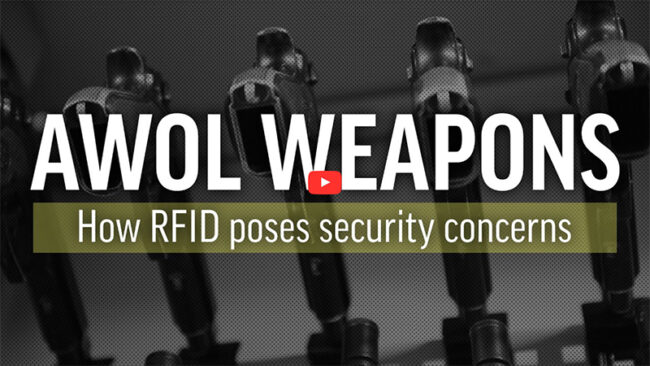 The Superior Durability of Metalphoto, Field Proven for Over 50 Years
TRUSTED BY INDUSTRY LEADERS LIKE THE US ARMED FORCES, NASA, CATERPILLAR, AND BOEING
Metalphoto is a photosensitive anodized aluminum that can hold the line in demanding industries.  It features a sub-surface image that has the fine image resolution to support bar codes and QR codes of any symbology, and offers unparalled resistance to damage from abrasion, weather, chemicals, corrosion, and UV exposure.
Learn More About Metalphoto ›
TRUSTED AROUND THE WORLD SINCE 1950






Find the Right Metalphoto Labels for Your Application
Explore our range of Metalphoto asset tag products, designed to meet every need and requirement of your project. Don't see what you need? Our product development team is on standby to design and build your perfect label.
Get a Custom Quote ›
"We needed the 'Swiss Army Knife' of tags."
"It was necessary to have an asset tag that could withstand the outdoor elements, yet was simple enough to meet basic tracking needs. We achieved both with Camcode's asset tags."
"Our Camcode representative was great to work with."
"He came on-site and worked with our IT and Operations teams, provided sample materials, and discussed different solutions and their respective merits. We were able to make a decision that we're happy with."
Scott T.
IT Product Manager
Fully Customized Asset Tracking Labels For Your Application
If you're having trouble finding the ideal tracking solution for your project or organization, build it with Camcode. Talk to our team today.
Let's Talk ›