Durable Bar Code Labels for Telecom Asset Tracking
Track and maintain your assets to keep operations running smoothly.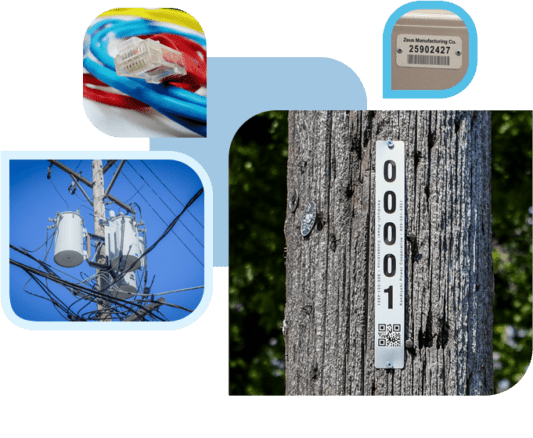 Automate and Error-Proof Your Asset Tracking Processes
Joint use relationships are complicated enough on their own without the added burden of determining the method of asset and pole identification. Numbered poles, GIS coordinates, standard bar code labels – none are quite sufficient in delivering accurate pole identification for the long haul.
That's why Camcode's bar code asset tags are the pole tag of choice for major telecommunications and cable companies. Our Metalphoto® bar code tags withstand abrasion, intense temperatures and weather conditions, and exposure to UV, chemicals and solvents. They are proven to integrate easily with Alden Systems' JRM and other leading joint use and pole maintenance asset management systems.
Camcode barcode pole tags virtually eliminate errors caused by manual data collection, ensuring accurate information. This improves the productivity and effectiveness of a telecommunications company by reducing entry errors in the field. The results are increased revenue, lower expense and better management of risk and NESC requirements.
Find Your Telecom Asset Tags
Explore our range of telecommunication asset tracking tag products, designed for every utility need. Don't see what you need? Our product development team is on standby to design and build your perfect label.
Get A Custom Quote ›
Get Asset Tags Designed For Your Industry
Wherever your industry, our labels help solve your specific challenges. Learn more asset tags designed for your industry. 
Get a Free Utility Tag Evaluation Kit
Request a free utility tag sample kit today and we will send you a kit to test our utlity tags in your own operating environment.
Get Free Label Samples ›
"We expect efficiency and data accuracy to increase dramatically."
The barcodes are eliminating mistyped numbers and speeding up the time it takes to accurately manage and track our assets.
"We needed the 'Swiss Army Knife' of tags."
"It was necessary to have an asset tag that could withstand the outdoor elements, yet was simple enough to meet basic tracking needs. We achieved both with Camcode's asset tags."
Keep Operations Efficient with Telecommunication Asset Tracking Tags
Find exactly what you need. And, if you don't find it, build it with Camcode. Talk to our team today.
Let's Talk ›