Build a Better Warehouse Labeling Solution
Many facility managers will develop a labeling strategy while planning warehouse layouts and rack locations. There can be many high traffic areas in a warehouse, and it may be necessary to choose a number of different label styles to achieve optimum coverage. Our product development team is on standby to design and build your perfect warehouse label system.
Reach Your Goals Faster With Our Installation Services
AVOID DISRUPTING YOUR WORKFLOWS
Find the best label and sign material, code type, size, shape, and attachment method for your particular warehouse setup. We'll even help with label installation, so you can start seeing improvements as soon as possible.
Learn More About Our Services ›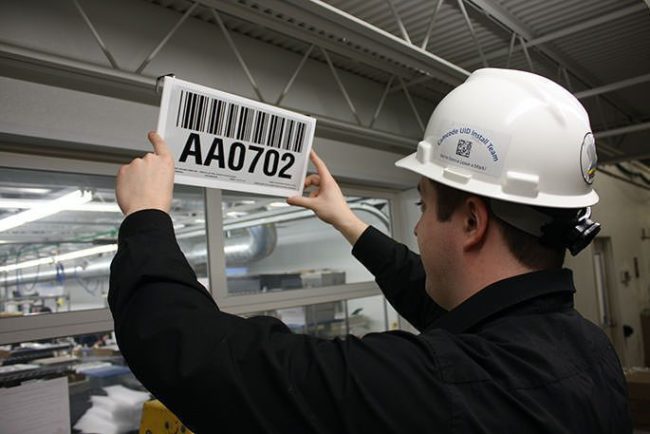 Get a Free Warehouse Label and Sign Evaluation Kit
Request a free warehouse label and sign sample kit today and we will send you a kit to test our durable labels and signs in your own warehouse environment.
Get Free Label Samples ›
Unique Floor Label Kits for Quick and Easy Tracking
Camcode's Warehouse Floor Labels are the most durable products you will find and easily install in less than 5 minutes per label. The ideal floor marking solution for bulk and staging locations. The 1/8″ beveled aluminum frame protects the label from abuse of pallets and vehicular traffic. Choose from our traditional screw-down or our adhesive floor label kit.
"The other vendors didn't have an answer for our floor application and didn't have specific industry experience. Camcode had both."
Bing B.
Manager of Logistics and Process Improvement
"We selected the Metalphoto option because it gave us the durability we needed."
"We selected the Metalphoto option because it gave us the durability we needed in an active area where freight and equipment could come in contact with the barcode. The labels also have great barcode scanner readability."
Scott T.
IT Product Manager
Discover Warehouse Management Insights
Explore our case studys, blog, buyer's guides, specification sheets and more — and start learning more about the driving efficiencies with warehouse labeling systems.
Upgrade & Evolve with a Scalable Warehouse Labeling System
Find out how a custom warehouse labeling system helps you evolve warehouse management for the digital age.
Let's Talk ›