The use of Enterprise Asset Management (EAM) and Computerized Maintenance Management Systems (CMMS) has dramatically improved operations for businesses across all industries. These software platforms can be integrated with existing software tools and hardware components such as asset tags, facilities management asset tags, equipment tags, and inventory control tags and labels to create a comprehensive solution for tracking important assets and work activities. Among the dozens of offerings in the market, IBM Maximo has emerged as a leader in the space.
In this post, we'll introduce IBM Maximo and talk about the core features and benefits of this powerful software platform. We'll also share some useful resources within the Maximo community and talk about how the software can be used to improve the quality of business processes. Many features of EAM and CMMS platforms overlap between different vendors, but it's always best to seek out an option that's adaptable to your specific needs.
What Is IBM Maximo?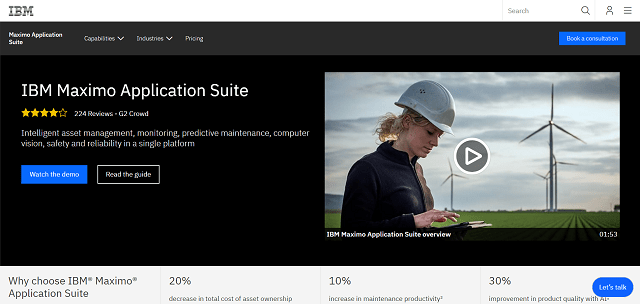 Screenshot via IBM Maximo
Maximo is an Enterprise Asset Management (EAM) platform designed to support the tracking and upkeep of assets throughout their entire lifecycle. This system also has extensive capabilities for managing maintenance work for assets, with several features that overlap with Computerized Maintenance Management Systems (CMMS). You will often find Maximo referred to as both an EAM and CMMS due to its wide range of features. Any asset can be tracked using Maximo including equipment, buildings, and vehicles.
Businesses have three different options when deploying the IBM Maximo software suite. The first is a completely cloud-based deployment that can be accessed from any device that has an internet connection. The software is hosted on third-party servers, and this option reduces the need for company-owned IT resources. The second option is a private SaaS deployment that is also cloud-based, with the Maximo software hosted on a dedicated server. This adds an additional layer of customization and security. One final option is a traditional on-premise deployment where the software is installed on local, company-owned servers.
Core Features of IBM Maximo
Many businesses implement IBM Maximo to streamline their maintenance and asset management capabilities. In addition to improving performance, Maximo can also be used to consolidate several unique workflows into a single software package. This enterprise-level support is one of the main reasons for choosing IBM Maximo as compared to other offerings. The core features of IBM Maximo include:
Asset management. A central asset registry within Maximo collects important information such as asset location, documentation, and serial numbers. Many of these fields can also be customized to include specific data important to your operation.
Maintenance management. Preventive maintenance work orders and other supporting details can be tracked within the EAM software. This makes it very easy to identify and assign work to maintenance staff from within a single platform.
Work order management. The main dashboard of IBM Maximo can be used to display the status of work orders within the system. Individual work requests can be assigned a priority and owner with only a few clicks. Users can also attach supporting documentation to each work order and quickly close out requests when completed.
Inventory management. Maximo users have complete control over inventory levels related to maintenance and repair operation (MRO) assets. Employees can also manage suppliers and monitor inventory costs from within a single system.
Resource management. In addition to assets and equipment tracking, Maximo also has built-in capabilities for managing labor and other resources. This includes managing shifts, employee pay, and other employment-related data.
Benefits of IBM Maximo

Screenshot via IBM Maximo
Data shared by IBM shows that its Maximo software solution has the potential to reduce labor, inventory, and equipment costs by 10-25%. Much of this benefit comes from efficiencies that can be achieved using the software through streamlined workflows and advanced features. This includes support for advanced asset management techniques such as reliability-centered maintenance and predictive maintenance.
Companies can also use Maximo to review their critical business processes using the integration with IBM Watson Analytics. These advanced reporting features create a powerful business management framework that delivers unique insights based on reliable data collection practices.
Who Uses IBM Maximo?
IBM Maximo has applications in most industries and is an essential resource in the manufacturing, transportation, energy, and government sectors. Given the widespread deployment of Maximo, you'll find several groups and organizations dedicated to sharing knowledge related to the platform. A few current examples include:
IBM Maximo is an excellent choice for a CMMS/EAM due to its large number of features and flexible deployment options. With an active community of users around the world, IBM Maximo has also become an important resource for business operations experts. The tools included with Maximo give any company the opportunity to find innovative ways to improve operations while creating greater value for employees and customers.