While maintenance management is not a new topic, recent trends have accelerated the adoption of technology solutions that streamline these activities. A recent industry survey conducted by UpKeep found that 66% of respondents are now using a Computerized Maintenance Management System (CMMS). This represents a significant increase from levels seen prior to the start of the COVID-19 pandemic and represents the high priority that companies have placed on efficiency during these challenging times.
Maintenance management software platforms integrate seamlessly with asset tags and barcode labels, such as asset tags for facilities management, for streamlined, automated documentation of maintenance activities. By tagging your equipment and high-value assets with durable barcode labels and using a leading maintenance management software solution, you'll gain complete visibility into your maintenance processes with a central repository that provides easy access to the complete history of each asset, maintenance schedules, and more.
To help you evaluate new approaches to your maintenance programs, we've gathered a list of the 25 best software platforms for maintenance management. You'll find a nice mix of traditional CMMS software platforms that can be installed on-site and lean, completely web-based solutions. We've also highlighted key features of each system with estimates for pricing when available.
This list of the 25 top maintenance management software programs is simply shown alphabetically and is not ranked or rated in any way.
Asset Essentials, from Dude Solutions, offers a lean-based platform for streamlining work order assignments and inventory control. This is also a great option for safety and compliance planning with built-in metrics and support for EH&S documentation. The software can also be used to manage spare parts inventories with integrated access to procurement and requisition requests.
Key Features:
Track overall equipment effectiveness (OEE)
OSHA-related incident tracking
Work order assignments based on staff availability
Cost: Contact for a quote
Axxerion is a facility and maintenance management platform that can be used to track preventive, corrective, and predictive maintenance work. As an all-in-one solution, Axxerion strives to provide all the necessary tools within a single user interface. The software can also be used as a complete enterprise asset management (EAM) system for tracking valuable equipment and supporting systems.
Key Features:
Scheduled maintenance
Mobile work order management
Project management tools
Cost: Contact for a quote
Azzier is an advanced CMMS with mobile support for any device, computer, or tablet that has internet connectivity. The software makes it easy to manage requests, work orders, and procedures from a reliable and centralized location. Milestones for complex maintenance and facility projects can be tracked using the built-in project management module.
Key Features:
A dedicated timecard module for time tracking
Mobile apps for iOS and Android
Vendor and labor management
Cost: Contact for a quote
Corrigo CMMS, from JLL Technologies, has an intuitive layout with a dashboard that displays custom KPIs for your operation. The platform features work order automation and has several AI-driven tools for streamlining maintenance work across all facility locations. A mobile app is available for complete remote connectivity.
Key Features:
AI-enabled financial forecasting tools
Dispatch management
An interoperable platform
Cost: Contact for a quote
Megamation's DirectLine is a full suite of maintenance management tools that are suitable for use in manufacturing, healthcare, and other structured environments. This platform can be fully customized and includes RFID tag support, enhanced security, and excellent software support. The software is available with a simple monthly service fee, and the company offers a 60-day cancellation guarantee to ensure customers are satisfied with the product.
Key Features:
Health and safety features
RFID and barcode scanning
Dedicated technical and training support
Cost: Contact for a quote
The EAM/CMMS platform eMaint boasts over 50,000 worldwide users and has proven itself as a reliable maintenance management resource. It's highly configurable, and users can customize settings such as data fields, themes, workflows, and dashboards. eMaint also supports advanced capabilities such as conditions monitoring and data visualization.
Key Features:
Work order management
Extensive reporting features
Complete asset lifecycle management
Cost:
Team: $33/month per user, 3 user package
Professional: $85/month per user, 3 or more users
Enterprise: $120/month per user, 5 or more users
eWorkOrders is a highly rated CMMS/EAM software suite that gives companies complete control over their resources. The platform can be used to track the complete lifecycle of each asset, assign work orders, and manage vendor relationships. One of the best features of eWorkOrders is the user-friendly service request interface that makes it easy for anyone to submit maintenance requests.
Key Features:
Materials management
Labor and time tracking
Streamlined data importing
Cost: Contact for a quote
FaciliWorks CMMS, from CyberMetrics, is a complete all-in-one solution for facility maintenance management. The software can be deployed as a vendor-hosted, on-site server, or web-based solution based on your unique needs. With features that cover all aspects of maintenance, vendor, and asset management, this is a great option for promoting efficiency.
Key Features:
Preventive maintenance scheduling
Monitor predictive maintenance KPIs
Software validation services for compliance needs
Cost: Starting at $70/month per concurrent user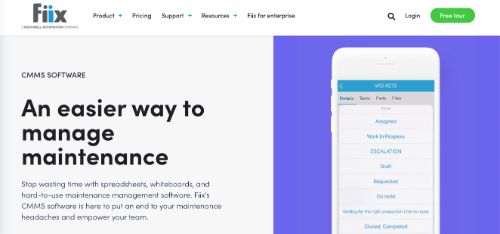 Fiix, from Rockwell Automation, is a capable CMMS with a modern design and interface. The mobile Fiix app is especially useful and can be used to quickly scan equipment barcodes and attach documents, photos, and task lists. Tracking and reporting capabilities are easy to set up, and users can create AI-generated reports at any time.
Key Features:
A simple work request process
Conditions-based scheduling
Fiix Foresight AI-powered reports
Cost:
Free: up to 3 users with limited features
Basic: $45/month per user
Professional: $75/month per user
Enterprise: Contact for a quote
FMXcmms is an easy-to-use maintenance management software for improving operations and extending asset lifetimes. The maintenance calendar provides a visual resource for assigning, viewing, and editing all planned work for your facility. Closing maintenance work orders is also easy, and technicians can include supporting information such as cost and hours worked with each job.
Key Features:
Interactive asset mapping
Mobile incident requests
Quickbooks Online integration
Cost:
Essentials: Free with basic features
Select: $35/month per user
Plus: $60/month per user
Premium: Contact for a quote
FSI is a unique cloud-based CMMS that's optimized for use in healthcare maintenance management. This is a leading choice for hospitals and other healthcare facilities that are looking to maintain compliance while streamlining their asset management. The FSI platform is also well suited for education, public sector, and industrial applications as well.
Key Features:
Compliance management
Project management support
Track and modify floor plans and equipment schematics
Cost: Contact for a quote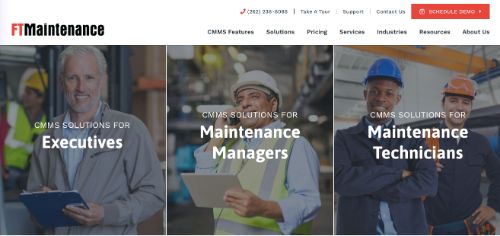 FTMaintenance is a well-known CMMS built for managing assets, inventory, and work orders. This secure platform makes it easy to capture information for each work assignment and asset while maintaining a complete history for auditing purposes. The company also offers extended implementation services and support to assist with each deployment.
Key Features:
Preventive maintenance scheduler
Streamlined mobile work requests
Detailed maintenance reports
Cost: Contact for a quote
Hippo CMMS, from iOFFICE, is a simple solution for maintenance management and inventory control. The platform is designed for remote access with the Hippo Mobile app. Technicians and other users can also easily scan barcodes and upload pictures directly from their mobile devices.
Key Features:
Inventory and parts tracking
On-demand work orders
Detailed maintenance reports
Cost:
Hippo Starter: $39/month per user
Hippo Plus: $69/month per user
Hippo Pro: $99/month per user
Limble is a mobile CMMS platform that also has a complete module for enterprise asset management. Maintenance work orders that are entered into Limble are automatically synced across all devices for real-time data visibility. The interactive calendar can be used to schedule preventive maintenance requests with automated alerts upon completion or after changes to work status.
Key Features:
Mobile work orders
Speech to text
Custom alerts and notifications
Cost:
Starter: $40/month per user
Professional: $70/month per user
Business Plus+: $105/month per user
Enterprise: $185/month per user
MaintainX is an excellent platform for operations and maintenance management that supports complex facility networks. Work orders can be automatically generated from new requests that have entered the queue within MaintainX. This software also supports barcode scanning for easy access to asset and parts information at any time.
Key Features:
Integrated real-time chat
A complete digital audit trail
Manage checklists and inspections
Cost:
Basic: Free, with basic features for small teams
Essential: $8.33/month per user
Premium: $32.50/month per user
Enterprise: Contact for a quote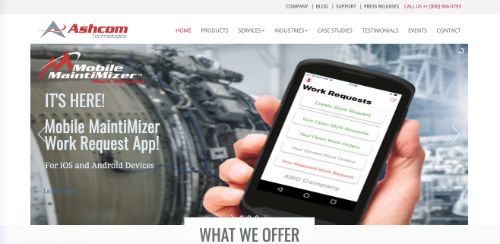 MaintiMizer, from Ashcom Technologies, is a powerful CMMS that includes the mobile MaintiMizer work request app for iOS and Android devices. The core software comes in 3 different configurations, including the Blackbox 2 all-in-one software and hardware bundle. Companies can also purchase a completely online SaaS deployment or convenient web edition.
Key Features:
Secure mobile access
Custom metrics and reports
Integrations with many 3rd party platforms
Cost: Contact for a quote
Maxpanda CMMS is an enterprise-ready maintenance platform that includes multiple dashboards. As a web-based operations tool, this software can be easily accessed from any internet-connected device. The service team at Maxpanda is available 24/7 to help with training needs and technical support.
Key Features:
User-friendly interface
Supports QR and bar codes
Data import and integration
Cost:
Starter:  $99/month paid annually
Enhanced: $229/month paid annually
Standard: $329/month paid annually
Professional: $499/month paid annually
Enterprise: $999/month paid annually
MicroMain is a total maintenance and operations solution with core CMMS features that are familiar and fully customizable. This platform is built for IoT connectivity and also supports the scanning of custom QR codes and barcodes. The reporting capabilities are extensive with built-in templates for tracking equipment downtime and maintenance histories.
Key Features:
Workforce management tools
Supports predictive and preventive maintenance
QR code and barcode support
Cost: Contact for a quote
MPulse is an intuitive CMMS software system with complete maintenance and operational support. The interface design is modern and adapted to the viewing style of each device such as desktop, smartphone, and tablet. Feature sets are divided among three software plans to cover the needs of professionals, advanced tracking applications, and enterprise deployments.
Key Features:
Adaptive device interfaces
Graphical reporting
Media and document integration
Cost:
Professional: $80/month per user
Advanced: $100/month per user
Enterprise: $130/month per user
Eagle Proteus CMMS is a complete maintenance management suite that can be used to track all aspects of equipment facility work. This software creates a completely cloud-based environment with digital tools for engineers, schedulers, and management. For a complete corporate solution, you can also connect Proteus to other platforms such as ERP systems.
Key Features:
Automated work orders
Inventory and spare parts tracking
Real-time KPIs
Cost: $33/month per user
Q Ware is a CMMS platform for complete facility management. The simple design of the software user interface makes it easy for employees to interact with the numerous apps available within the system. There are 3 primary app suites featuring work order management, work scheduling, and inventory management.
Key Features:
Barcode scanning support
Unlimited cloud storage for documents
Vendor management
Cost: Contact for a quote
The Asset Guardian is an easy-to-scale maintenance management solution that has powerful software and technology integration. Users will find the interface easy to manage and dedicated portals can be set up for management, technicians, and customers. Primary functions of TAG include labor management, asset management, and maintenance scheduling.
Key Features:
Equipment cards and sub-assemblies
Work order management
Dispatch and calendar views
Cost: Contact for a quote
Tofino Maintenance Management is a mobile-first platform with an intuitive preventive maintenance scheduling tool. Maintenance work plans for one asset can be easily copies to others, saving time when constructing your maintenance management plan. This software also features excellent reporting tools including customizable operational excellence reports.
Key Features:
Automated work requests
Warranty management
Robust KPI reporting
Cost: Contact for a quote
UpKeep provides excellent support for maintenance activities through this Asset Operations Management platform. The fully-featured mobile app makes it easy for technicians and field staff to access work schedules and asset information. This solution also has excellent connectivity with IoT sensors for real-time asset monitoring.
Key Features:
A centralized command center interface
Robust analytics and reporting
SAP integration
Cost:
Community: Free
Starter: $45/month per user
Professional: $75/month per user
Business Plus: $120/month per user
Zoidii is a relatively new entrant to the CMMS space and has streamlined the entire maintenance management process to be as simple as possible. The software features modules for work order management, preventive maintenance, and inventory management for complete control over maintenance workflows. The mobile app is very easy to use and allows uploads and integrated barcode scanning from a device.
Key Features:
A simple user interface
Built-in tutorials
Guest work requests
Cost:
Basic: $29/month per user
Professional: $39/month per user
Premium: $59/month per user