Hippo CMMS conducted a three-month survey of 100 facilities managers to gain insights on what today's professionals are looking for in a CMMS software system with some interesting findings. The survey asked participants to answer five key questions, including:
What shape is their immediate maintenance department currently in?
What are their operations like?
What are their top reasons for getting a CMMS?
Which CMMS attributes and features are most important?
When are they looking to implement a CMMS?
We've summarized their findings below.
The Current Status or Condition of Immediate Maintenance Departments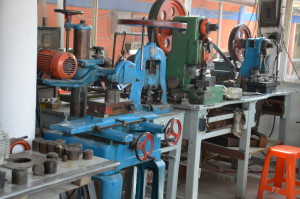 One of the most intriguing findings from the survey is that just under half of respondents (45%) report using manual documentation methods (such as Excel spreadsheets, old-fashioned paper-and-pencil methods, or even sticky notes or email chains) for tracking and managing maintenance operations.
The primary issue with manual tracking and management methods is the lack of a centralized system, which can lead to conflicting data, errors, and out-of-date information. Ideally, modern facilities and maintenance departments streamline operations and communication between every channel and user through the use of a centralized system for tracking and managing every facet of your maintenance database.
In fact, data is essential for measuring progress against benchmarks. The International Facility Management Association (IFMA) Foundation published a how-to guide focused on this issue, "Benchmarking for Facility Professionals," highlighting the need not only for data but a method for gathering and analyzing that data in a cohesive way. "Often, when facility professionals express interest in benchmarking, they will start by saying what they want to measure. Among the most popular examples are space utilization and energy consumption or costs," the report explains. A lack of efficient, reliable data reporting is a major hurdle for facilities that continue to rely on manual documentation, making loftier benchmarking and performance measurement that much harder to achieve.
Other interesting findings from this area of the survey include:
Maintenance departments have an average of 11 maintenance workers.
Most respondents indicated that they consider their maintenance department to be so-so in terms of how well-established it is. (On a scale of not at all well-established to extremely well-established, for instance, most respondents fell somewhere in the middle.)
Sixteen percent of respondents (16%) reported that their maintenance department is "not at all established."
It's not surprising, then, that many modern maintenance departments struggle with effective maintenance and facilities management. The lack of clearly defined processes, protocols, and systems leads to a disorganized effort that often fails to meet the needs of the organization and makes benchmarking to achieve facility goals next to impossible.
What Are Today's Maintenance Departments Like?
More than one-third of respondents (35%) in the survey reported having just one facility, while 27% have seven or more facilities to manage. The remainder of respondents reported having between two and six facilities:
5% have 5 to 6 facilities
8% have 4 facilities
5% have 3 facilities
16% have 2 facilities
Even in cases where a department has a single facility, it's not uncommon for those facilities to have two or more buildings for which the department is responsible for overseeing and managing maintenance activities.
Of course, companies often don't remain stagnant. The organization having just a single facility this year may grow to have five facilities in the next two years. According to a Global Industries Analytics Report, the global market potential for facilities management is projected to reach $698.8 billion by 2020. This speaks to the importance of utilizing technology tools such as CMMS that can effectively scale as your organization grows, as well as the ability to compare data between facilities.
Top Reasons for Getting a CMMS
The majority of respondents (84%) agree that proactive maintenance repair is important for modern organizations, citing this as a top reason for implementing a CMMS. Additionally, 83% of survey participants cited simple work order forms as a driving factor in their decisions.
Nearly three-fourths of survey participants (74%) say that one of their primary reasons for implementing a CMMS is the desire for simple tracking and management of equipment, assets, and inventory.

Additionally, it's estimated that 75% of the workforce will be comprised of millennials by the year 2015. The millennial generation grew up in the digital age, and outdated practices like manual documentation often seem archaic to these employees. They're accustomed to relying on data to aid and improve job performance, so keeping pace with the demands of the connected, tech-savvy workforce means CMMS solutions are a must for moving forward.
Most Important CMMS Features
Survey participants noted several features they consider important in choosing a CMMS, including:
74% say that user-friendliness is a key feature.
Conversely, 0% of participants said that user-friendliness is "not at all important."
46% reported that quality tech support is extremely important.
44% prefer a CMMS solution with equipment and asset management capabilities.
39% say that a calendar interface to view work schedules is one of the most important features in a CMMS, and 32% prefer a solution offering a mobile app for ease of access.
SMGlobal identifies other important features in a CMMS such as reusable task templates for frequent maintenance jobs, negating the need to recreate the wheel for repetitive tasks, and the ability to schedule tasks in a variety of ways. That might mean scheduling repetitive tasks to recur at the same day and time each week or month or triggering task scheduling based on a condition being met, such as another work order being completed, changes in meter readings, or alarm conditions or thresholds.
A maintenance backlog offers the ability to track past due, pending, or incomplete work orders, and automatic reporting streamlines the process of sending report data and critical statistics to key stakeholders. Another useful feature is the ability to generate equipment or machine breakdown reports, making it simpler to pinpoint the root cause of a system failure or service disruption. A historical or real-time comparison of issues and data related to equipment performance and costs provides actionable insights for driving decision-making for preventative maintenance, proactive parts replacements, and equipment replacements, enabling facilities managers to optimize performance.
When considering the reasons for implementing CMMS and the most desirable features, many facilities managers who previously relied on manual processes may look to basic reporting and functionality. It's worth a deeper look at the more sophisticated capabilities of CMMS solutions to determine which applications and features will best serve your organization as it grows. FacilitiesNet recommends creating a CMMS selection team to gain a variety of perspectives and relying on a systematic process to choose the right application.
Time to Implementation
Just 3% of survey respondents reported that implementing a CMMS is a long-term goal. Forty percent (40%) said they are looking to implement a CMMS in one to three months, and 20% hope to do so within the next three to six months.
The survey points out that the ideal time frame for implementing CMMS solutions is the middle range, somewhere between one month and six months, "as both the vendor and client have enough time to collect and input data but don't have too much time to drag out the project and experience burnout."
This timeline is also critical considering that many respondents reported a desire for streamlined asset, equipment, and inventory tracking, as CMMS solutions are paired with bar code labels and asset tag solutions to facilitate automatic data capture. This pairing reduces or eliminates manual data entry processes, dramatically reducing errors, enhancing accuracy and efficiency, and speeding up tasks such as maintenance or compliance reporting.

Camcode offers customized CMMS asset tags and bar code labels for every application in your facility, including LDAR and Steam Trap Tags, Metalphoto® CMMS Bar Code Asset Labels for withstanding harsh environments, and more. Contact us today to learn more about a customized CMMS bar code label solution for seamless integration with your CMMS.