Tag and Track Locations with a Warehouse Labeling System
Camcode has warehouse label solutions for every application in your warehouse. Choose from our indestructible floor label systems, rack labels, location tags, long-range retro-reflective labels and hanging signs.
Camcode is not a catalog. Our team has implemented hundreds of warehouse label projects. We work with you to design the best warehouse labeling solutions and warehouse bar code system for your warehouse. By understanding your goal to automate your inventory systems, we can assure you the highest value warehouse barcoding solutions.
Get a Free Warehouse Label and Sign Evaluation Kit
Request a free warehouse label and sign sample kit today and we will send you a kit to test our durable labels and signs in your own warehouse environment.Request a free warehouse label and sign sample kit today and we will send you a kit to test our durable labels and signs in your own warehouse environment.
Get Free Label Samples ›
Build a Better Warehouse Management System With Custom Barcode Labels
Our minimum order for warehouse labels is $300 to $399. Higher-volume orders reduce the per-unit cost – to as low as $6 or $7 for a long-range sign or floor label kit and $0.50 to $1 for a simple rack label – and exact prices depend on the material construction, size and quantity. Getting an exact quotation is easy; just request a quote.
Get A Custom Quote ›
Why Do You Need Warehouse Bar Code Labels?
Warehouse inventory tags and bar code labels provide the foundation for an efficient warehouse operation.
Efficient Navigation
Warehouse rack labels streamline picking and stocking processes by taking the guesswork (and potential human error) out of identifying the proper storage locations for needed inventory.
Streamlined Processes
Warehouse rack labels streamline picking and stocking processes by taking the guesswork (and potential human error) out of identifying the proper storage locations for needed inventory.
Improved Tracking Accuracy
Moveable storage containers like totes, trays, and pallets can be difficult to track, but durable warehouse label solutions offer easy identification of every moveable container, making it easy to identify the right inventory without wasting time with manual data searches.
Get The Right Products to the Right Place
Workers can scan freight to locations in real-time and quickly and accurately identify the precise location of freight when in staging aisles.
Fully Customized Solutions
Camcode's customized warehouse label and signage solutions are designed to meet the unique requirements of every warehouse application, from specialty storage locations to aisle markers and multi-level rack labels, for easy scannability and immediate location identification.
Common Use Cases for Warehouse Bar Code Labels
Camcode's warehouse bar code labels provide the durability and reliability necessary to withstand the typical warehouse environment. Multiple attachment options make it possible to configure temporary or permanent labeling, and Camcode's variety of warehouse location labels and other marking solutions ensure suitability for a wide range of warehouse applications.
Distribution Centers
Easily identifiable markings on pallets, totes, trays, and returnable containers can drastically improve distribution center efficiency and reduce errors, making it easier to meet customer expectations. Long-range retro-reflective labels, warehouse floor labels, and hanging warehouse signs improve the flow of traffic by aiding operators in navigation and reducing aisle congestion.
Fulfillment Centers
Working with smaller order quantities and individual piece picking, fulfillment centers rely on warehouse rack labels, aisle signs, and pallet bar code labels to ensure order fulfillment accuracy and meet the speedy fulfillment expectations of today's consumers.
Cold Storage Warehouses
Warehouses storing perishable goods or certain pharmaceutical products often require sub-zero temperatures as cold as -20 degrees Fahrenheit. While most typical warehouse labels aren't up to this task, Camcode's cold storage rack labels are specifically designed to withstand extreme cold temperatures while remaining permanently affixed to racks and shelves.
Indoor/Outdoor Warehousing Needs
Warehouse operations don't exist in an indoor silo, and neither should your warehouse location labels. With outdoor signage solutions that can withstand harsh outdoor weather conditions, modern warehouses can take the guesswork out of finding the proper loading docks for both warehouse staff and logistics partners.
How Do You Label Warehouse Inventory?
Tagging your warehouse inventory is a core deliverable for effective asset management and enables teams to perform more accurate and automated counts on a set schedule. Developing a comprehensive labeling plan requires a bit of preparation. In order to properly label warehouse inventory, it is helpful to take a holistic approach and look at your entire operation within the factory. It is likely that you have already optimized your basic warehouse layout based on routine activities such as shipping, receiving, scanning, sorting, and picking. Starting with your existing workflows and an updated warehouse layout will help you visualize how your labels can be deployed.
One of the primary benefits of adding warehouse inventory labels is the improved visibility and end-to-end tracking that they can provide. In some cases, you may even find that you can save some hardware costs by choosing an improved label design that reduces scans or allows you consolidate your checkpoints. When selecting labels for the warehouse you will need to choose between long-range and short-range labeling options.
In any warehouse there are usually a number of different inventory container sizes and types that are stored. Choosing between bulk and individual label options will depend on how your inventory is currently counted and how you plan to use the barcodes. There are many different purposes for labeling inventory such as tracking, counting, and overall management. You will want to ensure your planning labeling strategy fits well with these current practices. Examples of inventory labels include individual item labels, container labels, pallet labels, and floor labels that can all have a useful short-range function depending on your inventory count needs. Long range options include rack labels and hanging signs that can be viewed or scanned at a distance.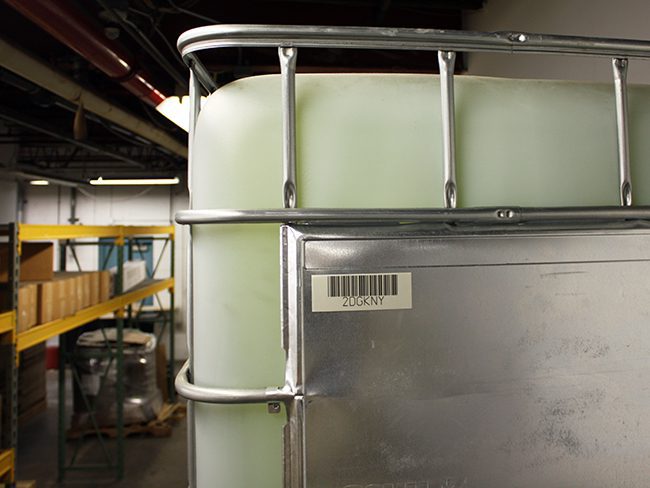 How Do You Label a Warehouse Rack?
Having an effective warehouse labeling plan involves looking at your warehouse layout, inventory processes, and primary workflows that are used in the area. It is always best to take a systematic approach to your warehouse rack labeling so that you can extract the most value from your efforts. There are number of suitable warehouse label styles to choose from including polyester, magnetic, and multi-level. They each offer slightly different benefits versus their cost and should be assessed carefully.
One initial step to take is to identify the racks that you have and any sectional or shelving considerations that may impact labeling. It is also helpful to segment the warehouse floor into various sections so that you can be clear about the labeling needs for various types of inventory and work zones. Another consideration is the standard or serpentine picking style that your warehouse may utilize. Selecting a labeling pattern and layout that is optimized for your designated picking procedures will help you reduce any future issues. When labeling a rack it is best to begin from the ground and work your way up, with the first row on the ground floor having the number '01'. Labeling can then proceed to additional rows and continue until finished.  This type of numbering scheme is especially useful because it gives you the perfect baseline from which to scale your operation in the future.
Learn More About Our Services ›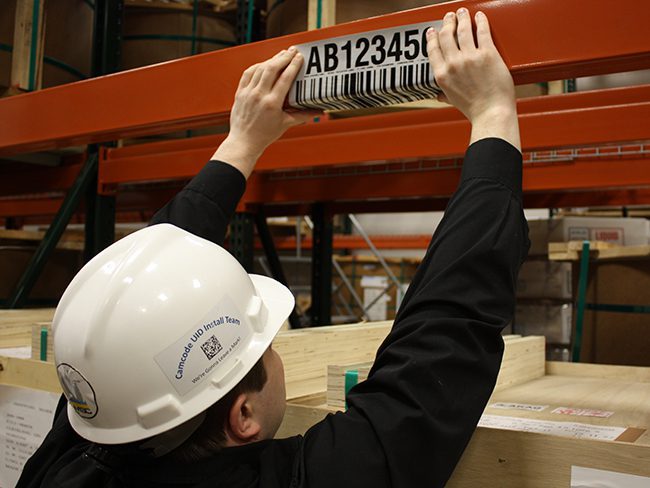 "We went from virtually one location to 506 locations thanks to Camcode labels."
"We can delineate where items are stored and have better management and control by location."
Bing B.
Manager of Logistics and Process Improvement
"With Camcode, I saw exactly what I was getting."
"I got warehouse label samples from Camcode and two other companies. With Camcode, I saw exactly what I was getting. There was a nice variety of samples that helped me envision what would work best for us."
Bob B.
Director of Manufacturing/Facilities
Discover Warehouse Management Insights
Explore our case studies, blog, buyer's guides, specification sheets and more — and start learning more about the driving efficiencies with warehouse labeling systems.  View All Resources ›
Frequently Asked Questions About Warehouse Labels
To label a warehouse, first map your warehouse or identify all locations and items that you want to mark, such as aisles, docks, racks, doors, containers, totes, and others. Then, work with your label supplier to select warehouse labels customized for each type of item or location you need to label. For instance, the surface the label will be attached to, scanning type, scanning distance, and other factors impact the selection of warehouse labels.
After they're manufactured, apply the labels to the correct assets and populate your database with the appropriate information. Your label supplier may offer services, such as Camcode's label installation service, to handle these time-consuming tasks for you.
To label a warehouse location, determine its identifier based on your location numbering system. Then, choose a warehouse label that's appropriate for the application, such as warehouse aisle signs to label aisles or hanging retro-reflective labels to label locations that require long-distance scanning.
Your label supplier will manufacture warehouse labels and signs that correspond with your location numbering system. Depending on the type of warehouse label, it may have adhesive, holes for mechanical attachment, or other attachment options suitable for the application.
The different types of warehouse labels include warehouse rack labels, warehouse floor labels, warehouse signs, cold storage labels, labels for containers, totes, pallets, trays and LPNs, and outdoor warehouse signage. Many of these warehouse labels come in several variations.
For example, there are several types of warehouse rack labels, including polyester warehouse rack labels, multi-level warehouse rack labels, magnetic warehouse rack labels, rack-mount retro-reflective bar code labels, cold storage warehouse rack labels, cold storage warehouse rack placards, and cover-up correction warehouse rack labels.
Warehouse tagging is the process of applying identification tags to track assets and inventory. The term is often used interchangeably with warehouse labeling.
In some cases, warehouse tagging refers to identifying tags (such as RFID tags) that are attached to an asset using attachment methods other than adhesive, such as mechanical attachment. In this case, warehouse labeling refers to warehouse labels that are attached to an asset's surface using adhesive.
Upgrade & Evolve with a Scalable Warehouse Labeling System
Find out how a custom warehouse labeling system helps you evolve warehouse management for the digital age.
Let's Talk ›