Data Collection & Label Installation Services
Camcode can help automate your asset management system for organization-wide benefits.
Camcode Can Verify Your Database, Manufacture Labels, & Install Them For You
Camcode is your one stop source for durable CMMS (Computerized Maintenance Management System) labels that we design, manufacture, deliver, install unique QR coded labels, and populate your database for your organization's assets.
This provides our clients with a 100% accurate database and very fast QR code scanning to track your asset's critical data points. Ultimately, clients improve decision making on purchase, management, maintenance, and disposal of equipment – dramatically improving their spend and quality of service.
Download Information Sheet ›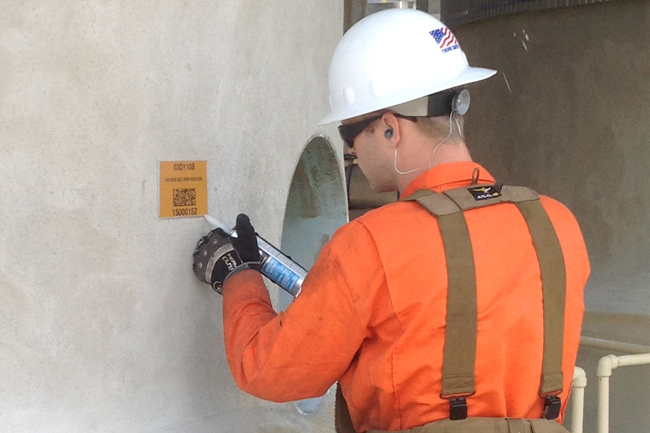 TRUSTED AROUND THE WORLD SINCE 1950






Features of Camcode's Label Services
Camcode designs and manufactures your QR code labels
We have ultimate control over the creation process, unlike a reseller.
True-Up Existing Data
Provide data collection, verification, and post-processing services, including walk downs.
Data Cleansing, Reconcilliation & Enrichment
Verify and correct data, reconcile data between multiple sources, and enable database enrichment from new data parameters or other data sources.
Software Agnostic
Integrates easily with maintenance software platforms.
Custom Engineered Labels
Consultation to create the optimal durable labels for your project.
Time Management
Increase staff efficiency and eliminate human error.
Benefits of Camcode's Label Services
Give each piece of equipment a unique QR coded identifier for easy identification.
Create a digital linkage between tagged equipment to the CMMS asset registry, work order tracking, and tactical capital expenditures for more predictable and accurate PM budgeting.
Understand the condition of equipment at each location.
Increase accuracy of your database.
Save man-hours and money by increasing maintenance staff efficiency.
Maintenance staff satisfaction via easier workflow.
Get Customized Asset Labels, Installation, & Data Collection Services For Your Project
Whatever your application, our labels and services help solve your specific defense asset management challenges.  Get a free quote today and start automating your asset management system.
Get a Custom Quote ›
Typical Scope of Work
Design, manufacture and deliver optimal labels for the application
Enter appropriate manufacturer information into proper applications
Install new QR labels onto client owned equipment
Take clear, concise photos of equipment at time of site visit
Post process data to achieve the highest level of data accuracy within the CMMS system
Support client questions and clarifications
Get Asset Tags Designed For Your Industry
Whatever assets you manage, our labels help solve your specific industry challenges. Learn more asset tags designed for facilities in your industry.
Discuss Your Project Requirements Now
Our experienced team is on stand-by to design and build the perfect labels & services package for your application.  Talk with a sales engineer today for help automating your asset management system.
Let's Talk ›
"Camcode had the knowledge and experience to help us select a bar code label that will survive the average life span of our assets"
"This has greatly improved our efficiency."
"Having the labels makes it much easier than manually entering an asset ID number. I feel it's cutting down on the time it takes to make sure we have the right equipment at the right location."
Dennis F.
Production Supervisor
Keep Operations Efficient with Asset Tracking Tags
Find exactly what you need. And, if you don't find it, build it with Camcode. Talk to our team today.
Let's Talk ›