Scan From Greater Distances With Long-Range Hanging Labels
Camcode has more Long-Range Retro-Reflective Label solutions than we have room to show. Designed to reach scanning distances up to 50 feet with long-range scanners, our warehouse labels and warehouse signs provide the ultimate in functionality.
Designed around your application: By considering your inventory system, scanner type, scanning distance and angle, mounting method, and budget, we assure that our long-range retro-reflective bar code labels and signs will work in your application.
Get a Free Warehouse Label and Sign Evaluation Kit
Request a free warehouse label and sign sample kit today and we will send you a kit to test our durable labels and signs in your own warehouse environment.
Get Free Label Samples ›
Build a Better Warehouse Labeling Solution
Barcode and QR code tracking labels with custom configurable attachments integrate with your systems so you can maximize efficiencies across the floor. Explore a wide range of labels and start building your optimal warehouse labeling system.
Get a Custom Quote ›
Reach Your Goals Faster With Our Installation Services
AVOID DISRUPTING YOUR WORKFLOWS
Find the best label and sign material, code type, size, shape, and attachment method for your particular warehouse setup. We'll even help with label installation, so you can start seeing improvements as soon as possible.
Learn More About Our Services ›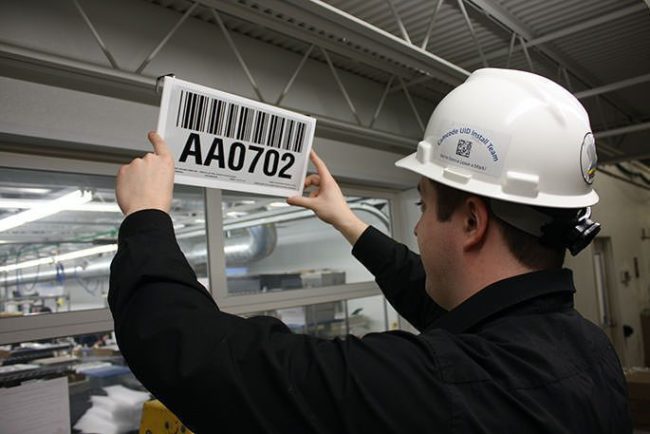 Discover Warehouse Management Insights
Explore our case studies, blog, buyer's guides, specification sheets and more — and start learning more about the driving efficiencies with warehouse labeling systems. View All Resources ›
"The labels make it really simple for users to scan and make less mistakes."
The labels make it really simple for users to scan and make less mistakes. We know there are different colors for different levels because it's very clear. This makes it easy to be sure we're scanning the right levels without straining to reach the actual levels themselves. We have about 14,000 labels in our warehouse now and they're all working perfectly.
Bob B.
Director of Manufacturing/Facilities
"Camcode provided excellent consultation and delivered a great product."
"We are eager to get our other sites up and running using this system."
Matt M.
Supply Chain Manager
Upgrade & Evolve with a Scalable Warehouse Labeling System
Find out how a custom warehouse labeling system helps you evolve warehouse management for the digital age.
Let's Talk ›