Warehouse Bar Code Labels
Camcode has warehouse label solutions for every application in your warehouse. Choose from our indestructible floor label systems, rack labels, location tags, long-range retro-reflective labels and hanging signs.
Camcode is not a catalog. Our team has implemented hundreds of warehouse label projects. We work with you to design the best warehouse labeling solutions and warehouse bar code system for your warehouse. By understanding your goal to automate your inventory systems, we can assure you the highest value warehouse barcoding solutions.
Your product choices include: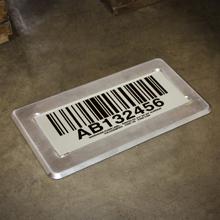 Camcode Warehouse Floor Label Kits are the most durable bar code labeling solutions you will find. Each label kit features a 1/8″ beveled aluminum frame that protects the Metalphoto® aluminum bar code label from the abuse of pallets and vehicular traffic. The Adhesive-Backed Warehouse Floor Label Kit saves hours in installation time and expense. Its specially formulated pressure sensitive backing makes installation as easy as peel and stick. Our Original Warehouse Floor Label Kit is easily attached to the floor by four concrete anchors that are included with the kit, along with a concrete drill bit for simple installation. Each floor label kit comes with instructions, frame and pre-printed labels.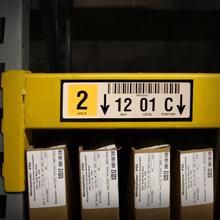 Camcode has bar code rack labels for every application. Polyester Rack Labels offer the durability demanded in many warehouse applications. Multi-Level Rack Labels can eliminate the need for long-range scanning and are designed to eliminate the confusion of which rack to scan. Magnetic Rack Labels are perfect for easy relocating. Cold Storage Rack Labels are designed for installation in environments as low as -20°F. Cover-Up Rack Labels are designed to cover existing labels with no bleed through.
Camcode's retro-reflective warehouse labels are designed to reach scanning distances up to 50 feet with long-range scanners. These warehouse barcode systems provide the ultimate in functionality. Our Hanging Retro-Reflective Label is designed to hang from chain or attach to suspended wire. The Fixed Mount Retro-Reflective Label includes holes or foam tape adhesive for mounting to bar joist or any existing fixture. Our Rack Mount Retro-Reflective Label is specially designed to allow upper level rack scanning from floor level. Our Two-Sided Retro-Reflective Label is designed to be scanned from multiple angles. Our Pipe Mount Retro-Reflective Label is designed to hang from conduit or PVC.
Our durable bar code labels are ideal for tracking your totes, trays, containers and other returnables. Our warehouse labels can resist cleaning processes, abrasion, chemicals or even outdoor exposure.
Developed for tracking returnable or reusable pallets, these durable Metalphoto aluminum bar code labels come with a specifically engineered 3M pressure-sensitive adhesive for permanent attachment. These bar code labels will last for the life of the pallet.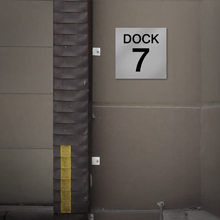 Camcode produces Custom Signs for every application. Our Aisle Warehouse Signs are ideal for identifying rack and shelf ends. Our Hanging Warehouse Signs have a lightweight, yet tough white plastic backer for high visibility. Our Fixed Mount Signs have holes or adhesive strips for mounting. Our Indoor Door and Dock Signs have a durable white plastic backer and two strips of 3M foam tape for attachment. Our Outdoor Door and Dock Signs are produced on Metalphoto anodized aluminum which lasts 30 years outdoors.
For challenging outdoor applications where durability and functionality are critical, Camcode developed our Outdoor Warehouse Signs and Labels. If you're in need of an innovative warehouse labeling solution for marking bulk storage areas or tracking inventory in outdoor locations, we can customize an outdoor barcode system to fit your needs.
What do warehouse labels & signs cost?
Our minimum order for warehouse labels is $300 to $399. Higher-volume orders reduce the per-unit cost – to as low as $6 or $7 for a long-range sign or floor label kit and $0.50 to $1 for a simple rack label – and exact prices depend on the material construction, size and quantity. Getting an exact quotation is easy; just request a quote
Why do you need warehouse bar code labels?
Warehouse inventory tags and bar code labels provide the foundation for an efficient warehouse operation.
Efficient navigation.
Coupled with warehouse signage solutions, warehouse location labels such as long-range retro-reflective bar code labels and warehouse floor labels make it easy for workers to navigate the facility, cutting down on travel time and traffic congestion in aisles.
Streamlined processes.
Warehouse rack labels streamline picking and stocking processes by taking the guesswork (and potential human error) out of identifying the proper storage locations for needed inventory.
Improved tracking accuracy.
Moveable storage containers like totes, trays, and pallets can be difficult to track, but durable warehouse label solutions offer easy identification of every moveable container, making it easy to identify the right inventory without wasting time with manual data searches.
Get the right products to the right place.
Workers can scan freight to locations in real-time and quickly and accurately identify the precise location of freight when in staging aisles.
Fully customized solutions.
Camcode's customized warehouse label and signage solutions are designed to meet the unique requirements of every warehouse application, from specialty storage locations to aisle markers and multi-level rack labels, for easy scannability and immediate location identification.
Common use cases for warehouse bar code labels
Camcode's warehouse bar code labels provide the durability and reliability necessary to withstand the typical warehouse environment. Multiple attachment options make it possible to configure temporary or permanent labeling, and Camcode's variety of warehouse location labels and other marking solutions ensure suitability for a wide range of warehouse applications, such as:
Distribution centers
Easily identifiable markings on pallets, totes, trays, and returnable containers can drastically improve distribution center efficiency and reduce errors, making it easier to meet customer expectations. Long-range retro-reflective labels, warehouse floor labels, and hanging warehouse signs improve the flow of traffic by aiding operators in navigation and reducing aisle congestion.
Fulfillment centers
Working with smaller order quantities and individual piece picking, fulfillment centers rely on warehouse rack labels, aisle signs, and pallet bar code labels to ensure order fulfillment accuracy and meet the speedy fulfillment expectations of today's consumers.
Cold storage warehouses
Warehouses storing perishable goods or certain pharmaceutical products often require sub-zero temperatures as cold as -20 degrees Fahrenheit. While most typical warehouse labels aren't up to this task, Camcode's cold storage rack labels are specifically designed to withstand extreme cold temperatures while remaining permanently affixed to racks and shelves.
Indoor/outdoor warehousing needs
Warehouse operations don't exist in an indoor silo, and neither should your warehouse location labels. With outdoor signage solutions that can withstand harsh outdoor weather conditions, modern warehouses can take the guesswork out of finding the proper loading docks for both warehouse staff and logistics partners.
Learn more about our industry-specific asset tags and durable bar code solutions.