We're always looking to offer the most innovative products and services to help you easily and efficiently track and manage your assets. That's why we've developed a new warehouse sign product to help increase scannability for long-range retro-reflective signs.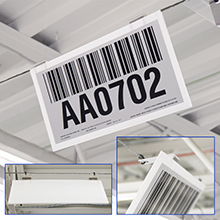 Camcode's exclusive Hanging Retro-Reflective Warehouse Labels are specially designed to hang from conduit or attach to suspended wire using zip ties. Our new universal bracket now guarantees the proper scanning angle from distances of up to 50 feet with long-range scanners. Camcode is the only company in the warehouse market to offer this product.
Our Hanging Retro-Reflective Warehouse Labels are constructed of a white polyester reflective-coated barcode label, adhered to a corrugated backer. They work with any long-range scanner with typical scanning specification ranges from 30 to 50 feet.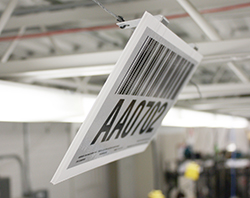 The benefits don't end with functionality, however. Our Hanging Retro-Reflective Warehouse Label is now our most affordable hanging retro-reflective sign. In fact, it's less expensive than the popular bent PVC-backer design. With economic packaging compared to the PVC backer-style hanging retro-reflective signs, you'll save on shipping costs, as well. They're packaged in order for simple installation, or you can always utilize Camcode's warehouse installation services for a complete turn-key solution.
We constantly strive to produce the most durable and cost-effective label solutions for the warehouse industry. Contact us today for a quote or to talk with an experienced representative to discuss how Camcode's comprehensive, custom warehouse label solutions can meet your needs.