Logistics is a complex part of supply chain management. With so much attention and effort put into planning, controlling, and executing the movement of goods and services, logistics professionals often find themselves feeling like they are expert puppet masters. Of course, efficiency across the entire supply chain is of the utmost importance to effective logistics management, but the complexities and challenges of meeting customers' demands today are requiring more innovation than ever before.
Sometimes, it is best to hear from industry peers and learn from their trials, tribulations, and successes. We have rounded up some of the top logistics podcasts from leaders in logistics, supply chain management, procurement, transportation, shipping, 3PL, and more so you can gain insight from their logistics processes. Some of the podcasts include a few episodes that center on specific logistics issues, while others include dozens of episodes and archives covering many topics in the field. No matter what your logistics issue, you're sure to find some helpful information and expert insight from at least a few of the following podcasts. Please note, we have listed our top 50 logistics podcasts here, in no particular order.
1. Supply Chain and Logistics Management
@cranfieldmngmt


Cranford University School of Management has nearly 50 years of experience educating business leaders via their Masters, MBA, executive education, and consultancy programs. Their Centre for Logistics and Supply Chain Management is celebrating 35 years of thought leadership in logistics, procurement, and supply chain management. They offer Supply Chain and Logistics Management, a free podcast available on iTunes, that covers topics such as logistics and transportation management.
Three episodes we like from Supply Chain and Logistics Management:
Supply Chain Resilience
Operating Supply Chains in China
What is Logistics and Supply Chain Management?
2. Talking Logistics Podcast
@talkinlogistics


Talking Logistics is a podcast hosted by industry analyst Adrian Gonzalez. Formatted as an online video talk show, Talking Logistics features Gonzalez interviewing thought leaders and newsmakers in the supply chain and logistics industry. The podcast also is available on iTunes.
Three episodes we like from Talking Logistics Podcast:
3. ShippingPodcasts.com from Coracle Online
@jtweed
@Incelaw


James Tweed and Coracle have been helping countless learners from more than 60 countries with their cloud-based e-learning platform. Their podcasts feature experts from Ince & Co International law firm discussing important issues and challenges in shipping for logistics professionals.
Three episodes we like from ShippingPodcasts.com from Coracle Online:
4. FoodLogistics.com Podcasts
@FoodLogistics


The only publication exclusively dedicated to covering the movement of product and information through the food supply chain, Food Logistics also offers insight via podcasts. Many of Food Logistics' podcasts feature interviews with experts in various roles in the food supply chain and cover topics such as life truck design, trade issues, and many others.
Three episodes we like from FoodLogistics.com Podcasts:
5. Supply Chain Insights
@SCInsightsLLC


Supply Chain Insights, a research and advisory firm, engages clients to improve supply chain performance and be more agile and profitable. Their logistics podcasts, which are available on iTunes, cover a variety of topics, from global thinking to voice of the customer, and many focus on technology and innovation. Nearly all of Supply Chain Insights' podcasts feature executives and experts sharing their logistics insights.
Three episodes we like from Supply Chain Insights:
6. Logility Supply Chain Optimization Podcasts
@logilityinc


Logility focuses on optimizing planning and "driving visibility in a world of complexity." Their podcasts are in video format and focus on hot topics in supply chain optimization. Logility shares ideas, practical guidance, and insight especially for supply chain managers. Please note that you will need to register your email and basic information in order to view the Logility Supply Chain Optimization Podcasts.
Three episodes we like from Logility Supply Chain Optimization Podcasts:
7. Journal of Commerce Podcasts
@JOC_Updates


Journal of Commerce provides an information portal for international container shipping and logistics. Their podcasts feature executives, experts, and industry leaders sharing insight into a wide range of logistics-related topics, including transportation management systems, automating processes, and utilizing business intelligence, among others.
Three episodes we like from Journal of Commerce Podcasts:
8. Next Level Purchasing Association Podcast
@nextlevelpurch


Next Level Purchasing Association is the world's largest procurement association. It also is the source of the SPSM Family of Certifications and the SPSM-BOK. Their logistics podcasts focus on purchasing and supply management and are available on iTunes as well as on the Next Level Purchasing website.
Three episodes we like from Next Level Purchasing Association Podcast:
Procurement Strategy Do's & Don'ts
Supplier Management: Make it Strategic
What eSourcing Is & How to Get Started
9. enVista Experts on Demand
@enVistaSpplyChn


enVista is a leading supply chain consulting and IT services firm that delivers innovative solutions for improving profitability, enhancing customer service, and reducing waste. Designed especially for supply chain leaders, the enVista Experts on Demand series offers educational videos and podcasts featuring best practices and key take-aways for improving logistics, transportation, and other supply chain fields.
Three episodes we like from enVista Experts on Demand:
10. EFT Podcasts
@eyefortransport


EFT, EyeForTransport, is a global leader in business intelligence and C-level networking for the logistics, supply chain, and transportation industry. Their logistics podcasts feature several multi-part podcast series in addition to single episodes that cover shipping, delivery, ecommerce, and much more.
Three episodes we like from EFT Podcasts:
11. Logistically Speaking
@BringgApp


A SaaS and mobile-based platform enabling businesses to manage deliveries in a smart, frictionless way, Bringg hosts a weekly podcasts featuring thought leaders in logistics and supply chain. Logistically Speaking is a new logistics podcast that shares insights from these leaders and considers the current and future state of the industry. Please note that Bringg requires you to provide some basic information before you can listen to the podcasts.
Three episodes we like from Logistically Speaking:
12. LogicalLogistics Podcast
@realbellairexp


Bellair Expediting provides first-class domestic and international air freight forwarding services. They strive to provide reliable, high-quality service and earn their reputation for dependability and excellence. They also offer the LogicalLogistics podcast, which features episodes nearly weekly with executives and experts in transportation, logistics, insurance, packaging, and more.
Three episodes we like from LogicalLogistics Podcast:
13. Manufacturing Talk Radio
@MFGTalkRadio


Manufacturing Talk Radio is "The Voice of Manufacturing Globally." A live radio show broadcast over the internet to listeners all over the world in all manufacturing industries, Manufacturing Talk Radio is hosted by Lew Weiss, president of All Metals & Forge Group, and Tim Grady, senior strategist and business advisor. Manufacturing Talk Radio is a logistics podcast that also is available on iTunes.
Three episodes we like from Manufacturing Talk Radio:
14. Manufacturing Revival Radio
@mdmnews


Modern Distribution Management shares news and intelligence for wholesale distribution professionals. Their Manufacturing Revival Radio is a podcast celebrating "the resurgence and innovation of manufacturing with a series of interviews with innovators in the industry." Episodes cover reshoring, customer input, U.S. innovation, and more.
Three episodes we like from Manufacturing Revival Radio:
15. Square One Supply Chain Podcast
@CalgaryRegion


The Calgary Regional Partnership is a collaborative effort of local municipalities that work together for a prosperous future in the region. Their Square One Supply Chain Podcast offers insight and tips for businesses and professionals moving their goods across Canada and beyond.
Three episodes we like from Square One Supply Chain Podcast:
16. Supply Chain Innovators
@rtfrp


Real Tech/Real People shares a series of interviews with decision makers across the supply chain in their Supply Chain Innovators podcasts. Their insights cover information technology, process design, delivery, and much more.
Three episodes we like from Supply Chain Innovators:
17. The Extended Supply Chain of the Future with Game Changers, Presented by SAP
@SAPradio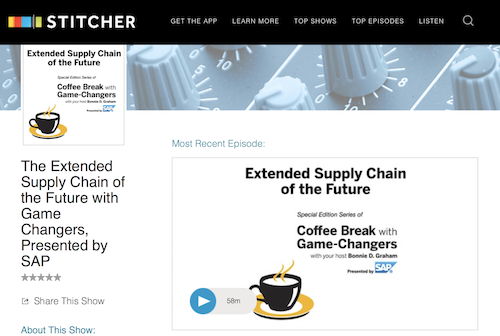 Presented by SAP and produced and hosted by Bonnie D. Graham, Coffee Break with Game Changers Radio delivers business talk about disruptive, transformational technology. The Extended Supply Chain of the Future is a special edition series of the podcast and explores how the extended supply chain impacts the buyer's journey, organization alignment and accountability, and the challenges in measuring the influence of the extended supply chain on the bottom line.
Three episodes we like from The Extended Supply Chain of the Future with Game Changers, Presented by SAP:
18. 2 Babes Talk Supply Chain
@2BabesTalkSC


2 Babes Talk Supply Chain is a podcast featuring interviews with the top supply chain professionals in the industry. Their episodes, which are available on iTunes and Stitcher, feature best practices, industry changes, and supply chain hot topics in addition to answering listeners' questions.
Three episodes we like from 2 Babes Talk Supply Chain:
Millennials in Supply Chain w/ guest Andrea Stroud
How Will Connected Apparel and Wearable Tech Disrupt Supply Chain?
3PL vs 4PL: How to Outsource Effectively
19. Special Topics in Supply Chain Management
@MITOCW


Professors Brian Subirana, John Williams, and Sanjay Sarma taught Special Topics in Supply Chain Management, which is part of the MITOpenCourseware offerings now. Their lectures on advanced topics in integrated logistics and supply chain management are available on iTunes and feature participation of corporate executives as guest lecturers.
Three episodes we like from Special Topics in Supply Chain Management:
Anti-Counterfeit Research: Time and Temperature Pedigree
Industry Panel Plenary: Research Requiring Collaboration and Standardization
The Internet of Things: A Quantum Leap Forward
20. Logistics Strategies Radio
@icclogistics


ICC Logistics provides logistics and transportation consulting services to reduce shipping costs. Their podcast is available for subscription via iTunes, Android, and RSS, and the episodes feature interviews with logistics experts and executives discussing case studies exploring how ICC Logistic Services deliver cost-effective solutions for shipping and expert logistics strategies.
Three episodes we like from Logistics Strategies Radio:
21. The Global Supply Chain Podcast
@jimtompkins


Tompkins International is a supply chain consulting and implementation firm that maximizes supply chain performance and value creation. Their Global Supply Chain Podcast explores all aspects of the supply chain and includes insights into logistics, supply chain, and material handling.
Three episodes we like from The Global Supply Chain Podcast:
22. Supply & Demand Chain Executive Podcasts
@SDCExec


Supply & Demand Chain Executive (SDCE) provides exclusive coverage on global services, solutions, trends, and challenges across the end-to-end supply and demand chain. They have been producing podcast episodes for a decade, and the information and insight provided in them comes from some of the top executives and thought leaders in the industry.
Three episodes we like from Supply & Demand Chain Executive Podcasts:
23. Warehouse Management Podcasts
@SCBrain


SupplyChainBrain is a comprehensive supply chain management information resource. Their podcasts cover a range of supply chain topics, and their warehouse management podcasts are specifically geared toward lean inventory and warehouse logistics.
Three episodes we like from Warehouse Management Podcasts:
24. GT Nexus Podcasts
@GTNexus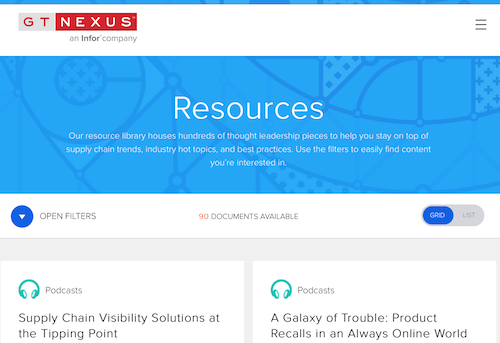 The world's largest cloud collaboration platform for global trade and supply chain management, GT Nexus provides a solution for automating supply chain processes on a global scale and across trade communities. They offer several resources from thought leaders, and their logistics podcasts cover supply chain trends, hot topics in the industry, and best practices.
Three episodes we like from GT Nexus Podcasts:
25. My Purchasing Center Podcast
@mypurchasing


An online publication for procurement and supply professionals, My Purchasing Center serves as a hub of purchasing news. Their podcast is an informative resource for logistics professionals and includes several episodes featuring industry experts and various supply chain and logistics executives and decision makers.
Three episodes we like from My Purchasing Center Podcast:
26. SAPinsider Podcasts
@SAPinsider


SAPinsider, the premier source of information on product and service initiatives from SAP and its partners, offers several podcasts on supply chain management, technologies that advance logistics, warehouse management, and more. No matter your logistics role, you are sure to find helpful information in the SAPinsider podcasts.
Three episodes we like from SAPinsider Podcasts:
27. Supply Chain Innovations Today
@SCMProfessor


Supply Chain Innovations Today (SCIT) delivers supply chain innovations for large and small companies and organizations. CEO Dr. Steve Brady shares his insight and thoughts on supply chain management in his blog and podcasts to help readers and listeners learn how to transform their supply chain.
Three episodes we like from Supply Chain Innovations Today:
28. Shipping Podcast
@Shippingpodcast


Shipping Podcast features insights from maritime professionals in the world of shipping. Each episode of this logistics podcast features interviews with the shipping professionals who are contributing to globalization. Shipping Podcast also is available on iTunes.
Three episodes we like from Shipping Podcast:
29. The Shipping Podcast
@LloydsList


Lloyd's List has been leading maritime commerce since 1734, and they offer shipping industry news and analysis. Together with the UK Chamber of Shipping Lloyd's List presents debates on the latest issues affecting shipping, particularly in the UK. The Shipping Podcast is a logistics podcast hosted by Jonathan Robers, head of communications for UK Chamber, and available on iTunes.
Three episodes we like from The Shipping Podcast:
30. The Ecommerce Shipping Podcast
@FASTPACK


Fastpack has been providing shipping supplies since 1999. Fastpack's brand new logistics podcast, The Ecommerce Shipping Podcast, is hosted by Fastpack founder Jason Archambault and is geared toward small businesses and organizations looking to improve their ecommerce business shipping model.
Three episodes we like from The Ecommerce Shipping Podcast:
31. Dropship Hustlers Podcast
@DropshipHustler


Dropship Hustlers is a podcast by online entrepreneurs Klint and Grant Parker, who promote location independence and share their experiences and insights for others looking to become successful in the industry. Their podcast episodes include interviews with leading experts and provide actionable information and inspirational stories from other entrepreneurs and drop shippers.
Three episodes we like from Dropship Hustlers Podcast:
32. Inside Transportation Podcast
@MattManero


Founder and CEO of CFF Nationwide and RoadGritTV, Matt Manero also is the man behind the Inside Transportation Podcast. Manero has more than 20 years of experience in transportation equipment finance, and he shares his own insight plus that of transportation industry innovators in episodes of this logistics podcast.
Three episodes we like from Inside Transportation Podcast:
33. Supply Chain Podcast Series
@logilityinc


Logility's Supply Chain Podcast Series includes 18 videos and is available on YouTube. Offering supply chain best practices and advice, this logistics podcast series features industry experts and thought leaders.
Three episodes we like from Supply Chain Podcast Series:
34. Public Procurement Podcast
@publicprocure


The Public Procurement Podcast (PPP) offers knowledge relating to public procurement to everyone but is geared toward early career academics looking to talk about and learn about the industry. The project includes 24 episodes and is part of a larger project sponsored by the British Academy Rising Star Engagement Awards.
Three episodes we like from Public Procurement Podcast:
35. Art of Procurement
@aopshow


The Art of Procurement is a regularly-updated logistics podcast that features industry thought leaders discussing trends, strategies, and tactics for elevating the role of procurement. Art of Procurement founder Philip Ideson hosts the show with the goal of making procurement a competitive advantage and helping others realize the value that procurement can deliver.
Three episodes we like from Art of Procurement:
36. A.T. Kearney Wave of the Future Podcasts
@ATKearney


A.T. Kearney, a leading management consulting firm, shares global insight and perspective in their knowledge center via analyst reports, articles, brochures, and more. Their Wave of the Future podcasts date to 2007 and cover a range of topics for logistics leaders including globalization, sustainability, and procurement trends.
Three episodes we like from A.T. Kearney Wave of the Future Podcasts:
How Effective Collaboration Between Procurement and Finance Can Mitigate Supply Chain Risk
Direct Materials Sourcing: Innovate Your Way to Double-Digit Savings
Social Media for Procurement
37. Cold Chain IQ
@PharmaLogIQ


Pharma Logistics IQ focuses on the temperature controlled pharma supply chain, transportation, 3PL, packaging, regulation, and more. Their podcast, Cold Chain IQ, shares temperature control logistics learning opportunities and can enhance listeners' pharma supply chain knowledge. Most episodes feature one-to-one interviews or panel discussions with pharma experts. Please note that listeners must enter some basic information in order to access the podcasts.
Three episodes we like from Cold Chain IQ:
38. ISM Podcasts
@ISM_Magazine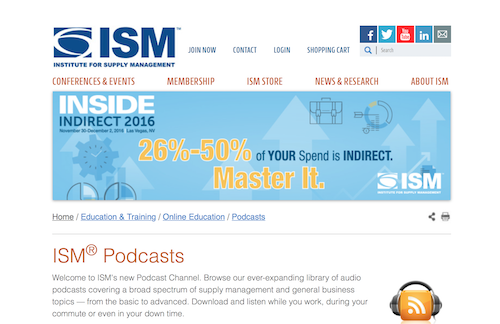 The first and largest not-for-profit professional supply chain management organization worldwide, Institute for Supply Management has more than 50,000 members in 100 countries. Their mission is to "advance the practice of supply management to drive value and competitive advantage, and contribute to a prosperous, sustainable world." ISM Podcasts offers a selection of episodes covering a spectrum of supply management and business topics for logistics professionals.
Three episodes we like from ISM Podcasts:
39. The Oracle Speaks Series
@enVistaSpplyChn


enVista presents The Oracle Speaks Series, an informative supply chain podcast series that focuses on solving supply chain challenges through the eyes of Isaac Edwards, a fictitious director of supply chain. Edwards offers helpful supply chain insight via true-to-life professional trials and tribulations.
Three episodes we like from The Oracle Speaks Series:
40. Andreessen Horowitz a16z Podcasts: Logistics
@a16z


A firm providing entrepreneurs with access to expertise and insights in innovation, marketing intelligence, policies and regulations, and more, Andreessen Horowitz shares several logistics articles and podcasts. Episodes of their a16z Podcast feature industry experts and thought leaders discussing logistics on a global scale.
Three episodes we like from Andreessen Horowitz:
41. The Outliers Inn
@antlerboy
@ParisJF


Benjamin Taylor, business evolutionary and avid learner, is a managing partner of RedQuadrant and host of The Outliers Inn, along with Joseph Paris, founder and CEO of operations management consultancy XONITEK. The Outliers Inn is a new, "lighthearted" podcast focusing on the world of operational excellence, organizational development, leadership, and results that matter for logistics and business professionals.
Three episodes we like from The Outliers Inn:
42. Innovative Retail Technologies Warehouse Automation Podcast Series
@OPEXcorporation


Innovative Retail Technologies, formerly Integrated Solutions for Retailers, is a premier source for informative technology solutions in the retail industry. Their Warehouse Automation Podcast series features OPEX Corporation president of material handling, Jeff Hedges, who shares his expertise in this particular area of logistics with the audience. Please note, some episodes are available as audio files and others are available to read in text form.
Three episodes we like from Innovative Retail Technologies Warehouse Automation Podcast Series:
Part 1: Key Considerations for Warehouse Automation
Order Accuracy in the DC
The E-Commerce Fulfillment Challenge for Growing Retailers: Automation for the Other 90 Percent – Part 2
43. Postal Hub Podcast
@PostalHubPod


The Postal Hub Podcast is specifically for the postal sector of logistics. Episodes feature experts and executives discussing the role of shipping, delivery, and more in logistics. The Postal Hub Podcast's most recent episodes explore the evolving relationship between postal services and logistics.
Three episodes we like from Postal Hub Podcast:
44. ICS Industry Insights
@ICSConnect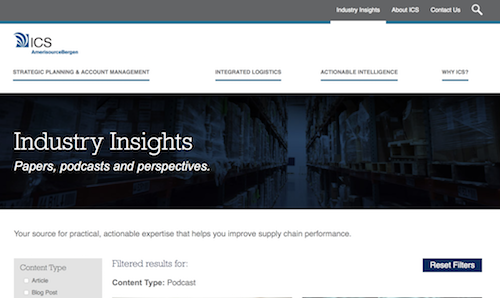 ICS delivers healthcare logistics solutions designed to help manufacturers succeed. Episodes offer practical, actionable advice and insight to help listeners improve supply chain performance.
Three episodes we like from ICS Industry Insights:
45. The Loadstar Podcasts
@theloadstar


The Loadstar delivers award-winning independent commentary, analysis, and news for the logistics industry. With a goal of "making sense of the supply chain," The Loadstar Podcasts cover a variety of topics including shipping containers, the latest industry trends, and more.
Three episodes we like from The Loadstar Podcasts:
46. TechTarget Logistics Podcasts
@TechTarget


The online intersection of technology buyers, targeted technical content, and technology providers, TechTarget offers podcasts covering several topics in logistics. With an archive of more than 50 podcasts, TechTarget is a comprehensive resource for informative podcasts featuring logistics experts.
Three episodes we like from TechTarget Logistics Podcasts:
47. Peterson Institute for International Economics Event Audio Podcast
@PIIE


The Peterson Institute for International Economics is a private nonprofit nonpartisan research institution devoted to studying international economic policy. They have made the audio recordings of their economics events available on iTunes, and several of them touch on topics that are of interest to logistics professionals.
Three episodes we like from Peterson Institute for International Economics Event Audio Podcast:
Kevin Brady: Rethinking Trade and Reframing the Trade Debate
Release of Implications of the Trans-Pacific Partnership for the World Trading System
The Global Value Chain Revolution and Trade Policy
48. Logistics and Supply Chain Secrets
@LogisticsBureau


Rob O'Byrne is group managing director of the Logistics Bureau, a specialist management consulting firm based in Australia and southeast Asia. He shares his supply chain expertise, in addition to that of industry-leading professionals, in episodes of Logistics and Supply Chain Secrets, a logistics podcast courtesy of the Logistics Bureau.
Three episodes we like from Logistics and Supply Chain Secrets:
49. The Consafe Logistics Podcast Universe
@ConsafeLogistic


One of Europe's leading suppliers in production logistics, enterprise mobility, and warehouse management, Consafe Logistics features its Podcast Universe to help guide listeners "to successful supply chain execution IT." Their episodes cover a variety of logistics topics that all fall under the umbrella of logistics and supply chain IT systems.
Three episodes we like from The Consafe Logistics Podcast Universe:
Make the Right Demands When You Select a Supplier
Implementing a New Supply Chain IT System? Don't Forget the ROI Study
The Right Way to Find the Right Vendor? Involve Your Staff
50. Supply Chain Digest
@scdigest


Supply Chain Digest offers some of the best information in supply chain news and insight. Their weekly, online newsletter shares the latest information for supply chain and logistics professionals, and their live, on-demand supply chain Videocasts cover some of the most important topics and trends in the industry. Please note, you will need to register your email address to view some of the logistics content from Supply Chain Digest.
Three episodes we like from Supply Chain Digest:
Further reading on Logistics and Asset Tracking from Camcode: