Preventive maintenance (PM) is one of the most useful ways to manage equipment performance with a proactive system. Many PM programs rely on a transparent schedule of activities to properly balance the workload among the hundreds or thousands of tools that are being maintained. In recent years, software platforms such as Enterprise Asset Management (EAM) systems and Computerized Maintenance Management Systems (CMMS) have played a prominent role in managing these workflows.
In this post, we've rounded up 25 of the best software tools available for managing preventive maintenance work. You will find a good mixture of EAM and CMMS platforms along with a few other niche applications that are designed to support maintenance work. When reviewing the capabilities of these software packages, it's important to consider your unique maintenance needs based on the specific facilities, assets, and resources that you manage. This list is presented in alphabetical order; the tools aren't ranked or rated in any way.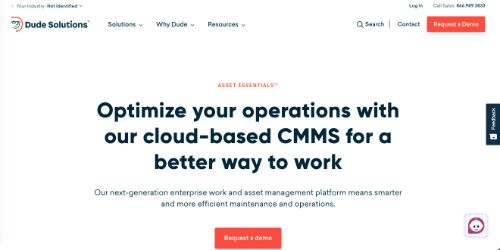 Asset Essentials, from Dude Solutions, is a cloud-based CMMS with an intuitive user interface. This software has essential tools for managing work orders, purchase orders, assets, and safety programs. Users can also monitor key performance indicators from the main dashboard and create customized reports.
Key Features:
View PM work order status
Advanced reporting and analytics
Preventive maintenance scheduling
Cost: Contact for a quote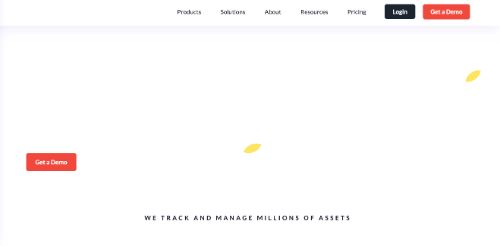 Asset Panda is a highly scaleable asset management and tracking platform that is designed for flexibility. Their simple pricing plan supports unlimited users and is based on the number of individual assets tracked by the system. Preventive maintenance work can also be easily assigned and scheduled within the software.
Key Features:
Complete asset audit trails
Role-based system access
Android and iOS apps
Cost: $125 – $550+/month (pricing based on number of assets)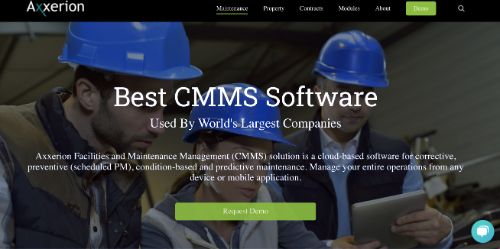 Axxerion CMMS can be used to manage facilities and maintenance work across multiple locations. The system operates completely in the cloud, enabling a mobile-first strategy and streamlining access for your entire maintenance and operations teams. Users can fully customize many settings including PM alerts, dashboards, and reports.
Key Features:
Project management tools
Custom reporting and dashboards
Accounting and invoicing
Cost: Contact for a quote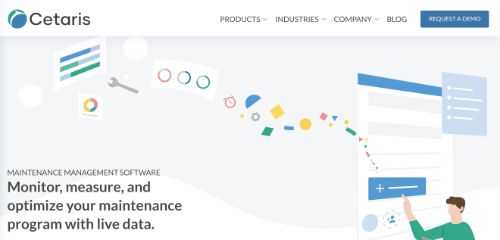 Cetaris is a fully functional maintenance management platform that features real-time data and world-class maintenance tools. There are three modules of the software system defined as Cetaris Fix, Cetaris Count, and Cetaris Approve. Together, these platforms make it easy for any maintenance team to manage work orders, inventory, and work/purchase orders.
Key Features:
Automated task management
Support for fleets, facilities, and fixed assets
Over 1,000 third-party integrations
Cost: Contact for a quote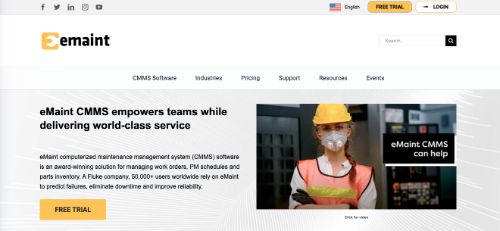 eMaint CMMS, from Fluke Corporation, provides maintenance teams with a complete solution for managing their work. There are some excellent preventive maintenance capabilities included in this package such as automated scheduling and task generation. This software is highly scalable to meet even the most demanding maintenance needs. The company offers a free demo so you can determine if it's the right solution for your preventive maintenance management needs.
Key Features:
Preventive and predictive maintenance tools
A multi-site toolkit
Overlay asset data onto a floor plan or site map
Cost: Contact for a quote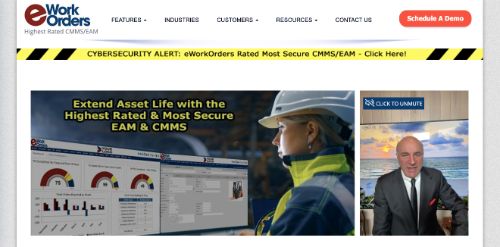 eWorkOrders is a complete CMMS/EAM solution that is considered one of the most secure asset management platforms. The software can be used to manage assets, maintenance, and service workflows all from a single user interface. With eWorkOrders, it's easy to create and schedule preventive maintenance tasks and organize spare parts and inventory.
Key Features:
Complete asset lifecycle management
Manage and submit service requests
Support for materials management
Cost: Contact for a quote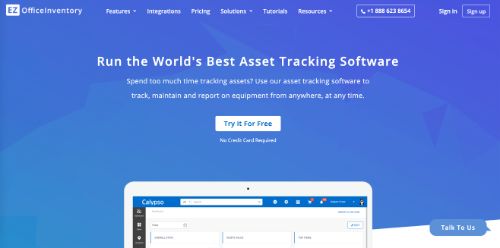 EZOfficeInventory provides asset tracking capabilities to small businesses and large-scale operations. This software is well integrated with RFID and barcode scanning technologies, making it easy to tag and monitor assets across any number of locations. The maintenance module can be used to schedule preventive maintenance work at set intervals, flag assets, and manage vendors.
Key Features:
CMMS-compliant software to plan preventive maintenance management
Maintenance work scheduler and service vendor management
Custom roles and permissions
Cost:
Essential: $25+/month for 250 items, unlimited users (pricing increases with additional assets)
Advanced: $45/month for 250 items, unlimited users (pricing increases with additional assets)
Premium: $50/month for 250 items, unlimited users (pricing increases with additional assets)
Enterprise: Contact for a quote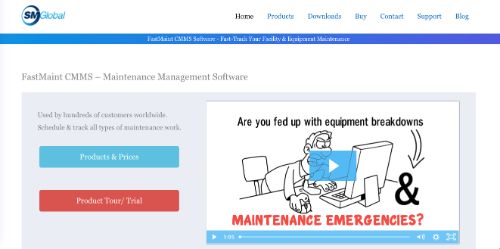 FastMaint, from SM Global, is a highly scalable CMMS that can be deployed on-premise or as a cloud-based subscription package. The software is easy to configure and supports multiple user accounts and collaboration through sharing data, dashboards, or reports. Maintenance work requests can be easily generated and assigned within the system.
Key Features:
Easily import equipment and task lists
Track maintenance work requests
Barcode support is available as an add-on
Cost:
Standard: $1200 one-time fee, on-premise, single-user access
Professional: $3000+ one-time fee, on-premise, multi-user access
Web: $3000+ one-time fee, on-premise server install, web-based access interface
Cloud: $100/month, cloud-hosted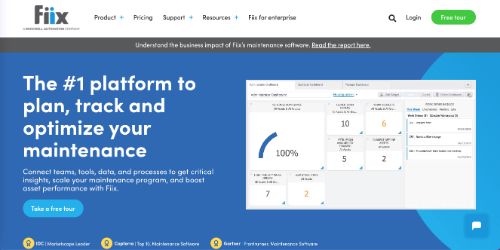 Fiix CMMS is an excellent mobile-optimized platform for managing preventive maintenance work orders and requests. The entire workflow of the system is designed around work order management and includes customized fields and AI-powered reporting. A free version is available for very small teams or those looking to try the software before committing to a larger-scale plan.
Key Features:
Optimized for mobile maintenance
Complete work order management
Integrations and a complete, open API
Cost:
Free: Free access for up to 3 users with core functionality
Basic: $45/month per user
Professional: $75/month per user with custom reporting and AI-powered analytics
Enterprise: Contact for a quote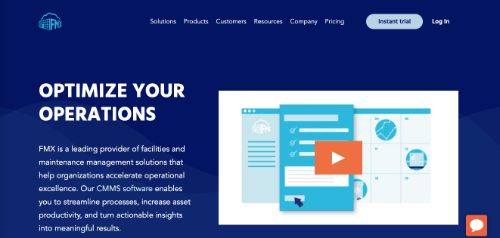 FMX is a leading CMMS software platform that brings advanced operational tools to each facility. They offer a preventive maintenance assessment tool on their website that can help any organization identify potential areas of improvement. The work order scheduler can be used for organizing all planned maintenance activities and resources.
Key Features:
Streamlined work order management
Support for asset tagging and barcode scanning
Parts and inventory management
Cost:
Essentials: Free with unlimited work orders
Select: $35/month per user, adds PM scheduling and reporting
Plus: $60/month per user, adds advanced inventory management and custom workflows
Premium: Contact for a quote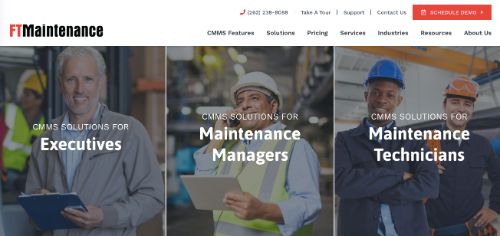 FTMaintenance helps improve maintenance operations by offering a CMMS that is intuitive and very easy to use. The main interface includes easy-access tabs for reviewing maintenance work orders, equipment data, and software configuration information. Preventive maintenance schedules can be fully automated using the scheduling tool with custom notifications and alerts.
Key Features:
Create custom maintenance reports
Mobile maintenance requests
Inventory and asset management
Cost: Contact for a quote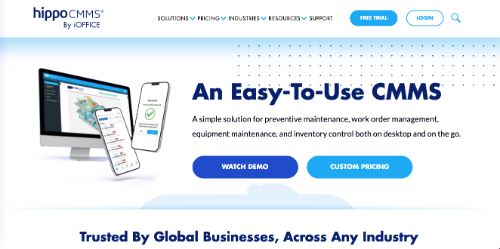 Hippo CMMS, from iOFFICE, can be accessed from office computers, mobile apps, or the internet. The tools included with this software package work to streamline the maintenance management process and make PM scheduling transparent and simple. Users can create, delegate, and monitor all active work orders with complete control over the details.
Key Features:
Generate on-demand work orders
Streamlined vendor management
Monitor preset inventory and parts levels
Cost:
Starter: $39/month per user for a single facility
Plus: $69/month per user, adds multiple facilities and additional features
Pro: $99/month per user, adds API access and single sign-on (SSO) support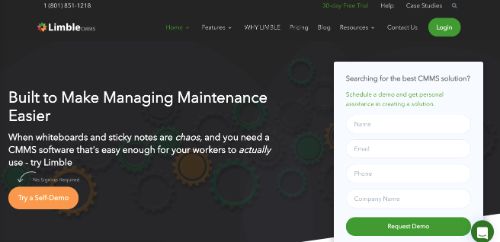 Limble CMMS is a strong choice for preventive maintenance management with a completely mobile work request system. With the mobile app, users can easily scan barcodes with their devices and quickly access any important information. A free 30-day trial is available, and four pricing plans make it easy to select an option that works best for your company.
Key Features:
Automated work request syncing
Support for speech to text
Over 20 configurable work order settings
Cost:
Starter: $40/month per user with basic features
Professional: $70/month per user, adds additional features for small businesses
Business Plus+: $105/month per user, adds automated workflows for mid-size businesses
Enterprise: $185/month per user, adds complete enterprise features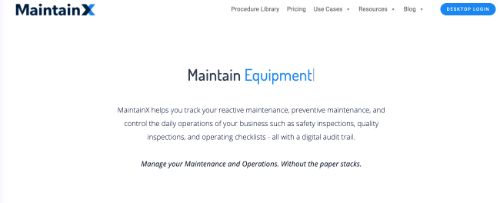 MaintainX can be used to create, track, and schedule preventive and predictive maintenance activities. With a complete digital audit trail, users will always have access to a complete history for each asset. In addition to maintenance work, MaintainX also supports inspections, audits, and safety reviews with dedicated features.
Key Features:
Real-time asset monitoring
An integrated digital audit trail
Monitor compliance status and activities
Cost:
Basic: Free for small teams with limited features
Essential: $8.33+/month per user, with unlimited work orders
Premium: $32.50+/month per user, with advanced features
Enterprise: Contact for a quote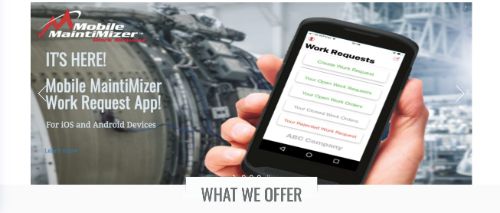 Maintimizer is a highly customizable CMMS/EAM platform that is available in three different versions. Maintimizer BlackBox 2 is a completely plug-and-play software/hardware bundle that can be installed onsite. Maintimizer Online is a SaaS program that can be accessed from the internet, and Maintimizer Web Edition gives you an on-premise install with remote access for employees.
Key Features:
Preventive maintenance scheduling
Inventory and work order management
Add-on modules available
Cost: Contact for a quote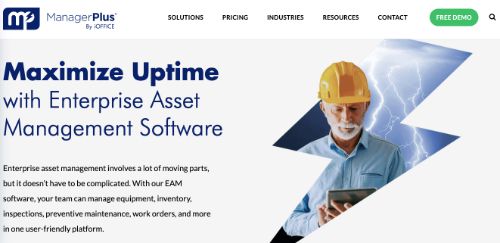 ManagerPlus, by iOFFICE, is a complete enterprise asset management platform that supports preventive maintenance teams. This user-friendly software system is a completely cloud-based SaaS offering that can be accessed from any device with an internet connection. The data analysis features help improve preventive maintenance workflows by identifying bottlenecks in real-time.
Key Features:
Work order management
Maintenance planning tools
A fully functional mobile app
Cost:
Lightning Plus: $85/month per user, full-featured SaaS solution
Lightning Experience: $125/month per user, adds a multi-site toolkit and API support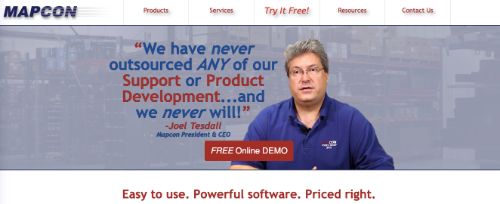 MAPCON is an intuitive CMMS that can be deployed to your entire organization quickly. The features of MAPCON are well suited for businesses of all sizes, and concurrent-user licensing makes it an affordable option when scaling the platform for larger operations. A free online demo is available along with a 30-day free trial to assess the capabilities before purchasing.
Key Features:
Multi-site management
Complete mobile integration
200+ reporting templates
Cost: Contact for a quote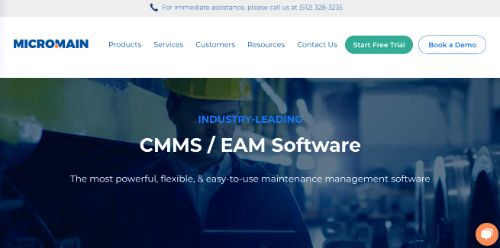 MicroMain is a powerful EAM/CMMS platform that is used by over 10,000 customers. This system supports both preventive and predictive maintenance scheduling and has enterprise-grade asset management capabilities. MicroMain can also be used to generate custom, unique QR codes that can be assigned to each asset.
Key Features:
A cloning feature for easy asset entry
QR code and barcode support
Workforce management
Cost: Contact for a quote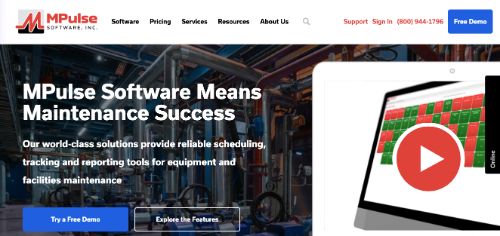 MPulse is a fully-featured CMMS system for managing preventive maintenance scheduling, asset tracking, and parts inventories. The automated scheduler is perfect for managing preventive maintenance work, and users can also track repair times for individual jobs. This software also includes graphical reporting tools for making data-rich graphs and documents.
Key Features:
A visual maintenance calendar view
Complete metrics and reporting
Adaptive "any device" interface
Cost:
Professional: $80/month per user for entry-level features
Advanced: $100/month per user, adds advanced customizations and condition-based maintenance
Enterprise: $130/month per user, adds an integration adapter and SSO support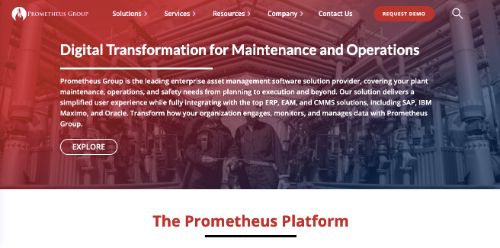 Prometheus is a complete suite of maintenance management tools for planning, scheduling, and reviewing work. Data from Prometheus can be synced with other platforms, such as SAP and Oracle, including information related to contractors and inventory. Equipment shutdowns can also be tracked in real-time to monitor turnaround, service time, and execution.
Key Features:
Integrated Safe System of Work (ISSOW)
An app for iOS and Android
Prometheus Master Data as a Service
Cost: Contact for a quote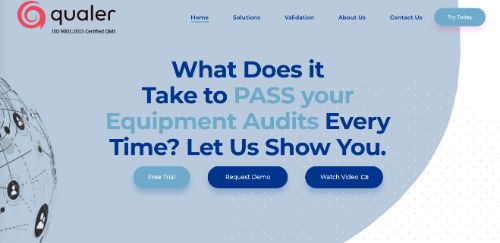 Qualer is a certified quality management system (QMS) that is optimized for lab environments. The maintenance management features of Qualer are extensive, with full support for preventive maintenance activities. Users can track calibrations, service appointments, and detailed information about equipment vendors in a single location.
Key Features:
Support for metrology and calibration needs
Upload digital records and documentation
Schedule and track service work
Cost: Contact for a quote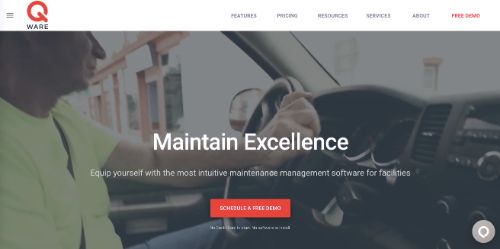 Q Ware is a CMMS designed for use in managing facilities of all sizes. The software is broken down into three applications for managing work orders, work schedules, and inventory. This software also boasts a simple design with a pleasing interface that makes it easy to manage and schedule work requests for all of your important assets.
Key Features:
Automated work order generation
Manage inventory costs
A completely cloud-based system
Cost: Free for up to 5 users. Contact for a quote.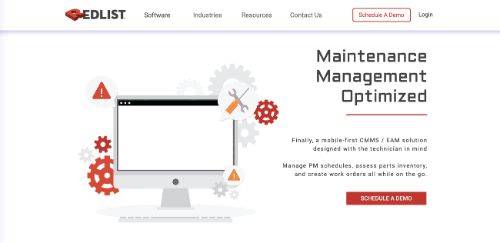 Redlist is a mobile-first EAM/CMMS with excellent tools for managing a preventive maintenance team remotely. The main dashboard packs a lot of information into a tiny space and gives users complete visibility into all active maintenance work orders. This is also a great platform for monitoring equipment issues and making real-time improvements that can increase productivity and uptime.
Key Features:
A user-friendly interface
Easily monitor equipment failures
Control operating costs and repairs
Cost: Contact for a quote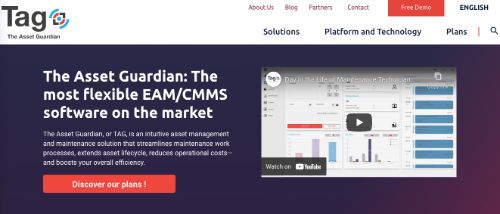 The Asset Guardian is a flexible CMMS/EAM with tools for monitoring the complete lifecycle of each asset. It's a great option for streamlining preventive maintenance workflows and scheduling work orders all from a single software platform. This program can be installed as a standalone on-premise package, completely cloud-based solution, or a hybrid deployment.
Key Features:
Real-time service updates
Linear asset management
Support for IoT sensors and predictive maintenance
Cost: Contact for a quote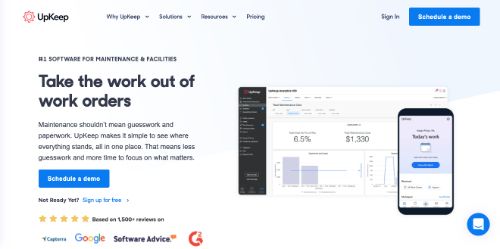 UpKeep is a total CMMS solution that is built around work order management. Preventive maintenance teams will appreciate the easy-to-use work scheduler and comprehensive parts and inventory management tools. The software also includes specific PM capabilities such as generating runtime or calendar-based maintenance schedules.
Key Features:
Create and share maintenance checklists
A comprehensive PM calendar
Workflow automation
Cost:
Community: Free with limited features
Starter: $45/month per user, best for small businesses
Professional: $75/month per user, best for small to mid-size businesses
Business Plus: $120/month per user, best for enterprises using advanced features