SAP Plant Maintenance (PM) is one of the most utilized modules in the SAP platform. It integrates seamlessly with asset tags such as facilities management asset tags and equipment tags for streamlined plant maintenance management. Software users, managers, and consultants can often benefit from additional training and course materials that develop new skills. To help you identify new career development opportunities and get the most out of the SAP Plant Maintenance solution, we've compiled this list of 25 SAP PM tutorials and training resources.
Included in this list of SAP PM resources are courses, books, tutorials, and consultants. You'll also find opportunities for local courses in a number of countries and completely remote, online material. We hope this list will help you diversify your SAP PM skills and learn new perspectives that can contribute to organization-wide SAP system improvements.
This list is presented in alphabetical order, but otherwise, the resources below are not rated or ranked in any way.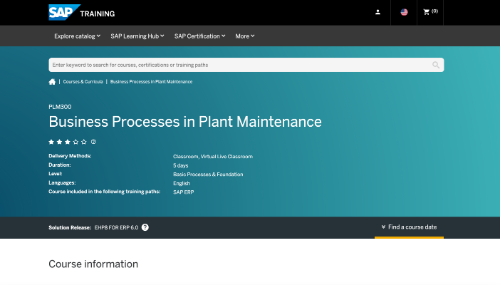 This training course comes from the official SAP Training website and covers all major business processes that are part of plant maintenance. The course runs for 5 days. Included in the curriculum is a complete overview of user interface setup and integrations with other SAP applications.
What You'll Learn:
UI and UX customization
Corrective maintenance management
Project-oriented maintenance
Cost: $4,090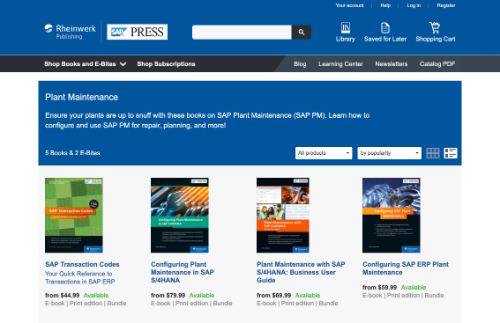 Rheinwerk Publishing has an extensive catalog of professional books including this series on SAP Plant Maintenance. Visitors can select from 5 full-length e-books that discuss maintenance system configurations and business process improvement. Also available are two smaller "e-bite" publications for managing predictive maintenance and maintenance planning.
What You'll Learn:
Predictive maintenance strategies
System configuration for SAP S/$HANA users
A quick reference guide for SAP transactions
Cost: $19.99 – $79.99
The Prometheus Group is a full-service consultancy with an extensive selection of solutions for SAP software owners. Their training services for SAP PM include planner training and customized consulting services that can be tailored to meet each client's needs. The phase 1 SAP PM training is taken over 3 days of content and discusses basic software operation and implementation best practices.
What You'll Learn:
Planning best practices
Managing task lists
Work order completion
Cost: Contact for a quote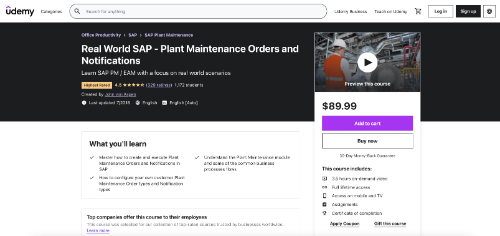 This entry-level course created by John von Aspen on the Udemy platform shares unique real-world examples of managing SAP PM in various plant facilities. About 3.5 hours of video content is available and the course is completely self-guided. This course is well suited for general SAP PM users and anyone involved in related customer service activities.
What You'll Learn:
Configuring plant maintenance order types
Managing business process flows
Basic SAP PM functionality
Cost: $89.99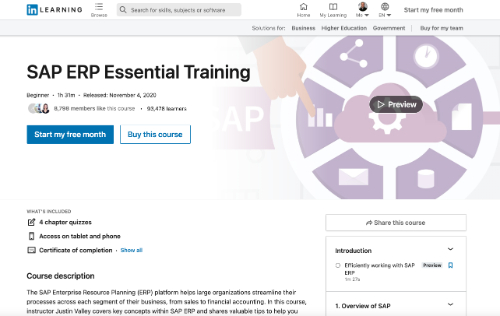 The SAP ERP Essential Training on LinkedIn Learning is a beginner-level course that runs just over 1.5 hours in length. This fundamental instruction can be useful for SAP PM users by providing context for using related modules such as Materials Management (MM) and Sales and Distribution (SD). Attendees will gain knowledge that will help them manage work across business units and supporting departments.
What You'll Learn:
Introduction to SAP ERP modules
Managing SAP clients
Defining security roles
Cost: Included with LI Learning subscription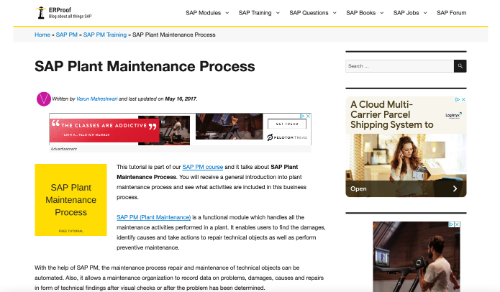 The ERProof blog covers an extensive selection of topics related to SAP such as modules, training, and frequently asked questions. This basic SAP plant maintenance process tutorial is part of a larger SAP PM course and shares a brief overview of common software operations. You will also find information related to repair, preventive maintenance, and inspection processes.
What You'll Learn:
Integrating SAP PM with other modules
Technical object definitions
Creating a bill of materials (BOM)
Cost: Free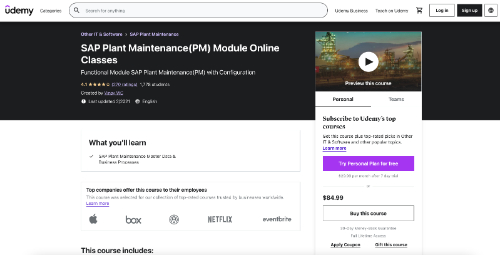 This SAP Plant Maintenance (PM) module on the Udemy platform is a step-by-step training course for managing common maintenance activities. The course was developed by Vinay WC and includes 22 hours of video content and 15 downloadable resources. Users can easily access the material on a computer or mobile device and complete the work at their own pace.
What You'll Learn:
Equipment master data
Using permits and catalogs
Corrective and preventive maintenance management
Cost: $84.99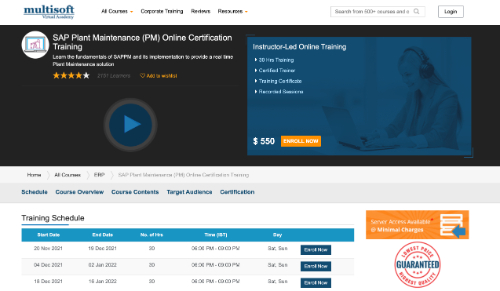 Multisoft virtual academy provides corporate training and course content to individuals and companies worldwide. Their SAP PM online certification course has been taken by over 2,000 students and includes 30 hours of course content. This is a live instructor-led course that comes with a formal certificate upon completion.
What You'll Learn:
PM organizational structure
Creating custom reports
Configuration and integration considerations
Cost: $550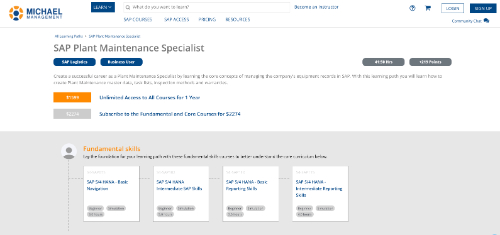 The SAP Plant Maintenance Specialist course from Michael Management is a lengthy training program that involves over 40 hours of content. It is a complete learning path for anyone developing SAP PM specialist expertise. The core curriculum includes SAP S/4 HANA operations, bill of materials management, and document management.
What You'll Learn:
SAP work scheduling
PM tips for end-users
Basic document management skills
Cost: $2274 for all Fundamental and Core Courses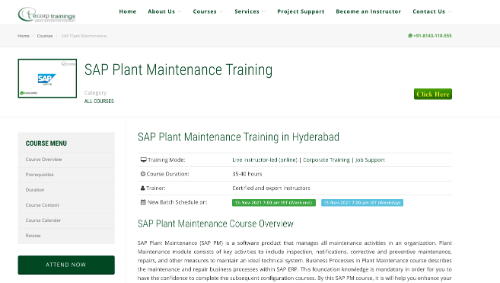 The SAP Plant Maintenance Training offered by eCorp Trainings is conducted on a rolling schedule and includes approximately 40 hours of live instruction from certified software experts. Attendees can access the course online for remote learning. Free study materials are shared to help students digest the course content and prepare for testing.
What You'll Learn:
Managing equipment
SAP user roles
Breakdown maintenance planning
Cost: Contact for a quote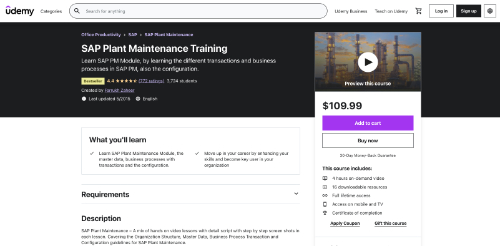 This SAP Plant Maintenance Training course on Udemy was created by Farrukh Zaheer is comprised of 43 individual lectures. The course includes almost 8 hours of video and covers important topics like notifications and maintenance strategy planning. Users who enroll in and finish this course will learn new skills related to the SAP PM module and receive a certificate of completion.
What You'll Learn:
Creating maintenance order notifications
Bill of Material (BOM) management
Working with Master Data
Cost: $109.99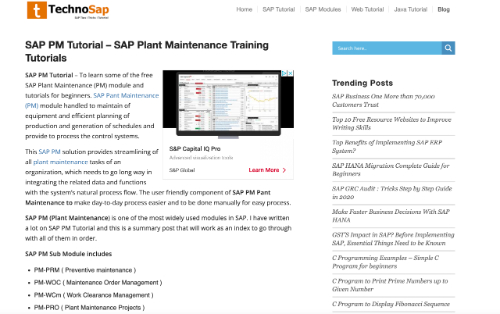 The SAP PM tutorial that TechnoSap has created is a nice reference for the basic operation of the SAP PM software module. Many frequent users who access the system on a daily basis will benefit from learning shortcuts and new ways to customize the program. All major SAP PM sub-modules are covered in the 6 individual tutorials shared on the page.
What You'll Learn:
SAP PM functional location
Conducting availability checks
SAP Made To Order (MTO)
Cost: Free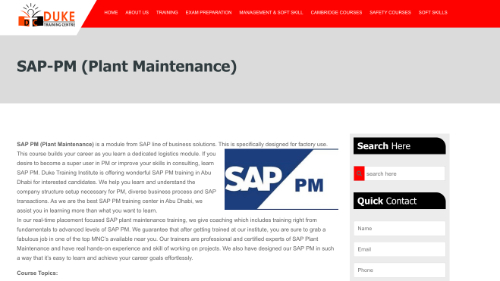 Duke Training Centre is a leading training provider in the UAE that hosts many SAP courses including this fundamental offering for SAP PM. The course curriculum is focused on factory environments and is a good option for career and skill development. Both end-users and SAP project team members can benefit from the instruction.
What You'll Learn:
Understanding SAP PM functions
Completing basic transactions
Connecting SAP PM with other modules
Cost: Contact for a quote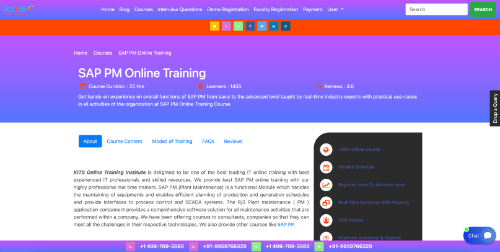 KITS online training offers this SAP PM online training course that takes 25 hours to complete. It takes a hands-on approach and guides students through tasks ranging from beginner to advanced within the software. The course also includes many real-world examples and scenarios that will help you better understand how to apply these skills.
What You'll Learn:
A complete overview of SAP PM
Managing MASTERDATA
SAP Planning scenarios
Cost: Contact for a quote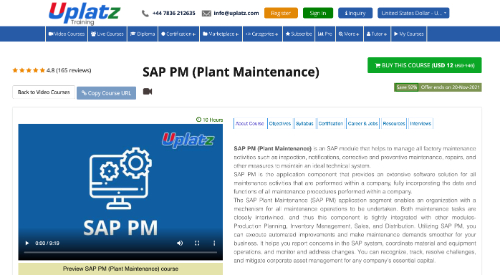 This SAP PM course from Uplatz Training comes with a price match guarantee and full lifetime access. The lectures are broken down into 9 sections, with each including multiple videos. As a mobile-learning option, this is an accessible resource that provides comprehensive plant maintenance training.
What You'll Learn:
Performing inspections
Technical objects in PM
PM configuration
Cost: $12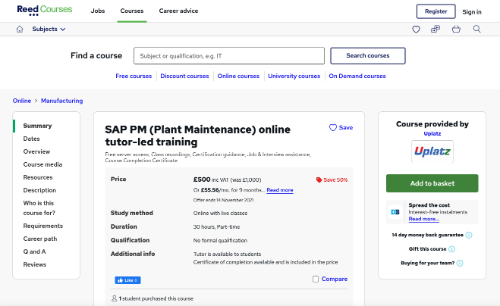 Reed Courses is a UK-based company known for providing job listings, training courses, and career advice. This SAP PM online course is offered in collaboration with Uplatz and comes with a 14-day money-back guarantee. The comprehensive course runs on a rolling schedule and is instructor-led.
What You'll Learn:
Performance-based planning
PM organizational structure
Maintenance processing
Cost: £500 inc VAT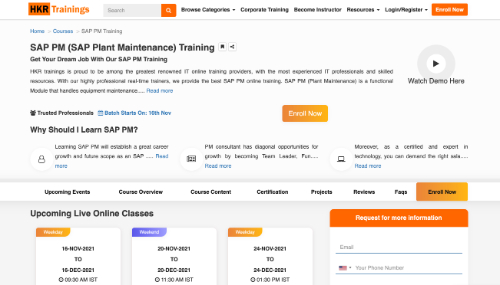 HKR Trainings offers this SAP Plant Maintenance training program as a weekday or weekend program that runs for a month. This is a comprehensive course that is instructor-led with 30 hours of content. The 21 modules cover all basic features of SAP PM, and the program concludes with a practice test and mock interview sessions.
What You'll Learn:
Assigning process tasks
Order creation
SAP planning scenarios
Cost: Contact for a quote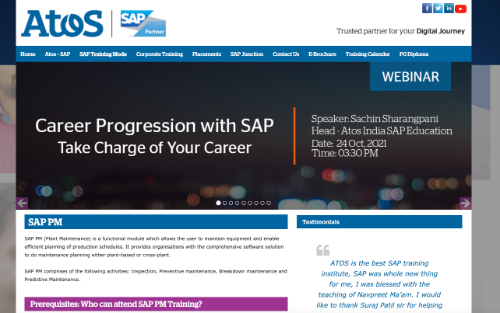 ATOS is a formal SAP partner that hosts training courses for corporate teams and individuals. This course is best taken by intermediate SAP users who have at least 2 years of experience and knowledge of several modules including maintenance and services. The ultimate goal of this instruction is to prepare students to do PM consulting work.
What You'll Learn:
Completing inspection tasks
Breakdown maintenance
Cross-plant maintenance planning
Cost: Contact for a quote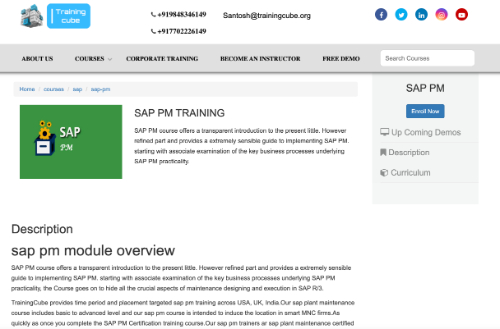 This SAP PM training course from Training Cube is an introduction to the SAP PM module and the business processes it supports, such as maintenance design and execution. Users of SAP R/3 can gain new insights into plant maintenance at basic to advanced levels. The course is divided into 5 lectures that discuss how to process basic tasks and work with technical objects in SAP PM.
What You'll Learn:
Document management
Maintenance processing
Managing technical objects
Cost: Contact for a quote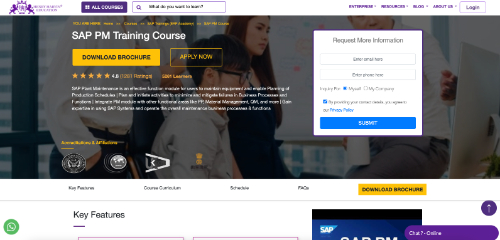 This SAP PM Training from Henry Harvin Education has been completed by over 5,000 students and also includes a formal certification. Students who enroll will also have access to ERP Academy with a free one-year gold membership and hands-on learning projects. The course is delivered through a learning management system (LMS) making it easy to access the content from nearly anywhere.
What You'll Learn:
Managing Master Data in PM
Using objects in R/3 PM
Equipment inspections in SAP
Cost: $539 – $599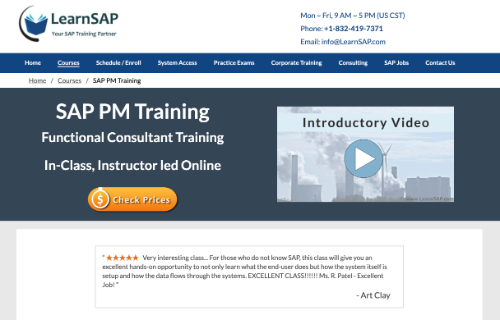 This SAP PM training course from LearnSAP is an in-class and instructor-led offering that gives a complete beginning overview of efficient plant maintenance. The content is designed for businesses that use SAP R/3 systems, and core topics include technical objects, notifications, and maintenance planning. Over 40 hours of training is provided along with study materials and interview preparation.
What You'll Learn:
PM process overview
Working with master data (technical objects)
Preventive maintenance scheduling
Cost: $1299 – $1599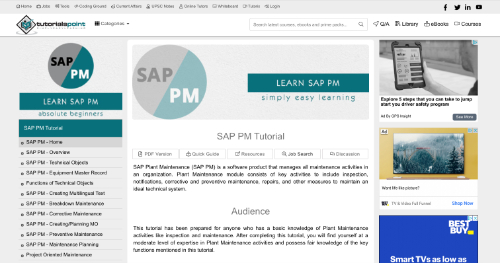 This simple SAP PM tutorial from Tutorialspoint covers all major operations within the SAP PM module. It is suitable for employees that have a basic knowledge of the software and is also a great resource for plant management. Before reviewing the module, it may be helpful to review other tutorials that review other core modules such as materials management and production planning.
What You'll Learn:
Project-oriented maintenance
Breakdown maintenance planning
Working with the equipment master record
Cost: Free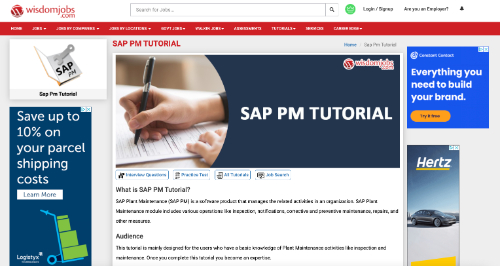 Wisdom Jobs shares this tutorial for SAP Plant Maintenance that covers basic topics such as inspection, notifications, and measurements. Software users with a beginning knowledge of the platform may get valuable information about performing basic tasks. Also included on this page is a practice test, interview questions, and additional SAP tutorials.
What You'll Learn:
Inspection tasks
Corrective and preventive maintenance
Managing repairs
Cost: Free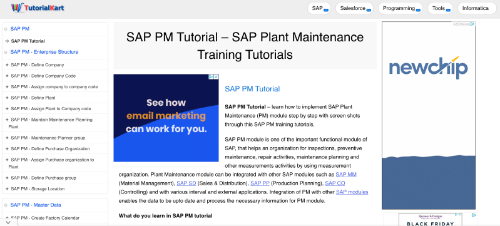 TutorialKart has many tutorials on its website that cover leading platforms such as SAP and Salesforce. This SAP Plant Maintenance tutorial is easy to browse with clear categories covering equipment, functional locations, master data, and other core capabilities. Screenshots are also shared throughout the interactive website to make it easier to understand and apply these skills.
What You'll Learn:
Defining company codes and plants
Creating work centers
SAP PM end-user practice materials
Cost: Free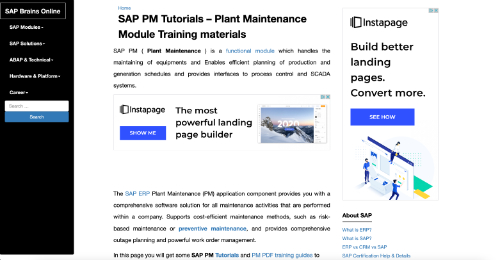 This SAP PM tutorial on the SAP Brains website is focused on sub-modules that define the primary capabilities of the software. Examples from the content include components such as PM-EQM-EQ (equipment) and PM-EQM-SF-WA (warranties. This tutorial also shares a useful list of company transaction codes that are relevant for plant maintenance activities.
What You'll Learn:
SAP PM transaction codes
Managing workflow scenarios
SAP PM tables
Cost: Free