UID Labels for MIL-STD-130
Camcode offers more permanent and durable label solutions for UID applications than anyone. Our UID label materials are the most widely specified in the defense industry, and are continually trusted to provide permanent and durable unique identification that lasts a lifetime. Your product choices include a wide variety of UID labels, such as Metalphoto® anodized photosensitized aluminum, Teflon
™
 UID labels, CARC paint UID labels, Sandshield protective covers, premium polyester UID labels and more. Before producing your UID label or UID tag order, we'll send you a PDF proof of your exact design and data string to ensure it's correct. Every order ships with a certification that the format and quality meet the rules of 
MIL-STD-130
 or 
STANAG 2290
.
Your product choices include:
Our Metalphoto UID Tag is constructed of an anodized photosensitized aluminum face stock (thicknesses from .008" to .032"). Attachment options include high-performance adhesives or holes for mechanical fasteners.
Our flexible Metalphoto Foil UID Label has the added benefit of working well on curved or uneven mating surfaces. This label is constructed of a .003" (or optional .005") thick anodized photosensitized aluminum face stock with a high-performance adhesive.
The Metalphoto Tactical UID Label is designed to mark sensitive items without compromising their intended zero reflection/detection design. This label is available to match desert tan or army green.
Camcode's Metalphoto CARC Paint UID Label was designed for applications requiring a durable "life-of-the-part" UID label with an application adhesive that will adhere to tough-to-bond surfaces like chemical agent resistant coating (CARC).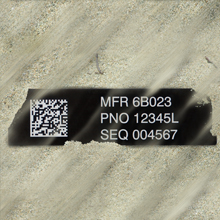 Our Metalphoto SandShield UID Label and SandShield Label Cover were designed for applications requiring extreme sand or gravel abrasion resistance.
Camcode's Metalphoto with Teflon UID Tag is perfect for applications that require resistance to paint (including CARC) or contact with strong acids or caustics.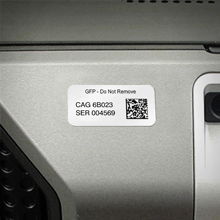 Our Premium Polyester Plus Labels are ideal non-metal labeling materials for less demanding applications, certain caustic environments or where more flexibility is desired.
These poly-acrylic labels are strong yet flexible in many conditions, and feature UV resistance with a tamper-proof design.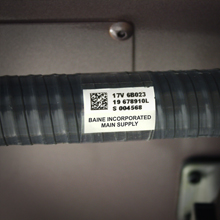 Our Cable UID Label is designed specifically for cable or hose applications requiring a durable linear or UID bar code. The label is constructed of a clear polypropylene (or optional polyester for applications requiring UV resistance) which over-laminates onto itself, encapsulating the image within a layer of clear plastic.
Camcode's Laser Blanks are precision-fabricated and packaged in convenient quantities for ready use. All our label blanks have either holes or high-strength adhesive for attachment after marking. We have products to support any laser device including all CO2, YAG and fiber optic lasers.
When you need to produce UID Labels and Nameplates in real-time, Camcode's On-Demand Laser System provides you with everything you need to ensure your labels and nameplates are easy to create and meet the requirements of MIL-STD-130 or STANAG 2290. The all-in-one system includes laser equipment, label design software, UID verification equipment, and laser-markable material.
We can also help with your 
UID service
 needs. From on-site UID label installation to IUID registration, Camcode is your single source for all your UID, Mil-Std-130 and asset traceability solutions.
A minimum order of UID labels or UID tags can cost as little as $400. Higher-volume orders reduce the per-unit cost – to as low as $0.25 each for an order of several thousand – and exact prices depend on the material construction, size and quantity. Getting an exact quotation is easy; just give us a call or get UID label pricing.