Firearm tracking benefits law enforcement agencies, ranges and gun manufacturers by reducing liability and increasing accountability. Firearm tracking solution automates these processes:
Check-out/check-in of weapons to officers or range patrons.
Tracking maintenance records for individual guns.
Tracking weapon ownership, value or location.
Compliance with regulations such as MIL-STD-130 (UID), ATF, ITAR and others.
Camcode's firearm tracking labels are durable – they will survive the life of your firearm and resist abrasion, sunlight fade and degradation from cleaning/lubricating solvents & oils.
Metalphoto photosensitive anodized aluminum is the standard for permanent weapons system identification. Its sub-surface image is resistant to degradation from sunlight/UV fading, chemical exposure, heat and abrasion. Metalphoto Firearm Tags have a low profile to fit into recessed cavities of most firearms. Metalphoto is affixed using high-bond adhesive.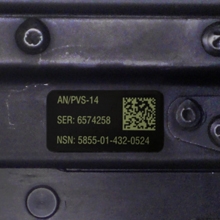 Metalphoto Tactical Firearm Tags have all the benefits of Metalphoto along with a non-reflective matte green finish to reduce detection during covert operations.
Firearm Tracking Evaluation Kit Includes:
Sample firearm labels and overview of marking options, including tags for injection molded guns.
Considerations for picking a barcode symbology and data structure.
List of services to help set up your tracking software & program.