We all have our feet firmly planted in the 21st-century, so why are you using a facility management software that is holding you, your workers, and your entire company back? If any of your daily duties include a paper trail, then it's time for your facility to upgrade its software. Implementing an all-in-one, cloud-based facility management solution ensures that important changes can be made and assessed by key members of your team, no matter if its Monday morning or New Year's Day. The most up-to-date FM systems give users the freedom to communicate and work on any device they may choose – even their personal smartphone.
Integrating one of these systems is a great way to buy back valuable time, streamline your facility's organization, and provide some much-needed transparency throughout your entire company. Today, we are going to look at four different types of popular FM system categories: CMMS (Computerized Maintenance Management Systems), EAM (Enterprise Asset Management), CAFM (Computer Aided Facility Management), and IWMS (Integrated Workplace Management Systems). In our list, we've included 50 of the absolute best of the best software on the market today, all of which can be easily integrated with little to no downtime required. Note: for your convenience, we've organized the following facility management software tools alphabetically, by category.
Jump to:
CMMS Tools
1. Azzier CMMS
Azzier has been providing maintenance systems for facilities for almost 40 years and the company has loaded their cutting-edge CMMS with features that all seasoned industry experts appreciate. A great choice for those looking to shore-up their multi-location operations into one reliable system.
Key Features:
Provides personalized, cloud-based data
Customizable asset tracking and data solutions
Inventory management tool can be used for unlimited storerooms and locations
Cost: Contact for quote
BlueFolder's groundbreaking CMMS includes practically every feature you would need when you're streamlining property management and facility maintenance, including simple scheduling and on-demand reporting. It's a prime choice for operations that have particularly challenging staffing situations, such as those who regularly hire contractors.
Key Features:
Billing and invoicing tools
Mobile version available
Customer portal included
Cost: $20-$60/month
Corrigo prides itself on delivering a CMMS that gives functionality, handy mobile apps, and anytime analytics. One particularly notable feature is its asset-management functions that automatically show important details, like descriptions, warranty info, and work order history.
Key Features:
Automatically routes routine tasks
Provides advanced data analytics
Mobile app included
Cost: Contact for a quote
eMaint's signature CMMS was designed with data security and integrity in mind. It builds a valuable asset hierarchy that can be accessed any time of day, anywhere so that your work schedules and budgets are always be up-to-date and fully-optimized.
Key Features:
Tracks and measures KPIs
Manages MRO materials
Contains a flexible and configurable interface
Cost: Contact for a quote
eWork Orders' simple, powerful, and highly-rated CMMS is used in a variety of industries, including healthcare, airports, government, hospitality, and even education. It focuses on managing all types of assets while delivering consistently-accurate and super-fast reports.
Key Features:
Automatically tracks time and bills
Only requires a few hours of downtime for setup
Includes technical support and upgrades
Cost: Contact for a quote
6. EZ Office Inventory
@OfficeInventory
EZ Office Inventory touts end-to-end equipment maintenance tracking, all on a simple, easy-to-access cloud-based system. With this CMMS, it's valuable equipment maintenance scheduling can be automated so that the life of your assets can be preserved for as long as possible.
Key Features:
Allows for the creation of customizable maintenance alerts
Barcode scanning for mass assets on iOS or Android app
Includes Zendesk integration
Cost: $95-$155/month
7. Fiix Software
@FiixSoftware
Fiix Software boasts an uncomplicated CMMS that comes at a price that all levels of operations can afford. Despite its low cost, Fiix Software made a name for itself in the industry when Capterra awarded it as one of the "Top 20 Most Popular Maintenance Management Software" of 2017.
Key Features:
No limit on team members
Can be used on any size project
Cloud-based solution that takes only a few minutes to integrate
Cost: Contact for a quote
Hippo CMMS is an all-inclusive CMMS solution that doesn't cut corners, especially when it comes to asset tracking, maintenance automation, and work order management. It's the perfect choice for a facility that needs to get the most out of their CMMS.
Key Features:
Quickens response time for critical work orders
Streamlines audits and compliance
Easy access to historical data and records
Cost: $45-$195/month
Landport's CMMS is a simple-to-use property and facilities maintenance system that prides itself on being a low-pressure, month-by-month subscription-based service that includes all of the key features as the more well-known CMMS solutions.
Key Features:
Patented program
Smartphone-ready solution
Can handle unlimited scalability
Cost: Contact for a quote
10. Maxpanda CMMS
@maxpanda_cmms
Maxpanda CMMS is one of the industry's leading CMMS solutions, and for good reason – it provides a stable system along with a slew of helpful apps to customize the experience. The best part? It was developed to be used on mobile devices, for on-the-go access.
Key Features:
Includes barcode scanning app
Cloud-based system
24/7 support
Cost: Contact for quote
11. MPulse CMMS
@MPulseSoftware
MPulse focuses on providing automated maintenance reporting and auditing for facilities of all sizes. Its user-friendly design allows for access from any device, with completely customizable dashboard options.
Key Features:
Allows for media integration
Global search navigation options
PM scheduling and tracking options
Cost: Contact for quote
12. NET Facilities
@NetFacilities
NET Facilities is a #1 web-based facility management software that was founded by industry leaders. Some of its most influential customers include Oakley, Interstate Batteries, DuPont, Sheraton, and Westfield, just to name a few.
Key Features:
Customizable workflow options
Award-winning customer service
Provides unlimited training
Cost: Contact for quote
13. QWare CMMS
@qwarecmms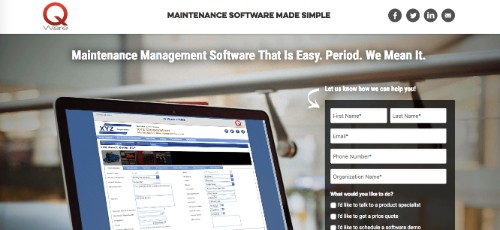 QWare's CMMS prides itself on being one of the easiest to learn and easiest to operate systems around. It also manages tasks and requests digitally so that they are simple-to-access and impossible to miss.
Key Features:
Records and reports maintenance activity
Accessible from nearly any device
Limited downtime
Cost: Contact for quote
SMGlobal's FastMaint CMMS was designed specifically for breakdown and preventative maintenance, which means it has you covered for all scenarios – from the day-to-day to the most challenging scenarios. To sweeten the deal, it only takes a matter of minutes for the system to be up and running.
Key Features:
Designed for teams 1 to 100+ workers
Manages spare parts, vendors, re-ordering, and purchasing
30-day trial
Cost: Basic edition starts at $495 (one-time cost)
This collaborative maintenance software allows you to monitor potentially risky costs and view real-time reports, anytime, anywhere. It also comes with alerts and notifications that give key members a better idea of what's happening in the facility, even when they're at home or in the field.
Key Features:
Allows management of work orders through the app
Quick task scheduling options
Monitors inventory, assets, and equipment in one place
EAM Tools
16. AssetPoint TabWare EAM
@TabWare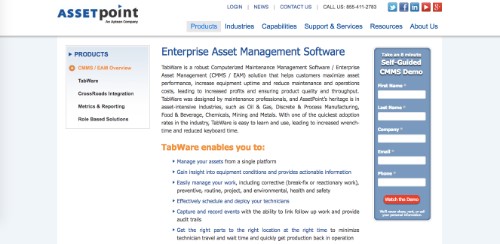 This combo EAM/CMMS provides a comprehensive solution that does everything from maximizing asset performance to reducing maintenance and operations costs. AssetPoint EAM is used in a multitude of different industries, including oil and gas, discrete and process manufacturing, food and beverage, chemicals, and many more.
Key Features:
Includes simple work order scheduling tools
Promotes planned and scheduled maintenance
On-demand reports
Cost: Contact for quote
17. AssetWorks EAM
@AssetWorks
AssetWorks EAM is tailormade for public works decisionmakers, such as maintenance managers, public works directors, GIS leaders, and utility professionals. This EAM is built to handle a variety of city and county-related scenarios, including emergency public complaints and preventative infrastructure maintenance.
Key Features:
Data can be easily transferred into visual aides
Integrates with ERP systems
Includes mobile workforce functionality
Cost: Contact for quote
18. Calem EAM
Calem EAM is a scalable EAM/CMMS solution that focuses in on the nitty-gritty of all things FM. Within this system, you can take advantage of a helpful parent/child orders feature, a PM inspection/rounds feature, and even an asset tracking off-site repair feature.
Key Features:
Asset descriptions include photos
Streamline work order processes
Simple training features included
Cost: $45-$115/month
19. Dematic Sprocket
@DematicNA
Dematic Sprocket was designed to quickly and efficiently streamline and automate all of your most important maintenance processes. It comes as a mobile-interface option that can be accessed by users on virtually any device for effective decision-making for all key team members. Serves the distribution, manufacturing, and energy and solar industries.
Key Features:
Web-based solution
Comes with routine inspection options
Includes comprehensive service program
Cost: Contact for quote
20. eam2go
This 100% web-based CMMS/EAM solution that works to streamline all of your most important asset-based issues. eam2go features tracking/history, work order tracking, preventative maintenance, and purchasing options that can all be conducted on one, simple-to-use platform.
Key Features:
Includes automated expectation reporting
Organized by parent-child relationships for seamless searching
Work orders automatically categorized for analysis and reporting
Cost: Free (eam2go Free Edition), $60 one-time-fee (eam2go Standard Edition)
eQuip! EAM is an expansive asset management tracking-focused system that was designed to work with your existing organizational methods and legacy systems that your operation already employs. For barcode scanning, absolutely no hardware is required; the job can be done using a mobile device and the eQuip! app.
Key Features:
Ultra-secure system
100% cloud-based
Support helps with onboarding and account customization
Cost: Contact for quote
IFSWorld has over three decades of FM software-based experience, which means they have built an EAM that is flexible, informed, and equipped for scaling. Some industries that benefit most from IFSWorld's offering are aerospace and defense, energy and utilities, engineering, construction, infrastructure, mining, oil and gas, and shipbuilding.
Key Features:
Seamless maintenance scheduling
HR applications for purchasing and risk management
Simple document management
Cost: Contact for quote
Infor EAM is a perfect choice for operations that regularly go through shifts, like seasonal peaks and long term scaling. Like its competitors, Infor EAM is also supported on most mobile devices, so that all necessary members of your team will be able to access important information anytime, anywhere.
Key Features:
Integrates well in a variety of sectors
Easily deployable
Award-winning system
Cost: Contact for quote
24. Mainpac EAM
@Mainpac
Known as being one of the easiest-to-use EAMs around, Mainpac EAM prides itself on providing its customers from all sectors with a reliable system that automates the most difficult and tedious parts of asset management. As a bonus, Mainpac EAM is built to integrate with most existing ERPs.
Key Features:
Includes pre-built maintenance forecasting tools
Helps ensure regulatory compliance
Scalable solution
Cost: Contact for quote
Ramco EAM is built to help streamline the assets and processes of some of the most complex operations around, like those part of the power generation, equipment rental, manufacturing, and aviation industries. The system was built with heavy-machinery in mind and provides users with built-in features that work to strengthen predictive maintenance.
Key Features:
Real-time analytics and reporting options
Cloud-based, mobile solution
Enhances the observance of safety standards
Cost: Contact for quote
26. SoftExpert EAM
@softexpert
SoftExpert EAM eliminates unplanned downtime of your most valuable assets so that your facility can continue to operate efficiently, even during integration. This is done through its built-in management tools, which include inventory, material, work, maintenance, calibration, failure, and service management.
Key Features:
Automates custom processes
Intuitive tools reduce failure levels
One-stop shop for work order management
27. SOMAX EAM
@SOMAX Inc
SOMAX EAM offers a comprehensive CMMS/EAM solution that was built specifically for the food and beverage, manufacturing, and public sectors. The system includes what many other EAMs offer, but this one prides itself on its ability to automate work orders and increase visibility across your entire organization for more informed decision-making.
Key Features:
Automatic alerts when condition assessment abnormalities are detected
Easy-to-send purchase orders
Quick parts check out with mobile app
CAFM Tools
28. AssetWorks CAFM
@assetworks
AssetWorks CAFM/IWMS combo works to plan, monitor, and execute your facilities management tasks. It can be used to do a variety of organizational maintenance shifts, such as space management, move planning, asset tracking, space tracking, and maintenance tracking, all on one, comprehensive system.
Key Features:
Includes automated energy management
Capital planning and project management tools
All-in-one real estate and property management features
Cost: Contact for quote
29. CAFM Explorer
@cafmexplorer
CAFM Explorer is an industry-leading CAFM that can be accessed anywhere, on virtually any device. The software was developed specifically by FM experts which means that it contains only helpful features that are built to support scales.
Key Features:
Sends real-time live updates
No software to download
Includes a virtual 'Help Desk On-the-Go' for live communication chat with engineers
Cost: Contact for quote
30. EvolveFM
CAFM Resources' EvolveFM bills itself as being a facilities management software that "everyone can use." This browser-based solution is a secure option for any facilities that need an affordable CAFM that includes all the classic features that one would expect from the software.
Key Features:
Multi-user log-ins promote transparency
Easy-to-use
Helpful add-ons available
Cost: Contact for quote
31. FSI CAFM
@ConceptCAFM
FSI CAFM is a 100% web-based CAFM solution that can be accessed anywhere on a single web browser. With named user licenses, all users will have full access to the system, which makes for heightened visibility and less erroneous communication.
Key Features:
Limitless concurrent user licenses
Supports most industry standard databases
Includes KPI performance monitoring for the entire lifecycle of FM tasks
Cost: Contact for quote
Planon CAFM comes in three different versions that were tailormade to fit the needs of facilities leaders, including those who work in the corporate real estate and facility management, service provider, and financial sectors. This particular CAFM software has the ability to integrate CAD drawings, great news for anyone who has designers and engineers on their teams.
Key Features:
Room reservation booking features
Planned preventative maintenance notifications
Includes the option for graphical visualizations
Cost: Contact for quote
33. ProLease CAFM
@ProLeaseTech
ProLease boasts that it's software is the most "intuitive" on the market today. It includes most of the common CAFM features, but it also focuses on other often looked-over factors such as HR, IT, mailroom, and security integrations.
Key Features:
CAD floor plan integration
Standard and custom reporting
Personnel move management
Cost: Contact for quote
SpaceIQ's combination CAFM/IWMS solution is perfect for a company of any size. It's completely customizable and can be used during an operation's most hectic time. It's a great, cutting-edge solution that requires very little downtime to get started.
Key Features:
Automated utilization analysis
Smart forecasting features
In-depth space planning
Cost: Contact for quote
35. TOPDesk CAFM
@TOPdesk
TOPDesk's signature CAFM solution is an all-encompassing FM system that does everything from handle complex asset management to securing your contracts. It's a great, user-friendly option for an operation that deals with a lot of change, in terms of personnel and movement.
Key Features:
Reservations management options
Self-service portal for customers
Visitor management for streamlined security
Cost: Contact for quote
36. TrackplanFM CAFM
@trackplan
TrackplanFM CAFM aims to simplify compliance and control operations more smoothly through the use of automation. It's an award-winning software that is highly-rated on Capterra, having earned 5/5 stars for customer service, features and functionality, and value for money.
Key Features:
Jobs can be created instantly from any device
Job notification and alert system
Built-in budget analysis
Cost: €160-€1800/month
37. Trimble CenterStone
@TrimbleREWS
Trimble CenterStone is designed to improve space utilization and building efficiency of a range of different operations. It can also be tailored for all sizes of companies, like those who need help managing just a single building and even those who have million square-feet warehouses.
Key Features:
Moves management support
Lease tracking options
Space schedulers
Cost: Contact for quote
WebTMA allows companies to visualize their assets by integrating their existing CAD drawings into the system. This is a great benefit for larger or more design-oriented organizations that are grappling with common issues like space management.
Key Features:
Uses centralized data
Users can locate assets visually
Asset inventories can be viewed by room
Cost: Contact for quote
39. zLinkFM
zLinkFM CAFM/IWMS combination solution provides useful services such as integrated space management, capital asset management, employee management, building condition assessments, energy management, and work order and maintenance management. It also merges building architecture visuals with functional databases for a more holistic view of the facility.
Key Features:
Built-in corporate-wide functions
No CAD experience necessary
Real-time access to data
IWMS Tools
40. Curo
Curo is a GPS-enabled task management system that comes equipped with ultra-accurate in-app metrics that help support informed decisionmaking, on-the-go. The system is also very simple to learn and comes standard with at-work guidance videos for quick training.
Key Features:
In-app communication and messaging
Photo and video-enabled
Confirmation alerts ring when work is complete
Cost: $9-$69 per user/month
eBase is the perfect option for facilities who are looking for a tailored option. This system can be completely customized to address the unique needs of your operation through the use of personalized, industry-specific modules.
Key Features:
Comprehensive training included
All-inclusive, continuous support
Complimentary on-site training provided
Cost: Contact for quote
42. Flairdocs
@flairsoft
Flairdocs personalized systems are built to streamline the processes and flows of property and facilities management. The program comes in almost a dozen different tracks that were charted for specific industries, such as real estate, security, and transportation, just to name a few.
Key Features:
Training services provided
Customization and configuration provided
Document generation and management options
Cost: Contact for quote
43. Focal365 by NJW Limited
@NJWLimited
Focal365 is an all-in-one IWMS that offers a range of different user experiences, like real estate and portfolio management, facility management, environment and energy management, capital projects management, maintenance management, and asset management. It can be integrated to work with and pull data from your existing CMMS, if you choose.
Key Features:
Includes self-branded helpdesk portal
Automatically centralizes occupancy data
Provides transparent cost visibility for the entire estate
Cost: Contact for quote
44. Gensler Wisp
@GenslerOnWork
Gensler Wisp is designed for real estate and facilities companies that need to better optimize their occupancy and space management. The system is a combination IWMS/CAFM that specifically focuses on delivering select features that can be customized to achieve long-term strategy.
Key Features:
Comes with training program
On-demand reporting
Customized visibility
Cost: Contact for quote
45. IBM Tririga
@IBM
IBM Tririga was designed to improve the performance of real estate and facility management by streamlining facility utilization, maximizing capital projects, reducing energy costs and facility operations, and optimizing lease accounting. The software also comes with the signature cloud-based security options of all IBM software.
Key Features:
Space management features
Optimizes environmental and energy management tasks
Virtualizes facilities assets, space, and resources
Cost: Contact for quote
46. iOffice Corp IWMS
@iOfficeCorp
iOffice Corp IWMS was designed with real-world needs in mind so that you can better manage your own workplace strategies through data-driven decisions and complete transparency. It's a great tool for an organization who is focused on investing in collaborative tools to support growth.
Key Features:
Comes in a variety of different industry-specific software options
Flexible implementation options
Little downtime required
Cost: Contact for quote
47. WebFM OmTrack
@webfmofficial
OmTrack is a combination CAFM/IWMS that gives users the right tools to manage site inspections and maintenance schedules in one, easy-to-use system. The best part? You can engage with contractors, customers, consultants, and owners in real-time, all in one place.
Key Features:
Customized setup options available
Mobile access included
Real-time status tracking
Cost: Contact for quote
48. PACS IWMS
PACS IWMS is an industry-specific facilities management system that specifically focuses on the needs of the real estate sector. For a truly personalized experience, download the PACS IWMS mobile app for better-informed audits and assessments.
Key Features:
Single-user interface platform
Can be fully customized
MIx and match modules
Cost: Contact for quote
Rosmiman offers a complete IWMS that also includes some of the best common features that are seen in many CAFMs and CMMSs. For an even more tailored experience, opt for one of their industry-specific module options.
Key Features:
Smart Cities module for city government
24/7 support
Can be integrated with current CMMS/EAM
Cost: Contact for quote
50. SAP Cloud IWMS
@sap
The SAP Cloud for Real Estate system supports a variety of different industries such as chemicals, oil and gas, utilities, defense, and automotive. As a bonus, the system comes with a host of different features that are constantly being updated and refined.
Key Features:
Visual analysis tools available
Integrates easily with the SAP ERP
Cloud deployment
Cost: from $117 per building/month
Products and Tracking Solutions from Camcode: