Warehouse Aisle Signs and Signage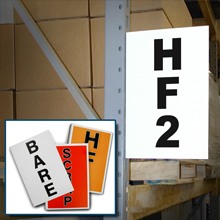 Camcode's Custom Warehouse Aisle Sign is the ideal solution for identifying rack and shelf ends. The tough, yet lightweight white plastic backer includes oversized text and/or bar codes to yield long-distance readability. Holes, adhesive, or magnets are added for attachment. Our warehouse aisle signs are constructed of a white vinyl label, adhered to a rigid PVC backer. Expected exterior life is two years. Camcode's warehouse signs are custom designed around your specifications and needs.
Need help installing your Warehouse Aisle Signs? Camcode now provides Warehouse Installation Services.
Learn More
Product Features
Easy to Read: Oversized crisp black graphics on white background.
Cost Effective: Lower system cost and easy installation saves on material and labor costs.
Saves Time: Quick attachment method keeps projects on deadline.
Product Specifications
Material
4.0 mil white vinyl face stock, 1.0 mil permanent pressure-sensitive adhesive.
Backer
Rigid PVC with holes or adhesive strips.
Attachment
Mechanical or magnetic attachment on aisle signage, or direct adhesion.
Label Copy
Several font types are available for warehouse aisle signs, as well as logos or other design elements.
Symbologies
All common symbologies available, including code 128, 3 of 9, I2 of 5, Data matrix and QR codes.
Colors
Black graphics on white background, with or without color elements.
Standard Sizes
Aisle signs are available in several standard and custom sizes.
Packaging
Shipped in sequential order, in boxes. 100% no missing numbers.
Shipment
15 working days from receipt of order and approval of artwork. Expedited shipment is available for an additional charge.
Benefits of Warehouse Signs
Warehouse aisle signs do more than just label rows. Custom warehouse aisle signs from Camcode offer a number of additional benefits, including multiple attachment options and customized designs to accommodate the diverse needs in the modern warehouse setting.
Warehouse Signs Keep the Supply Chain in Check
Warehouses play a critical role in the supply chain. Even small delays at this stage can spell disaster for key players as far-reaching as the shareholder. Not only is efficiency essential for maintaining a warehouse facility's reputation and ensuring customer satisfaction, but it's the key to the commerce industry running like a well-oiled machine – a well-oiled machine that in turn keeps the economy churning.
With today's warehouses becoming increasingly complex and this constant pressure from all sides to maintain perfection, a flawless foundation is the only way to maintain sanity. Warehouse aisle signs are a critical identifier to help staff quickly pinpoint products and locations for incoming or outgoing shipments, and match the right shipments to outbound docks.
Flexible Layouts are Easily Accommodated with Warehouse Aisle Signs
Warehouses thrive on making the most efficient use of space possible. But consumer demand is always shifting, so the optimized layout of last month could be wreaking havoc on efficiency this month. With Camcode's multiple attachment options, flexible layout options are no problem. You can easily relocate warehouse aisle signs with magnetic attachments, and even warehouse signs affixed with mechanical attachments can be relocated, albeit with a bit more legwork.
If your facility's layout changes frequently, magnetic attachment is likely the best option. This is an excellent example of the type of question Camcode's experts help customers navigate every day as we develop customized signage solutions for clients in the warehouse industry.
Streamlined Communication and Documentation
In a setting as fast-paced and in constant flux as a warehouse, effective communication and flawless documentation is essential for day-to-day operations. Consistent warehouse aisle signs with long-range visibility simplify this process, allowing employees to read signs and identify rows from longer distances – saving time and improving accuracy.
With crisp black graphics printed on white background and the option to add color elements, Camcode's custom warehouse aisle signs offer consistency and visual appeal. Consistent aisle signage is crucial for maintaining accuracy in communications and documentation, reducing errors and making your facility more attractive to potential partners.
Color Elements Add More Versatility to Warehouse Aisle Signs
Camcode's custom warehouse aisle signs may include color elements, providing an additional layer of functionality. Color codes can coordinate aisles to docks, identify broad product categories, line up with specific vendors or even provide traffic cues to avoid delays due to traffic congestion among the aisles.
For instance, incorporating color elements such as red, yellow and green can alert workers to traffic requirements like yielding to cross traffic or signaling one-way aisle traffic. This functionality can streamline traffic control and reduce delays and frustration, especially for last-minute shipments. Several font types are available, as well as all standard symbologies and even logo elements for a completely customized warehouse aisle sign solution.
A Cost-Effective and On-Time Warehouse Signage Solution
Despite the many customization options available, Camcode's warehouse signs are a cost-effective solution. With a lower system cost and easy installation, you'll save on material and labor costs – and the quick attachment options mean your project will not only be within budget, but on time. Constructed of a vinyl label affixed to a rigid PVC backer, Camcode's aisle signs are a durable solution that will last for years.