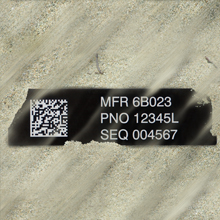 The Naval Surface Warfare Center (NSWC), Corona Division recently announced the results of a year-long evaluation of Item Unique Identification (IUID) label materials. Results revealed that the UID labels submitted by the Camcode consistently received the highest test scores.
Item Unique Identification requires all military assets specified under MIL-STD-130 to be marked with an individually unique, two dimensional barcode that will survive the normal life expectancy of the item to which it is affixed. The study by the NSWC was commissioned to provide an unbiased, government-sponsored comparison of durability, which could help item managers navigate the wide variety of commercially available UID label materials.
A total of eight companies submitted 26 label materials, which included printed polyester, laser markable acrylic, Metalphoto® photosensitive anodized aluminum, and ceramic coated stainless steel. The labels were subjected to eight laboratory tests designed to simulate desert, marine and submarine operating environments, including chipping, abrasion, chemical, temperature and salt fog exposure.
We submitted three UID labels to be tested: Metalphoto Anodized Aluminum; Metalphoto Anodized Aluminum with Durable Metal Overcoat; and Metalphoto Anodized Aluminum with SandShield. Combined, these materials achieved a top score on 9 of the 10 tests in which they were subjected. All three materials achieved the highest score in the Taber abraser test, which simulated accelerated wear. Only two other materials also received the highest score.
In addition, our Metalphoto with SandShield labels received the second highest score out of all materials in the chipping test, which simulates the debris impact a label could experience while in the field. This material was only one of two that passed the chipping test.
Metalphoto, produced by our parent company, Horizons Incorporated, was the only material to pass every test that was not conducted to failure (all materials failed the MIBK chemical immersion test). In addition to UID labels, we manufacture a wide variety of durable asset tags using Metalphoto. Click the link for more information on our full selection of UID labels and materials.
Although real-world operations subject labels to several environmental conditions at once (i.e. heat, abrasion and fluids), the Navy study confirms that the materials submitted by Camcode perform well in a wide variety of conditions including abrasion, chipping, heat, and chemical exposure. For specific details about the Corona IUID Center's tests, review the complete report here.