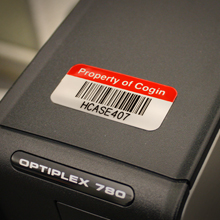 Here are some frequently asked questions about asset tags.
What Are Asset Tags?
Asset tags are identification labels attached to an asset. There are two types of assets: movable and fixed. Movable Assets are considered to be objects such as furniture and computer equipment that are not part of a facility. Fixed Assets, also known as Infrastructure Assets, can include things such as road signs, lighting systems, land, or equipment and machinery that is attached to a building. Asset Tags are numbers or characters assigned on a bar code label and applied to both movable and fixed assets for useful life identification, inventory control, "work-in-process" (WIP) and computerized maintenance management systems (CMMS) tagging.
Which Assets Require Tagging?
Items that require any type of monitoring, reporting, labeling, maintenance or ownership verification in organizations such as large commercial enterprises, government, educational institutions can benefit from asset tags either with or without bar codes. UID labeling is required by military, aerospace, airline or Department of Defense (DoD) applications. Vendors and suppliers may be required to tag asset items sold for use by those organizations.
When Are Bar Codes Necessary for Asset Tags?
Bar codes provide error-free, machine-readable recording through bar code scanners, which eliminates manual transcription errors by humans. Bar codes are often valuable and necessary to businesses or educational institutions which have large inventories of physical property to monitor, track or maintain. Bar code scanners decode the bar codes and compare them against a database for tracking or maintenance purposes. Bar codes are strictly required if you are a vendor or supplier of products to certain military or government bodies which use UID equipment.
When Should I use Sequential Serial Numbering on an Asset Tag?
Asset tags used for fixed asset accounting, inventory control, quality, calibration, or maintenance purposes may benefit from human readable elements such as serial numbers or sequential numbering. This allows asset tags to be deciphered without scanners. Numbering of bar code labels can be non-sequential from any starting number or use any series you provide, such as in a Microsoft Excel file.
What is the Standard Size of an Asset Tag?
Camcode offers three standard sizes of asset tags:
1.5″ wide x 0.75″ high –  Preferable for movable assets such as cell phones, PDA's, laptop computers, tools and other high value portable and removable items. This is not only due to the smaller spaces available for label placement, but because the smaller tags are less prominent overall
2.0″ wide x 0.75″ high – This size is a great option when adding logos to the tags or when more than 24 characters are needed for the asset captions or headlines.
2″ wide x 1″ high – Ideal for fixed assets or immobile equipment. Larger tags are easier to read from a slightly greater distance and allow immediate identification of logos and easier scanning when barcode readers are used.
Custom asset tags sizes are available on request. Create, view and order your own standard sized asset tags online through our asset label store page.
Where on the Asset Should I Place my Asset Tags?
Placement and positioning of asset tags is important to effective inventory programs. Consistency in the placement of these tags should be considered. This allows easy access for routine scanning. Although placing the tags in a remote spot may discourage tampering with the tag, it creates difficulty affixing the tags or locating them for scanning.
Here is a guideline of recommended locations for fixed asset identification tags:
Computers, Audiovisual Equipment and related peripheral equipment can be tagged with an asset label on the right side near the back of each piece of equipment.
Office equipment such as fax machines, photocopiers and typewriters should also have asset tags or security labels on the right side near the back.
Furniture: Bookcases, storage cabinets, and file cabinets can have asset tags on the upper right hand corner. Chairs are often tagged on an upright near the middle support of the chair. Desks and credenzas are usually tagged on the right support, toward the top inside area under the foot well. Tables and workbenches can be tagged at the top of a front right side leg or base.
Appliances: Kitchen appliances can have asset tags on the top right corner on either the front or side depending on reach of scanning equipment.
Shop machinery & tools: Heavy machinery asset tags can be positioned where they are not threatened by grease, oil or heat. Asset tags last the useful life of most machinery, so take care when choosing placement areas. Identification tags can be placed near manufacturer ID plates.
Engineering and scientific equipment: Asset tags can be placed near the manufacturer identification plate. Large equipment can be tagged in the upper right hand corner of immobile assets.
Grounds & Maintenance Equipment: Asset identification tags should be placed where a minimum of grease, oil, vibration or heat affect them, preferably near the manufacturer ID plate.

Durable Asset Tag Solutions from Camcode: