Serial Number Tags
Durable asset labels with unique identification numbers.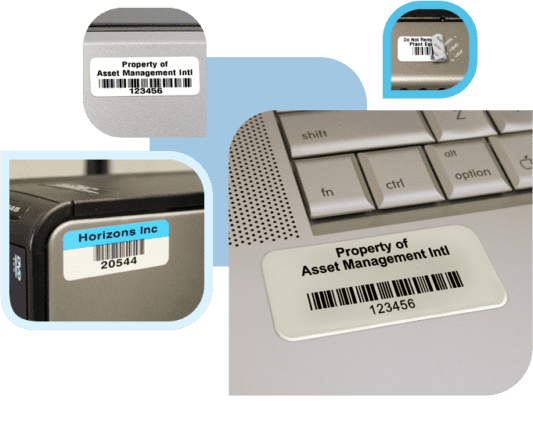 Improve Tracking. Minimize Risk. Use Serial Number Tags For Asset Tracking
Serial number tags are used across practically every industry to identify equipment and other assets with unique identification numbers. Camcode offers several material options for serial number tags, including foil or rigid Metalphoto® serial number tags for applications requiring excellent durability in outdoor environments, premium polyester serial number tags ideal for indoor applications, two-part serial number tags for simplified, more accurate record keeping, and removable serial number tags for temporary labeling needs.
Our serial number tags have a high-performance permanent pressure-sensitive adhesive that's designed to permanently bond to high surface energy metals and plastics, and textured and contoured surfaces, and our Rigid Metalphoto® Asset Tags also can be manufactured with holes for mechanical attachments to suit your application's requirements.
Camcode has implemented thousands of bar code label projects and will work with you to design the best serial number tags for your application. By understanding your application specifications and your equipment identification and data capture goals, we can assure you the highest-value labeling solution and improve the efficiency of your asset tracking systems.
Get a Free Asset Label Evaluation Kit
Request a free asset label sample kit today and we will send you a kit to test our extremely durable labels in your own operating environment.
Get Free Label Samples ›
Explore Our Most Popular Serial Asset Label Products
Our minimum order is $300 for plastic and $400 for metal. Higher-volume orders reduce the per-unit cost. Exact prices depend on the material, size and quantity. Getting an exact quotation is easy – complete a request a quote.
Get A Custom Quote ›
Benefits of Serial Number Tags
Serial number tags provide a way to mark assets with unique identification numbers for seamless asset identification. Serial number tags can also be printed with other information, such as a company name and/or bar codes to allow for automatic identification and data capture, making data entry processes much more efficient and accurate. Benefits of serial number tags include.
Streamlined Asset Identification and Tracking
Serial number tags allow for streamlined asset identification and tracking, with printed bar codes that remain readable throughout the life of your asset and eliminate manual data entry errors.
Excellent Durability
Our Rigid Metalphoto® Asset Tags and Foil Asset Labels offer excellent resistance to outdoor environmental conditions and have an expected exterior lifespan of 20+ years, while our other serial number tag options offer good resistance to general purpose cleaners, mild acids, oil, and water to meet the needs of your application.
Enhanced Security
Serial number tags help to improve security. By clearly marking individual assets with unique serial numbers, assets are more easily tracked, making loss and theft less likely.
More Accurate and Efficient Record-Keeping
Serial number tags such as our Two-Part Asset Labels allow for efficient and accurate record-keeping, streamlining reordering by providing an extra tab with a matching serial number that can be removed and attached to your records or re-ordering forms to improve efficiency and accuracy. Printed with bar codes, our serial number tags support automatic identification and data capture, improving efficiency and reducing errors.
Common Use Cases for Serial Number Tags
Serial number tags are used across practically every industry to identify and track equipment, moveable property, inventory, and other assets.
Asset Tracking
Recording serial numbers and clearly marking assets with unique identification numbers allows for efficient asset tracking, making it possible to maintain an accurate inventory of your company's or department's inventory
Theft and Loss Protection
Marking assets with serial number tags enables companies to keep track of every asset's usage and location, reducing the likelihood of lost or stolen assets by deterring theft and diversion. If assets are stolen, serial number tags can be used to prove ownership.
Auditing and Reporting
Serial number tags may contain information such as the date of manufacture, which can be used to quickly determine the age of an equipment asset. When used in conjunction with asset management software or inventory tracking solutions, serial number tags can also help to streamline auditing and reporting, calculating asset depreciation for accounting purposes, and more.
"Their service and quality is exceptional."
"I am extremely pleased with my decision to go with Camcode."
Bing B.
Manager of Logistics and Process Improvement
"The other vendors didn't have an answer for our floor application and didn't have specific industry experience. Camcode had both."
Bing B.
Manager of Logistics and Process Improvement
Gain Insights Into Asset Tracking and Management
Explore our case studies, blog, buyer's guides, specification sheets and more — and start learning more about the complex world of asset tracking. View All Resources ›
Keep Operations Efficient with Barcode Asset Tracking Tags
If you're having trouble finding the ideal tracking solution for your project or organization, build it with Camcode. Talk to our team today.
Let's Talk