Automate Inspection and Audit Tracking and Management
Camcode LDAR Tags and Steam Trap Tags are designed with the needs of the LDAR technician in mind. Leak detection and repair (LDAR) regulations affect almost all U.S. industry processes, but are particularly common in the oil and gas industry.
Typical large-scale petrochemical manufacturing facilities can contain over 100,000 pieces of regulated process equipment. Each piece of equipment may be required to be tested for leaks several times each year, and additional information regarding leak repairs might be recorded. Leak Detection and Repair (LDAR) programs are labor-intensive and costly and even minor errors identifying, tagging and monitoring potential leak points throughout a facility can result in non-compliance and heavy fines.
Camcode Bar Code Tags are an integral part of automating the LDAR technician's work process and are proven to work with leading mobile software solutions and field data acquisition devices. Camcode's asset labels help reduce compliance risk by virtually eliminating errors caused by manual data collection, ensuring accurate information.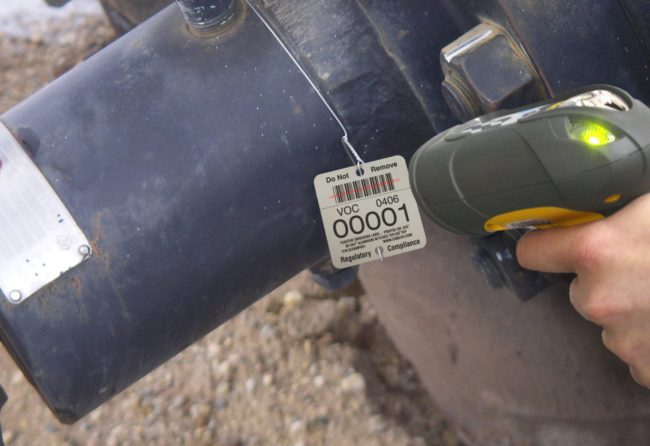 TRUSTED AROUND THE WORLD SINCE 1950






---
Explore Our Most Popular Oil & Gas Asset Labels
Find the most durable, custom-designed oil and gas labels and improve the management and tracking of your maintenance and inspections. Don't see what you need? Our product development team is on standby to help build your perfect label.
"Our salesperson was very helpful in explaining how bar codes work."
"There was a lot that I didn't understand about the implications of bar code symbologies. Our salesperson was very helpful in explaining how bar codes work, and helped us select a different product than we had envisioned."
James B.
Manager of Information Technology
"We needed the 'Swiss Army Knife' of tags."
"It was necessary to have an asset tag that could withstand the outdoor elements, yet was simple enough to meet basic tracking needs. We achieved both with Camcode's asset tags."
Get a Free LDAR Tag Evaluation Kit
Request a LDAR tag sample kit today and we will send you a kit to test our extremely durable labels in your own operating environment.
Get Free Label Samples ›
Keep Operations Efficient with Durable Barcode Asset Tracking Tags
If you're having trouble finding the ideal tracking solution for your project or organization, build it with Camcode. Talk to our team today.
Let's Talk