Tamper-Evident, Exposure-Resistant, Polyester Labels (for Added Protection)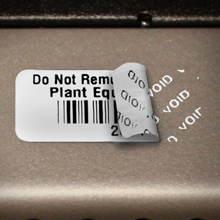 Camcode's Tamper-Evident Asset Tag is designed to prevent tampering and protect against unauthorized transfer because a "VOID" message is revealed on both the label material and mating surface when the label is removed. This asset label is constructed of a 2.0 mil gloss white polyester face stock, over laminated with a 1.0 mil clear polyester film, and a 0.7 mil high-performance permanent pressure-sensitive adhesive. The adhesive is designed to permanently bond to high and low surface energy plastics, stainless steel, glass, and nylon. This asset label has good resistance to general purpose and household cleaners, mild acids, oil and water. Expected exterior life is up to two years.
Tamper-Evidence Label Features
"VOID" message revealed on both the tamper-evident label and product surface when the label is removed.
Over-laminate provides superior abrasion and chemical resistance.
Highly readable crisp black graphics on white background; color headers available for all stickers.
Tamper-Evident Label Specifications
Material
2.0 mil gloss white polyester face stock; over-laminated with a 1.0 mil clear polyester film.
Adhesive
0.7 mil high-performance permanent pressure-sensitive adhesive.
Label Copy
Several font types are available, as well as logos or other design elements.
Symbologies
All common symbologies available on tamper-proof stickers, including code 3 of 9, I2 of 5, 128, Data matrix and QR codes.
Colors
Black graphics on white background; color options available.
Standard Sizes
Four standard label and sticker sizes: 1.50″ x .50″ – 1.50″ x .75″ – 2.00″ x .75″ – 2.00″ x 1.00″. See price list for color options and part numbers. Custom sizes available.
Packaging
Shipped in sequential order, in rolls, in boxes. 100% no missing numbers.
Shipment
10 working days from receipt of order and approval of artwork. Expedited shipment is available for an additional charge.
For most any organization, theft from a variety of sources can happen easily. Trusted employees, visiting customers and even representatives from other companies can all commit theft. While you don't want to take an attitude of distrust with any of these parties, you should take precautionary steps that make your most valuable moveable assets less attractive to potential thieves. That's where asset labels with tamper-evident features come in, leaving evidence behind that someone attempted to remove an asset's label.
Why Use Tamper-Evidence Labels?
Practically every organization has high-value assets, such as desktop computers, laptops, printers, and other electronics equipment, not to mention industry-specific assets. Theft is, unfortunately, a real concern facing most businesses. Tamper-evident, exposure-resistant labels can both help deter theft while providing convenient asset-tracking capabilities for more efficient asset utilization. Both of these benefits produce real cost savings for businesses.
Loss prevention through deterring theft reduces the need to replace costly assets prematurely. The ability to track expensive assets enables more efficient scheduling and utilization, which can increase productivity and reduce downtime. Additionally, the asset tracking capability offered by tamper proof labels can streamline processes, such as maintenance and repair, and the scheduling of shared assets across your organization.
Applications and Uses for Tamper-Evident Labels
Tamper-evident labels are most frequently used on high-value, moveable assets. Electronics commonly fall into this category, as laptops, desktops, and other electronics equipment offer a broad range of uses and are therefore more attractive to potential thieves. These items are also easily resold on online platforms, such as Ebay. While it's not something most employers want to think about, it's a real possibility that must be considered.
Additionally, tamper-evident labels are required for compliance with some insurance policies and regulatory agencies. For instance, vendors supplying military organizations and their contractors are required to install tamper proof labels on certain types of supplies and equipment. Insurance carriers may require this added level of security for high-value assets insured by the company, as a measure against losses that would result in an insurance claim. These labels are used in many industries and applications, such as:
Healthcare
Government
Education
Defense
Warehouse
Other industries, including oil and gas, manufacturing, utilities, and others, also have use for tamper-evidence labels in their office applications and for equipment that is used regularly in the course of doing business, but doesn't require the same level of heavy-duty durability typically required for labels used in harsh environments, such as those which are regularly exposed to extreme temperatures, weather such as wind and rain, harsh chemicals and solvents, sea spray, and other harsh conditions. Our tamper-evidence labels do, however, offer good general resistance to exposure to normal conditions such as abrasion, mild acids, oil and water, and general purpose and household cleaners.
Benefits of Tamper-Evident Labels
Camcode's tamper-evident label offers a protective over-laminate which resists abrasion and chemicals, along with a crisp, highly readable printed barcode and/or custom text. That means this tamper-proof label will last longer than most, reducing the need for costly re-labeling.
When these tamper-proof labels are removed from their mating surface, a printed "VOID" symbol is left on the label itself as well as on the mating surface. This leaves clear evidence of attempts to remove the label, which is an indicator of attempted theft or unauthorized transfer.
When an organization notices that labels are being tampered with, it can launch a more in-depth security investigation to pinpoint the source of the problem and rectify it through disciplinary action, or, if warranted, even criminal charges.
With color headers available on all tamper-evident stickers, these tamper-evident, exposure-resistant labels double as a method for classifying assets according to type, department, or other classification, which can further aid your organization in asset tracking and utilization. Additionally, color coding helps deter unauthorized transfer. If color codes indicate which department owns an asset, it's less likely that an employee will sneak a laptop for use in his own department when a simple glance at the tamper-evident sticker will give it away.
Camcode's tamper-evidence label is designed to permanently bond to a variety of surfaces, including high and low surface energy plastics, stainless steel, glass and nylon. These features make our tamper-proof labels not only a viable option for deterring theft and unauthorized transfer, but an ideal solution for tracking, maintaining, and keeping accurate records on your most valuable moveable assets.
What to Look For When Buying Tamper-Evident Labels and Tags
Tamper-evident tags and labels have a specific purpose when it comes to security. They are primarily used as a visual deterrent for theft and tampering and leave clear evidence behind when someone attempts to remove the label. In most cases, they are used in combination with other seals, locks, and security measures to create a controlled environment. These are a few things to look at when buying tamper-evident tags and labels. 
Intended purpose. Your application will often dictate the type of label you should buy, including situations that can benefit from the use of security labels. It's important to clarify the specific use for each tag and the detailed requirements. Applications in which tamper evident tags are commonly used include:

High-value asset labeling
Theft reduction
Warranty protection
Using a tamper-evident security tag helps deter counterfeiters and thieves while also protecting the internal components of a device from being accessed without your knowledge. Since the main benefit offered by these labels is a visual indicator, always make sure that your other security measures include regular inspections of your assets.
Label location. When you install your tamper evident security labels and tags, you want them to adhere strongly to the surface. The polyester substrate of these labels is pliable and can match the curves and angles of contoured surfaces. The adhesive also binds directly to the surface, making it difficult to remove. Always choose a label size that will properly cover the desired location with the appropriate room for adhesion.
Asset tracking. Many companies include a barcode on the surface of tamper-evident tags for easy scanning when performing maintenance work, repairs, and inventory counts. Of course, it's always best to choose an appropriate barcode symbology that works well with your scanning hardware and asset management software. In addition, you should also determine expected scanning distances to determine the optimal label size.  
Which Industries Use Tamper Evident Labels and Tags?
Since nearly every company these days has dispersed teams and an IT infrastructure, many choose to protect these assets with tamper-evident tags and labels. In addition to phones and computers, some industries also have unique security requirements for their assets. The following are a few examples of industries in which tamper-evident tags are often used.
Healthcare. Drug development, production, and delivery demand a high level of security and precision. Most organizations have many layers of security that help protect their assets and prevent theft and tampering. Tamper-evident security labels provide a useful way for healthcare companies to monitor their drug samples and final products. The simple visual indicator provides indisputable evidence of any tampering immediately.
Aerospace & Defense. With extensive requirements aimed at protecting equipment operators and the general population, both the aerospace and defense industries use a variety of security measures. Tamper-evident tags can play an important role in securing equipment panels and inventory during shipping and transportation.
Manufacturing. Any company that manufactures and sells physical products must protect its IP and trade secrets. During production, many companies will include tamper-evident tags within their designs to ensure that internal components are not accessed during the warranty period. Many warranties product the consumer under certain conditions, such as if the consumer hasn't modified or made attempts to repair a product or component on their own, and tamper-evident security labels help guarantee that the original equipment manufacturer (OEM) can perform maintenance and repairs without any interference from third parties.
Want more information on how Camcode's tamper-evident labels meet your specifications and requirements? Getting a quote is as easy as filling out this form. Or, take a look at our tamper-proof labels in person by requesting samples.