Removable Paint Mask Bar Code Label for Production Line Applications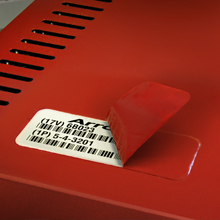 Camcode's Removable Paint Mask Bar Code Label is designed for production line applications that include a one-time painting line. The label comes with a special paint mask designed to remove cleanly after painting, leaving the label ready to be scanned. This label is constructed of a 2.0 mil gloss white polyester face stock, over laminated with a 2.0 mil clear paint mask film, and a 2.0 mil high-performance permanent pressure-sensitive adhesive. The adhesive offers high initial tack, high shear, and high ultimate bond to a variety of rough textured surfaces including low surface energy plastics and painted metal. This asset label has good resistance to general purpose cleaners, mild acids, oil and water. Expected exterior life is up to two years.
Product Features
Special removable paint mask layer withstands one-time paint lines.
High performance application adhesive.
Highly readable crisp black graphics on matte white background.
Product Specifications
Material
2.0 mil polyester face stock over laminated with a 2.0 mil clear removable paint mask.
Adhesive
2.0 mil high-performance application adhesive.
Label Copy
Several font types are available, as well as logos or other design elements. All type is protected with a clear removable paint mask.
Symbologies
All common symbologies available, including code 3 of 9, I 2 of 5, 128, Data Matrix and QR codes.
Colors
Black graphics on white background; color options available.
Standard Sizes
2.0″ x .75″ standard. Custom sizes available.
Packaging
Shipped in sequential order, in rolls, in boxes. 100% no missing numbers.
Shipment
10 working days from receipt of order and approval of artwork. Expedited shipment is available for an additional charge.