UID Label Design Tips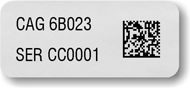 Construct 1 UID Label: This format is used when the IUID is unique using only an enterprise identifier (CAGE, Duns#) and a serial number. The item identifier is created with only data elements.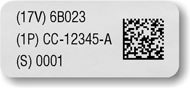 Construct 2 UID Label: This format is used when a part number must be included to create a unique number. The IUID consists of an enterprise identifier, part number, and serial number. These items have three data elements.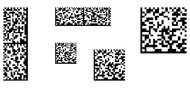 UID Data Matrix Code: This bar code is a type of 2D bar code and can be read multi-directionally as compared to a linear code that can only be read right to left. Data matrix codes are different in that they hold much more data, have error correction built in, and take up less space. Data matrix codes can be square or rectangular. Cell sizes are regulated by MIL-STD-130.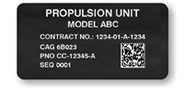 Additional Label Text: You can put whatever information you like on a data plate, as long as the minimum information is there to satisfy MIL-STD-130. Optional text is typically not encoded into the data matrix code, but it is allowable in part or whole.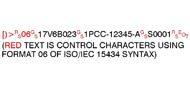 UID Barcode Encryption: Camcode provides this service. Our software will use your data elements and format them according to the rules of MIL-STD-130. The special characters, text element identifiers, and data are used by the scanner to read the IUID.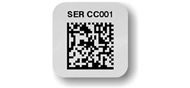 UID Data Matrix Code Only: In extremely limited areas, the UID label can be reduced to only the data matrix code and still be in compliance. Camcode recommends that the serial number be placed in a small point size on each label to help visually identify the label.
Anticipate these questions when ordering UID Labels from Camcode
Quantity: How many items do you need to mark?
Will you be ordering the full quantity of UID labels or will there be multiple orders?
Performance: What are the operating conditions of the item to be marked?
How long is the expected useful life of the item?
How is the item currently marked/labeled?
Size: How much real estate (area) do you have for a UID label on the item?
Attachment method: What is the surface material at the candidate location- rough, smooth, metal, plastic, flat, curved?
Specifications: Are there any specifications in affecting the UID label design or material choice?
Design: Is the UID label supplemental or can you incorporate the requirement into the primary data plate?
Data: Do you have the data available for the UID tags or do you need help identifying what is necessary?