Durable Metal Bar Code Labels for High-Temperature Applications
Camcode's Metalphoto® Anodized Aluminum Bar Code Labels are ideal for applications with temperature requirements from 650°F – 1200°F. The bar code and graphic images are photographic-quality and sealed within the anodic layer of the aluminum, resulting in a high-quality and very durable and temperature-resistant metal asset tag. Adhesives are not recommended for high-heat applications. These products are provided with holes or other design elements for mechanical attachment.
Your product choices include: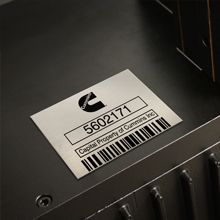 Our Metalphoto Aluminum Bar Code Labels are photographically imaged and sealed inside of the anodized layer of the aluminum creating an impenetrable barrier to chemicals, solvents, abrasion and temperatures up to 650°F. Read more about our Metalphoto Bar Code Labels.
Camcode's Metalphoto Extra High Temperature (XHT) Bar Code Labels will withstand applications exposed to temperatures up to 1200°F. Our proprietary XHT process gives you a solution for extra high-temperature applications. These metal labels are ideal for work-in-process asset tracking applications never before imagined. Read more about our Metalphoto XHT Bar Code Labels.
What do High-Temperature Bar Code Labels cost?
Our minimum order is $300 to $399. Higher-volume orders reduce the per-unit cost and exact prices depend on the material construction, size and quantity. Getting an exact quotation is easy just request a quote.
Why you need high temperature metal labels
Extreme Heat Resistance.
Synthetic polymers such as Polyester and Polyimide have demonstrated heat resistance up in the 300-500 degrees Fahrenheit range. Applications that are exposed to extreme levels of heat, such as 600-1200 degrees Fahrenheit, require the move to a metal substrate. Two of the most popular and proven high temperature barcode label substrate types are Anodized Aluminum and Metalphoto® Aluminum.
Curved Surfaces.
Metal is a strong material that can maintain a high level of durability even at reduced levels of thickness. Anodized Aluminum, in particular, can be flexible enough when used in certain applications to mold to a curved surface. This can be especially helpful when tagging equipment with an unusual form-factor or rounded items such as metal rods. High temperature metal labels can be prepared with holes or other design elements for direct physical attachment to an item.
Additional Protection.
In addition to high heat resistance, metal labels also offer robust projection against a variety of harsh environmental conditions. These include resistance to chemical exposure, abrasion, moisture, and impact. Using a robust metal barcode label can give you the confidence that they will remain intact and readable during use.
Compliance and Readability.
Acquiring high heat barcode labels from a reputable manufacturer will ensure that you are using barcode labels that are compliant with any necessary regulations. Major programs such as REACH, RoHS, WEE, and POFS often have specific requirements for tagging and labeling that could impact your application. A well-designed and manufactured metal barcode label will be able to meet these needs.
Common use cases for high temperature labels
Ceramic and Glass Products.
Tracking components used during the manufacturing of ceramic and glass products can be a real challenge. As parts are assembled, they may undergo steps that expose them to dramatic levels of heating and cooling that are sometimes in succession. Some processes also involve very high levels of heat as the pieces are molded into various shapes. High heat barcode labels are used in many of these industrial manufacturing applications to bring automated inventory tracking into the factory.
Metal Plates, Bars and Coils.
Another major application for high heat barcode labels is during the manufacturing and molding of metal components. In large industrial settings, such as the manufacturing of marine vessels, the size and scale of raw materials and manufacturing equipment can be huge. Being able to track large aluminum or steel plates, bars, and coils used as raw materials from receipt through manufacturing requires a label that can withstand very high heat. The casting molds themselves may also require a barcode label to further automate equipment assignments on the factory floor.
Electronic Parts.
Printed circuit boards and other electronic components may undergo some extreme levels of heat during the manufacturing process. Manufacturers must also often track a large number of components that could be used for any particular build. This is found very often in the aerospace and automotive industries where high heat barcode labels are commonly used.