Durable Metal Bar Code Labels for High-Temperature Applications
Camcode's Metalphoto® Anodized Aluminum Bar Code Labels are ideal for applications with temperature requirements from 650°F – 1200°F. The bar code and graphic images are photographic-quality and sealed within the anodic layer of the aluminum, resulting in a high-quality and very durable and temperature-resistant metal asset tag. Adhesives are not recommended for high-heat applications. These products are provided with holes or other design elements for mechanical attachment.
Your product choices include: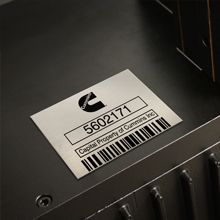 Our Metalphoto Aluminum Bar Code Labels are photographically imaged and sealed inside of the anodized layer of the aluminum creating an impenetrable barrier to chemicals, solvents, abrasion and temperatures up to 650°F. Read more about our Metalphoto Bar Code Labels.
Camcode's Metalphoto Extra High Temperature (XHT) Bar Code Labels will withstand applications exposed to temperatures up to 1200°F. Our proprietary XHT process gives you a solution for extra high-temperature applications. These metal labels are ideal for work-in-process asset tracking applications never before imagined. Read more about our Metalphoto XHT Bar Code Labels.
What do High-Temperature Bar Code Labels cost?
Our minimum order is $300 to $399. Higher-volume orders reduce the per-unit cost and exact prices depend on the material construction, size and quantity. Getting an exact quotation is easy just request a quote.