Metalphoto Foil Security Bar Code Labels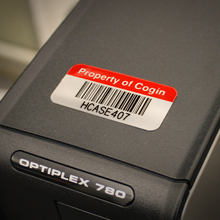 Camcode's Metalphoto Foil Asset Tag is the ideal solution if your asset-tracking needs include security features. Metalphoto Foil is our most durable and popular asset label and it has a great security feature – it will fracture with attempted removal. This label is constructed of a .003″ anodized aluminum face stock (.005″ optional), with a high-performance permanent pressure-sensitive adhesive and/or holes for mechanical attachment. The adhesive is designed to permanently bond to high surface energy metals and plastics, and textured and contoured surfaces. The label has excellent resistance to chemicals, abrasion, solvents; and will withstand exterior exposure in the harshest environments, including extreme cold, heat and UV. When treated with our image intensification process, Metalphoto's expected exterior life exceeds 20 years.
Product Features
Designed for exceptional durability; image is sealed beneath an anodic layer of the aluminum.
Will fracture if removed from its mating surface.
Superior resistance to chemicals, abrasion, solvents, extreme temperatures and UV.
Highly readable crisp graphics on black or silver background.
High-performance adhesives for durable attachment.
Product Specifications
Material
.003″ anodized aluminum face stock (.005″ optional).
Attachment
Permanent pressure-sensitive adhesive (also available with low surface energy adhesive).
Label Copy
Several font types are available, as well as logos or other design elements.
Symbologies
All common symbologies available, including code 3 of 9, I2 of 5, 128, Data matrix and QR codes.
Colors
Black graphics on silver background; color options available.
Standard Sizes
Standard and custom sizes available.
Packaging
Shipped in sequential order, in boxes. 100% no missing numbers.
Shipment
10-15 working days from receipt of order and approval of artwork. Expedited shipment is available for an additional charge.