Durable Bar Code Cable Labels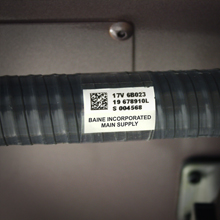 Camcode's Cable Labels are designed specifically for cable or hose applications requiring a durable bar code label. The label is constructed of a clear 2.0 mil polypropylene (or optional polyester for applications requiring UV resistance) which over laminates onto itself, encapsulating the image within a layer of clear polypropylene. The result is a very robust cable marking label with very good abrasion resistance, good resistance to general purpose cleaners, mild acids, oil and water. The adhesive has good general purpose performance with good UV and water resistance.
Product Features
BOPP (biaxially oriented polypropylene) substrate conforms well to tight radius and uneven surfaces.
Self laminating design provides superior durability.
Highly readable crisp black graphics on matte white background.
All Camcode UID labels come with our UID services including verification and validation.
Product Specifications
Material
2.0 mil polypropylene. Optional 2.0 mil polyester is also available.
Adhesive
0.6 mil general purpose application adhesive.
Label Copy
Several font types are available, as well as other design elements.
Symbologies
All common symbologies available, including code 3 of 9, I 2 of 5, 128, Data Matrix and QR codes.
Colors
Black graphics on white background only.
Standard Sizes
1.00″ x 5.00″ standard. Custom sizes available.
Packaging
Shipped in sequential order, in rolls, in boxes. 100% no missing numbers.
Shipment
10 working days from receipt of order and approval of artwork. Expedited shipment is available for an additional charge.
What do Pre-Printed Bar Code Cable Labels cost?
Our minimum order is $300. Higher-volume orders reduce the per-unit cost and exact prices depend on the material construction, size and quantity. For help specifying the right cable label and to get an exact quotation, just request a quote.