Durable Metal Bar Code Labels for Cylinder Tracking and Asset Management
With Camcode's Metalphoto® Bar Code Labels, you can increase the accuracy of your asset management system and improve traceability while significantly reducing inaccurate or unverifiable cylinder delivery and rental invoices.
Camcode's bar code labels eliminate transposition errors caused from manual transposition of ships and returns on the delivery ticket, and reduce invoicing errors caused by loss or theft at customer facilities. Additionally, they help automate counting, filling and checking of product compliance.
Our metal bar code labels stand up to constant outdoor exposure, and resist scuffing, chemicals and abrasion while remaining readable for the life of the part.
Your product choices include:
Our Flexible Metalphoto Foil Label works well on curved or uneven cylinder mating surfaces. This label is constructed of a .003″ (or optional .005″) thick anodized photosensitized aluminum face stock with a high-performance adhesive. Read more about our Metalphoto Foil Labels.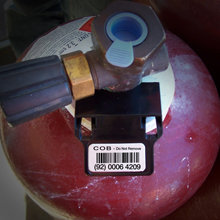 Our Rigid Metalphoto Label is constructed of an anodized photosensitized aluminum face stock (thicknesses from .008″ to .032″). Attachment options include high-performance adhesives or holes for mechanical fasteners. Read more about our Metalphoto Labels.
What do Cylinder Tacking Asset Tags cost?
Our minimum order is $399. Higher-volume orders reduce the per-unit cost and exact depend on the material construction, size and quantity. For help specifying the right label and to get an exact quotation, just 
request a quote
.