Any seasoned warehouse or facility manager knows that a bad warehouse floor plan can break an overarching operational strategy, disrupting flow so severely that goals might not be met, inventory and equipment might be damaged, and floor associates might even be put in harm's way. Alternatively, a well-devised warehouse floor plan that is crafted with best practices in mind can end up enhancing operations, especially when it comes to speeding up order fulfillment times, reaching safety goals, and receiving swift ROI.
Today, we're giving you an in-depth look at what it takes to successfully design and implement a warehouse floor plan that addresses the potential pitfalls common in the warehouse industry. This guide was compiled, in part, by using first-hand, insider tips from some of the most powerful thought-leaders in the industry. They, too, have failed and succeeded in the daunting task that is warehouse floor planning.
In this guide we'll discuss:
Warehouse Floor Plan Basics
Before we delve deep into the intricacies, let's take a look at the basics of warehouse floor plans:
Referencing the blueprint – You might think you know that the layout of your space like the back of your hand, but the last thing you should rely on when creating a floor plan is your memory. Secure a warehouse blueprint (if you're renting, your landlord should have this on-hand) and get acquainted with all of the measurements and features before you start making any major decisions.
Creating a warehouse layout schematic – There are several ways to do this, depending on the scope of your operation, and, of course, your budget. If you have architects on your team, enlist them to create a schematic. If you don't, you can always create one yourself. This can be done the old-school way, by hand, but there are a variety of low-cost or no-cost programs that will save you time and likely yield more accurate measurements. SmartDraw, for example, is simple to use and comes equipped with pre-loaded warehouse plan examples that are meant to guide you in the right direction.
Organizing your layout schematic into zones – Veteran warehouse layout expert Krista Fabregas suggests organizing the layout schematic into three zones: 1) equipment and surrounding workspace, 2) production zones and workflow areas, and 3) storage areas. Equipment and their surrounding workspaces are defined as key units. To put it simply, these are the items that are the central infrastructure foundation of your warehouse, such as automated storage and retrieval systems or pallet racks. Because these are the most important parts of your warehouse, you will want to design around these items. Production zones and workflow areas are the routes that your workers and vehicles will travel to get to and from the key units. Lastly, the storage areas represent the necessary shelving and storage options that hold the equipment and inventory used in your everyday operations.
Now that you know the areas to include within your warehouse layout, it's important that you incorporate them in a way that best suits the needs of your operation. The remaining subsections of this guide will give you a clear idea of how to achieve this.

Developing a Safe Warehouse Floor Plan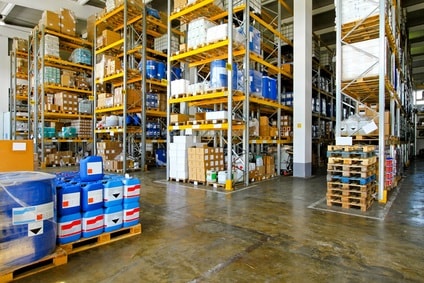 Besides including all of your necessary elements into your warehouse floor plan, you must also take the steps to ensure that all static and moving parts are installed in the safest manner possible.
Predictably, OSHA already has a strict set of statutes that deal with warehouse safety, many of which address design protocol. In the OSHA Pocket Guide entitled Worker Safety Series: Warehousing, the agency outlines the many warehouse layout pitfalls, most of which can be directly blamed on design flaws.
Because the fatal injury rate is higher for warehousing than the average in all other industries, the agency goes particularly hard on manufacturing and distribution facilities. Here are the areas that should be regarded with safety in mind, according to OSHA:
Docks – Docks must be designed with sufficient width in mind so that "dock jumping" isn't practiced by employees. All docks and ladder areas must fit OSHA standards.
Heavy machinery space – All aisles and loading docks must be wide enough to clear with ease, especially when forklifts are preparing/stacking loads. Come up with a design that minimizes congestion. Ensure that the floors of heavily-trafficked routes aren't prone to becoming slippery.
Ventilation – Create the minimum amount of ventilation units required to ensure that all noxious output from machinery is flowing out of the space.
Guardrails – If your warehouse features open pits or vats, include safety devices, like guardrails, in your design.
Proper lighting – Well-trafficked areas, especially the ones that hold the warehouse's key units, must be well-lit. Any additional implements should be included in your final warehouse floor design.
Manual lifting/handling rigs – OSHA's goal is to keep manual lifting in warehouses to a minimum. If manual lifting is a common practice in your facility, include specialized lifting rigs in your final design.
Chemical storage – All chemicals must be stored away from heavy machinery and routes. Also, make room for a chemical spill kit wherever the chemicals are stored.
Charging stations – Because fires and explosions can occur in these areas, you must include enough room for the mandated number of fire extinguishers, as well as personal protective equipment, an eye washing/safety shower facility, and built-in conveyors/overhead hoists for battery servicing.
Emergency equipment and exits – Guarantee that your design includes emergency exits along with enough room to house the necessary emergency equipment, too.
Designing for Streamlined Fulfillment
These days, you'd be hard-pressed to find a warehouse manager who isn't trying their best to boost order fulfillment. Even the largest distributors in the world are having a hard time keeping up their promises of lightning-fast delivery times to their customers.
Luckily, there are ways to fix this problem – and one of the easiest ways to do it is by applying strategic design details that encourage streamlined movement within the warehouse's floor space.
In his blog post, 8 Tragically Common Mistakes in Warehouse Setup, warehousing professional, James Maes, reveals that one of the best ways to promote healthy motion is to incorporate forward locations for staging into the design.
"Forward staging just means having a set amount of stock in forward locations close to where packing and shipping will occur," Maes explains.
"When an order for one of these items comes in, an employee can choose items from the forward location quickly. As the quantities in the forward location get low, replenishment stock from elsewhere in the warehouse (or from a less expensive off-site location) can then be brought forward."
In addition to including forward locations in the final design, supply chain innovator Datex recommends adopting four functional warehouse zones into your warehouse layout – storage, yard/dock, kitting/VAS, and picking.
In terms of the picking zone, the company suggests selecting a picking method before you finalize the design details for all other areas. For instance, a warehouse that utilizes batch picking might need a larger picking area than one that adopts a wave picking technique. Additionally, this could also affect the final size and location of the inventory storage, docks, and kitting zones.
Lastly, a post written by F. Curtis Barry and Company recommends that plenty of free space should be incorporated into the final warehouse floor design. This simple design decision allows for more flexibility during peaks. "It is impossible to attain 100% of capacity on a daily basis but the higher % you can maintain in established locations, the more space you will have available," says the company.

Making Room for Automation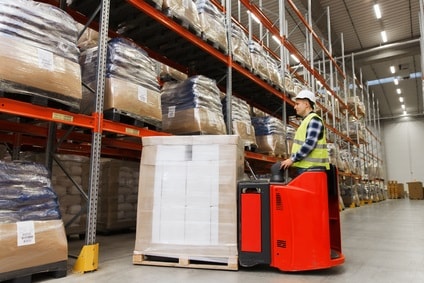 If you have your finger on the pulse of the future of warehousing, then you know that the traditional warehouse layout is becoming more and more a thing of the past, and this trend is expected to continue in the coming years. This is due in part to the rise of automation in distribution and manufacturing, namely the industry's willingness to integrate collaborative technologies, such as robots, cobots, drones, and automated vehicles to their fleets.
Adopting these technologies is proving to be not just helpful, but a necessity. However, this also means that the entire warehouse floor plan must be flexible enough to welcome new technology and automation tools as they come through the doors.
Black N Bianco founder, Lisa Chu, is an industry leader who has spoken about this topic. She says that a warehouse layout can end up becoming a "failure" if it wasn't planned to support future growth.
"Expansion and re-structuring a warehouse layout are not only time consuming, but it costs a lot of extra capital," Chu explains. "By planning ahead, you are able to accommodate future growth without any hiccups and make simple tweaks to use the warehouse at its full capability."
This, of course, means that you, a trusted planner, engineer, or manager must be paying close attention to upcoming automation opportunities that your operation might consider adopting in the future. Make sure that you get as much detail as you can, especially when it comes to specs, capabilities, safety regulations, etc.
For instance, you may have the goal of incorporating a fleet of autonomous cobots to your warehouse, but you do not have enough capital to invest for at least another 24 months. It may seem like the distant future, but you should still plan for the time when your goal will be met. Include infrastructure that is flexible enough to easily and safely accommodate the gadgets when they are introduced into your space.

Warehouse Floor Plan Design Odds and Ends
Because warehouse floor plan design is a broad topic that, apart from following safety regulations, is a process that's often unique to each facility, we'll wrap up this guide with some essential design best practices. We hope this helps you put the finishing touches on your floor plan and gives you heightened clarity on the overall process:
Select storage and shelving solutions before you complete the final design
Speak with all key managers and workers throughout the design process to make sure that all needs are being met and concerns are being addressed
For a more flexible warehouse, create several designs that can be used for peak periods or to accommodate actively scaling your operation
Create an honest timeline and make sure that any perceived interruptions are communicated throughout your supply chain
Perform a slotting analysis
Identify aisles that might not be productive
Keep the Pareto Principle in mind
Draft a design that makes use, or better, creates overhead storage space
Make use of as much vertical space as possible
If security is a concern, opt for an I or L-shaped layout
For slow-moving inventory, make room for high-density shelving units
Leave sufficient staging area so that your aisles do not become cluttered
Make design decisions that optimize the steps of your pickers
For large spaces that require long walks, include cross aisles
Check, double-check, and triple-check your measurements
Incorporate space for large-screen monitors, especially if faster fulfillment is a goal
When you are finished with your design, don't rest on your laurels. Instead, make periodic appointments to revisit the design with key members of your team. Doing so may reveal weak spots in your operation that can be solved with a simple design shift.

Additional Resources on Warehouse Floor Plans
For more information on how you can make a powerful warehouse floor plan that fits the needs of your company best, visit the following resources:
Products and Tracking Solutions from Camcode: