Other Asset Tags & Bar Code Labels
Camcode provides durable bar code solutions for a wide range of applications. These metal and plastic bar code labels perform in the harshest environments, including chemicals, cleaning and painting processes, outdoor exposure, and high temperatures. Whatever your needs, we work with you to design the best bar code solution for your application. By understanding your applications and goals, we can assure you the highest-value labeling solution, and improve the efficiency of your asset tracking systems.
Companies rely on Camcode's highly durable Anodized Aluminum Asset Tags for everything from equipment tags used in airport computerized maintenance management systems, to pole tags used to track inspections. Learn more about our CMMS Asset Tags.
Camcode makes managing Fugitive Emissions Programs is easier with our Metalphoto with Teflon™Anodized Aluminum LDAR Tags and Steam Trap Tags. Camcode Bar Code Tags are proven to work with leading mobile software solutions and field data acquisition devices. Our labels are the key to automating and simplifying the LDAR technician work process. Read more about our LDAR & Steam Trap Tags.
Camcode offers the support to get your traffic assets and sign retro-reflectivity requirements in compliance quickly and at lower cost. Our labels stand up to constant outdoor exposure, and resist scuffing, chemicals and abrasion while remaining readable for the life of the sign. We will also help you with your software and hardware needs through our Camcode approved partners. Read more about our Traffic Sign Asset Labels.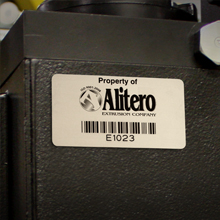 Our flexible Metalphoto Foil UID Label has the added benefit of working well on curved or uneven mating surfaces. This label is constructed of a .003" (or optional .005") thick anodized photosensitized aluminum face stock with a high-performance adhesive.
Our Work In Process Labels perform in the toughest environments. These bar code tags will survive harsh chemicals and temperatures up to 1200°F, and continue to last the life of the part no matter the setting. Learn more about our Work In Process Bar Code Labels.
On-site marking of permanent labels is easy with Camcode. Packaged in convenient quantities and ready for use, our laser-markable label blanks are precision-fabricated and support any laser device, including all CO2, Yag and fiber optic lasers. Read more about our On Site Laser Markable Labels.
Camcode's Metalphoto Anodized Aluminum Bar Code Labels are ideal for applications with temperature requirements that range from 650°F up to 1200°F. The photographic-quality bar code and graphic images are sealed within the anodic layer of the aluminum, creating a very durable, high-quality and temperature-resistant metal asset tag. Read more about our High Heat Bar Code Labels.
Camcode's Stainless Steel Bar Code Labels are designed specifically for applications requiring resistance to frequent cleaning with strong caustics, such as food processing, medical, laboratory, chemical, textile, petroleum and marine environments. Constructed of Type 316 or Type 304 Stainless Steel, these labels remain readable after exposure in harsh environments, and have excellent resistance to chemicals, caustics, solvents, salt and intermittent heat, making Camcode's Stainless Steel Bar Code Labels extremely durable. Read more about our Stainless Steel Bar Code Labels.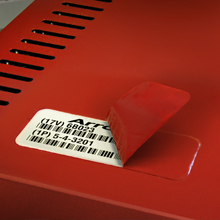 Camcode's Paint-Resistant Bar Code Labels will withstand the toughest applications requiring resistance to painting, pickling, cleaning, e-coat, and powder coating processes, in addition to caustics and strong acids. Read more about our Paint-Resistant Bar Code Labels.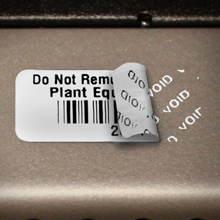 Protect your assets against theft with Camcode Security Labels. Our tamper-evident labels can be customized with text and bar code or serialized numbers that allow you to easily identify and track your valuable assets. Read more about our Security Labels.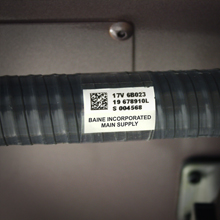 Camcode's Bar Code Cable Label is designed specifically for cable or hose applications that require a durable bar code label. Constructed of a clear polypropylene, or optional polyester, the bar code information is encapsulated within a layer of clear plastic, making Camcode's Bar Code Cable Labels extremely durable. Read more about our Bar Code Cable Labels.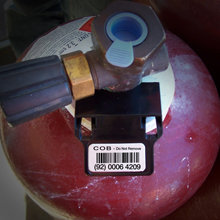 Increase the accuracy of any asset management system and improve tracking with Camcode's Metalphoto Bar Code Labels. Our bar code labels significantly reduce inaccurate or unverifiable cylinder delivery and rental invoices. Learn more about our Cylinder Tracking Bar Code Labels.
Camcode's preprinted Unique Device Identification (UDI) Asset Labels and UDI nameplates are an excellent choice for medical devices which require durable long-lasting identification. Our UDI identification solutions can be as simple as a supplemental UDI label, or as complex as UDI labels designed into existing product identification nameplates. Learn more about our UDI Bar Code Label Solutions.
Teflon™ is a registered trademark of The Chemours Company FC, LLC.