Describing a warehouse manager's job as busy is an understatement. Warehouse managers must be able to manage, control, and track inventory, shipments, and operations as efficiently as possible. And, when that manager is in charge of multiple warehouses, the workload and stress increase tenfold. That's why warehouse management software and tools are a must-have for warehouse managers today.
We have rounded up 52 of the top warehouse management software systems and tools to make it more feasible for warehouse managers to better handle their workload. These top software solutions and tools contain all of the features and capabilities that make inventory, workflow, scanning, shipping, and tracking more manageable. They also automate tasks and improve the efficiency and productivity of warehouses and their managers. Please note, we have listed our top warehouse management software solutions and tools here, in no particular order.
1. Kechie Warehouse Management
Kechie Warehouse Management is part of My Office Apps' suite of tools, which includes Kechie Full ERP, Kechie Inventory Management, Kechie Manufacturing, and Kechie Financial Management. Kechie's Warehouse Management solution is a fully integrated, all-in-one solution offering multi-warehouse management, inventory, procurement, finance, CRM, and more.
Key Features: 
Streamlined inventory management with barcode scanning capabilities
Automated pick, pack, and ship processes
Built-in finance and accounting tools
Cost: Contact for a quote
2. mobe3 WMS
@evssw


mobe3 is a cloud-based warehouse management solution (WMS) for midsize and enterprise warehouse facilities. It is a native iOS solution that lets facility managers simulate their warehouse operations, including inventory management, cross-docking, reverse logistics, cart picking, order dispatching, and shipment tracking along with billing and payment management.
Key Features: 
Ai-layer to batch picks, assign tasks, and execute rules-based picking/putaway
Intuitively designed user experience delivers unrivaled productivity and adoption
Simulate warehouse workflows before implementing new procedures
Use inventory images in-app to drive accuracy and user experience
Real-time workflow execution and productivity metrics
Fastest ROI in warehouse management technology
Cost: $200 per user/month
3. Robocom WMS
@RobocomSystems


Robocom is a supply chain software company that focuses on the day-to-day needs of warehousing, distribution, transportation, and trucking operations. Their warehouse management system is flexible and cost-effective and integrates with leading front-end business systems and provides supply chain visibility.
Key Features:
Gain critical visibility into warehouse operations
User friendly with menu-driven applications that are designed to satisfy the requirements of industry-specific warehouse operations
Optimize inventory, people, space, and equipment while minimizing cost
Nearly 100% inventory accuracy
Paperless order picking
Cost: Contact for a quote
4. TECSYS WMS
@TECSYS_Inc
TECSYS is a leader in warehouse management software that delivers innovative supply chain management solutions for healthcare, government, and high-volume industries. TECSYS strives to be a solution for warehouse managers that will work far into the future.
Key Features:
Utilize more than three decades' worth of warehousing best practices and hundreds of implementations at distribution sites around the globe
Built on an industry-first, patented supply chain technology platform
Patented visual cues to accelerate warehouse tasks
Collaboration with enterprise apps such as ERP and CRM
Intuitive and easy to use
Flexible workflows that are capable of being modified by non-technical users
Extended supply chain visibility beyond the warehouse
Cost: Contact for a quote
5. IntelliTrack WMS RF Professional
IntelliTrack software manages inventory and assets, including anything that can be tagged or barcoded. Their WMS RF Professional is a software solution that can support hundreds of users and process thousands of SKUs throughout the warehouse process.
Key Features:
Easy to install
Intuitive to use
Reliable basic functions and management supports including queries, reporting, and barcode labeling
Uses handheld computers
Web-based with secure storage
Automatic updates
Validates shipping and receiving
Integrates with QuickBooks
Cost: $75 per user/month
6. Manhattan Associates Warehouse Management System
@ManhAssocNews
Manhattan Associates helps the world's top brands solve their most complex business problems in supply chain, inventory, and omnichannel. Their WMS is an industry-leading solution that speeds the flow of goods and information for incredibly accurate execution.
Key Features:
Supports sophisticated needs such as value-added services, lot management, serial number tracking, and product recalls
Utilize advanced fulfillment logic for wave management, constraint-based selection, real-time replenishment, and advanced order cartonization
Eliminate expensive physical counts with auditor-approved cycle counting
Streamline receiving processes with cross-docking, quality audit, and vendor performance
Hosted on-premise or in the cloud
Cost: Contact for a quote
7. Wireless Warehouse In a Box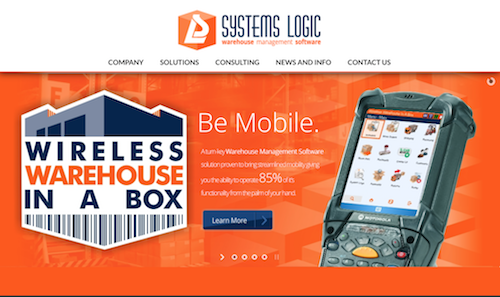 Wireless Warehouse In a Box is a warehouse management system designed for a mobile world. This warehouse management software has the right mix of tools and features to empower warehouse managers to streamline operations and increase adaptability, business improvement, and growth.
Key Features:
Engineered for user-friendliness and simplicity
Turn-key system to enhance mobility, accuracy, and efficiency
Designed for 3PL, distribution, manufacturing, fulfillment, and more
Cost: Contact us for a quote
8. SkuVault
SkuVault's eCommerce inventory management solution is designed to handle all of your warehouse inventory needs in one easy-to-use platform. Two highlights of the software are the easy integration with all major eCommerce sales channels and the ability to generate useful reports. They also have an award-winning customer support team that can be contacted by phone, email, or through their ticketing system. Though it is not a traditional WMS, SkuVault has all of the same properties, in an ultra-intuitive, all-in-one system.
Key Features:
Cloud-based data sharing
eCommerce inventory visibility and reporting
A best-in-class warehouse management system
Tools for automating inventory processes
Combine multiple SKUs to create product kits
Cost: Contact for a quote
9. 3PL Warehouse Manager
@3PLCentral
3PL Central offers 3PL Warehouse Manager, an easy-to-use cloud-based warehouse management software for 3PLs, public warehouses, and warehouse operations of all types. This software solution for warehouse managers was designed to give 3PL providers the ability to manage their unique challenges.
Key Features:
Manage multiple customers and their various practices, processes, and billing schedules
Flexible and scalable
Addresses the need for real-time information
Fully customizable with your company's logo
Cost: Contact for a quote
10. Fishbowl Warehouse
@fishbowl


Fishbowl is the top-selling inventory management software for QuickBooks users. Their warehouse solution automatically includes features that streamline warehouse management, including generating purchase orders and billing them to QuickBooks when new products are ordered.
Key Features:
Scan received products with a wireless mobile device
Easily store products in assigned places
Efficiently pick products, pack them, and ship them
Cost: FREE trial available; Contact for a quote
11. Korber Warehouse Management Systems
@highjump
Korber's Warehouse Management System (formerly HighJump) helps warehouse managers stay agile with adaptable, connected supply chain network solutions. Their WMS solutions are innovative and empower warehouse managers to reduce operational expenses while effectively and efficiently running complex supply chains.
Key Features:
Continually improve processes
Meet strategic business objectives
Mobile-enabled execution platform
Highly configurable and adaptable
Solutions for every level of complexity and volume, from rapid implementation for straightforward operations to proven solutions for high-volume, complex enterprises
Seamless integrations with major ERP systems
Cost: Contact for a quote
12. Foxfire Warehouse Management Software
@FoxfireSoftware


Foxfire is a supply chain software company that specializes in warehouse management systems, transportation management systems, supply chain execution systems, and more. Their warehousing software is designed for start-up to mid-sized warehouses that seek to optimize production and processes.
Key Features:
Flexible, scalable, and adaptable to your warehousing needs
Intuitive, web-based dashboard for real-time management of warehouse operations
Use barcode labels to receive a partial or full shipment with a few simple clicks
Use business rules to find an open location for putaway and allowing your receiving team to scan the pallet to the location
Cost:
$995/month for up to 8 devices (Growth)
$1,695/month for up to 18 devices (Plus)
$1,995/month for 1 warehouse/location (Advanced)
$10,000/month for unlimited devices and facilities (Premium)
13. Epicor ERP Warehouse Management System
@Epicor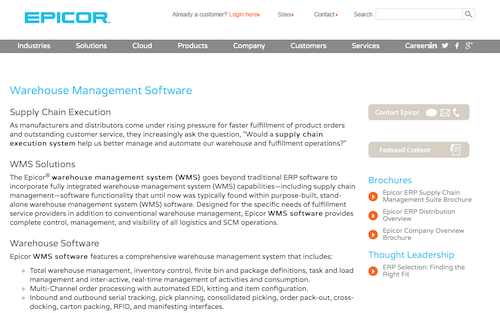 Epicor drives business growth with industry-specific software for manufacturing, distribution, retail, and services customers. Their warehouse management software is a system for better managing and automating warehouse and fulfillment operations.
Key Features:
Incorporates fully-integrated WMS capabilities like supply chain management
Complete control, management, and visibility of all logistics and supply chain management operations
Absolute warehouse management, inventory control, finite bin and package definitions, task and load management, and interactive real-time management of activities and consumption
Inbound and outbound serial tracking, pick planning, consolidated picking, order pack-out, cross-docking, carton packing, and more
Cost: Contact for a quote
14. BlueYonder Warehouse Management
@BlueYonderTech
BlueYonder (formerly JDA) is a leader of end-to-end, integrated retail, omnichannel, and supply chain planning and execution solutions. Their warehouse management solution leads to optimized costs and service levels and creates a boost in profitability because of its high level of real-time visibility into all activities.
Key Features:
Dynamic, real-time workflows to support best practices
Real-time visibility into inventory, employee, and equipment performance
Proactive tracking and management of exceptions
Improved workforce productivity and utilization
Cost: Contact for a quote
15. S2K Warehouse Management
@VAIsoftware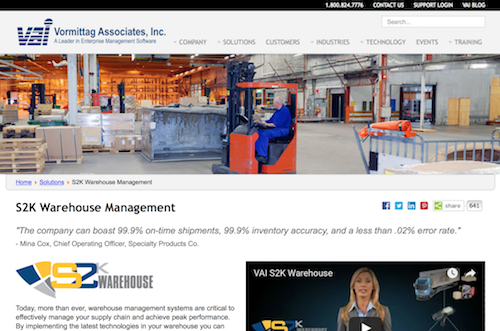 Vormittag Associates, Inc. (VAI) is a software developer and industry leader for ERP solutions whose products are used by manufacturers, wholesale distributors, retailers, and others. Their S2K Warehouse Management solution delivers real-time monitoring of warehouse activities and minimizes entry errors.
Key Features:
Paper-based and radio frequency processing for inventory processes
Packing order verification
Bin replenishment
Raw material production
Warehouse transfers
Cycle and physical counting
Cost: Contact for a quote
16. NetSuite Warehouse and Fulfillment
@NetSuite
NetSuite is the number one cloud ERP software suite. This warehouse management software solution aims to streamline fulfillment processes and keep customers satisfied. Their WMS solution empowers organizations to manage their distribution operations with tasks driven by customized user-defined strategies and advanced capabilities such as wave management, cycle count planning, real-time inventory updates, and more.
Key Features:
Receiving and putaway
Inventory management
Order fulfillment
Real-time visibility and control
Cost: Contact for a quote
17. Latitude Warehouse Management System
@PathGuide


PathGuide's Latitude Warehouse Management System is an enterprise-grade WMS that allows for customization and provides warehouse managers with the necessary tools for expanding sales, improving customer service, and beating the competition.
Key Features:
Receiving, putaway, picking
Cycle counting and cycle count planning
Performance metrics
Automation
Incident tracking
Lot control and inspection
Cost: Contact for a quote
18. Slingshot Inventory and Warehouse Management
@SlingshotERP


Slingshot is a web-based enterprise business software that integrates ERP software operations with those of your customers and supplies. Using Slingshot gives warehouse managers a competitive edge because it delivers the functionality needed for efficiently managing and monitoring inventory in all types of facilities.
Key Features:
Support for serialized and lot controlled items
Add inventory descriptions to items
Define descriptors by type of product
Define operational requirements at the facility level with rules for inbound, outbound, and in-warehouse processes
Cost: Contact for a quote
19. QuickBooks Commerce
@QuickBooks
QuickBooks Commerce (formerly TradeGecko) offers cloud-based inventory for successful managers. This warehouse management software solution assists in inventory movement from shipping and receiving to picking and packing.
Key Features:
Allows for increased visibility between warehouse and management
Generate pick lists with each sales order
Improve tracking and control over inventory activities and stock movements
Anticipate demand and receive alerts to avoid stockouts
Manage inventory across multiple locations
Full integration with the Intuit suite of products
Cost: Contact for a quote
20. Minerva Associates Warehouse Management & Inventory Control Solutions
@minervaassoc


Minerva Associates strives to deliver world-class warehouse management software solutions for companies that aim for efficient and accurate operations. Their advanced inventory management software, AWL, delivers measurable accuracy and efficiency improvements for distribution, manufacturing, and 3PL environments.
Key Features:
Tracks, directs, and manages inventory throughout all areas of the warehouse
Suited for facilities with or without physical automation
Audit trails
Optimize process flow to reduce errors and empower managers and supervisors to make better decisions
Cost: Contact for a quote
21. Datex 3PL WMS
@Datexcorp
Datex is a leading developer of software solutions for the 3PL, cold storage, warehousing, distribution, and manufacturing industries. Their FootPrint 3PL WMS is a comprehensive system developed specifically for the 3PL industry.
Key Features:
Accommodate the needs of multiple customers with varying requirements and business practices
Track and trace by lot, vat code, SKU, UPC, serial number, batch, component, package, or vial
Relies on workflow to drive operational processes
Cost: Contact for a quote
22. SAP Extended Warehouse Management 
@SAP
SAP is a leading independent software supplier. Their Extended Warehouse Management System integrates complex supply chain logistics with warehouse and distribution processes. This warehouse management software delivers visibility and control so that you can optimize inventory tracking, cross-docking, distribution operations, and more in real-time.
Key Features:
Flexible, automated support for warehouse and distribution logistics
Inventory tracking and management
Support a full range of warehouse processes
Optimize warehouse resources and asset utilization
Manage item movement within warehouses
Cost: Contact for a quote
23. Reflex WMS
@GroupeHardis
The Hardis Group offers Reflex WMS, a warehouse management and coordination software. Reflex automates and optimizes the logistics processes of industrial production and cross-channel distribution warehouses.
Key Features:
Natively multi-site, multi-client, and multi-flow
Integrates or manages key warehouse performance technologies, such as voice control, mechanization, and more
Comprehensive, powerful, and modular warehouse management and coordination software
Handles all types of simple or complex logistics flows
Manages small or large volumes
Supervises warehouse activity and resources
Cost:  Contact for a quote
24. Oracle Warehouse Management Cloud
@Oracle
Oracle Warehouse Management Cloud is a software solution that maximizes logistics performance. Warehouse managers are able to streamline day-to-day warehousing needs while managing transportation and global trade operations with Oracle's warehouse management solutions.
Key Features:
Provides a single platform across an entire global supply chain
Improve labor and space utilization
Reduce fulfillment costs
Improve shipment accuracy
Improve inventory visibility
Perform common warehouse and shop floor transactions through hand-held devices and truck-mounted scanners
Cost: Contact for a quote
25. Softeon
@softeon
The Softeon WMS is a well-rounded platform that offers extensive capabilities for managing important warehouse functions such as inventory, order picking, and shipping.  Their software offers a flexible foundation from which you can customize and scale the workflows to meet future needs. Softeon also supports integrations with major ERP, host systems, and material handling equipment. 
Key Features:
Available as a cloud, on-premise, or hybrid deployment
"Pick route" capabilities for allocating inventory
A powerful task management engine
Sophisticated inventory allocation tools
An automated new order fulfillment system (OFS)
Cost: Contact for a quote
26. Zebra Warehouse Management Solutions
@ZebraTechnology
Zebra Technologies gives customers the ability to act more intelligently via innovative products and solutions that enable visibility. Their warehouse management solutions drive growth, efficiency, productivity, and visibility.
Key Features:
Empower workers with powerful mobility tools
Get and keep your mobile warehouse solution up and running at optimal performance
Simplify operations with automation
Ensure accuracy and make more insightful decisions
Cost: Contact for a quote
27. Sage Enterprise Management Warehousing
@sagegroupplc
Sage Group offers Sage Enterprise Management Warehousing, a warehouse management software that optimizes available space and logistical operations, from receiving to shipping. Sage seamlessly integrates with automated conveyor systems.
Key Features:
Optional web-based architecture for multi-structured companies to establish a centralized database while allowing remote sites and company branches to operate independently
Designed by professionals and complies with international standards and all sorts of companies and distribution service providers in various sectors
Flexibility for satisfying the unique distribution requirements of all types of companies
Easily optimize distribution processes to provide top performance
Cost: Contact for a quote
28. Dematic InSights
@DematicNA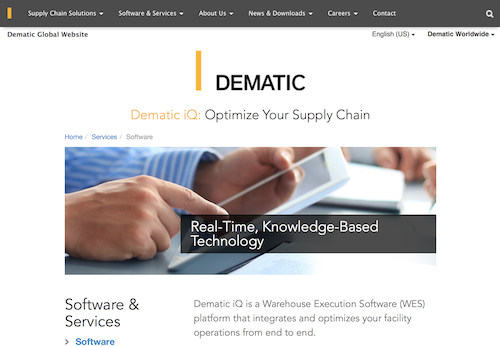 Dematic North America is a global leader that provides a comprehensive range of intelligent warehouse logistics and materials handling solutions. Dematic InSights is an Asset Performance Management (APM) platform that includes all the properties of a WMS. It's a real-time, knowledge-based warehouse management solution that integrates and optimizes facility operations.
Key Features:
Execute orders efficiently at your distribution center, warehouse, or factory
Reduce overall operating costs
Reduce the time needed to process and ship product
Increase efficiency, improve accuracy, and reduce labor costs
Save time and reduce costs with proactive maintenance
Complete access to equipment history
Cost: Contact for a quote
29. Easy WMS
@IKMXus
Interlake Mecalux Inc., a global leader in the storage systems market, offers its customers a broad array of material handling solutions. Easy WMS is one such solution; this warehouse management system makes it possible for managers to control their warehouses, eliminate errors, and reduce logistical costs.
Key Features:
Optimize the physical management and tracking of the flow of goods
Improve the management of fundamental operations in all areas of the warehouse
Real-time inventory and control of stock
Reduced logistics cost
Up to 30% improvement in order preparation
Integration with any ERP and all types of devices
User friendly with 100% online interface
Cost: Contact for a quote
30. ASCTrac WMS
@ASCSoftware
ASC Software helps solve complex supply chain challenges and fosters innovative and successful supply chain operations. Their ASCTrac WMS enables warehouse managers to maintain cost control of inventory, space, equipment, manpower, and other warehouse resources.
Key Features:
Provides a complete management planning tool to control and orchestrate multi-zone automated picking systems
An advanced-feature enterprise system for solving the demanding operational challenges of distribution, manufacturing, and third-party logistics organizations
Modular design to support any size of organization or complexity level
A complete solution to be interfaced to any ERP system for a seamless and fully integrated solution
Cost: Contact for a quote
31. Swisslog WM 6
@SwisslogInspire
Swisslog warehouse and distribution solutions deliver automation for forward-thinking warehouse managers. Their Swisslog SM 6 is a warehouse management software platform that offers comprehensive functionality for automated warehouse control solutions and optimized warehouse management processes.
Key Features:
Integrate people, processes, and technology to deliver maximum customer value
Enhanced with applications, apps and boxes, and more to meet the integration scenario that best suits your business
Standardized interfaces
One web-based user interface for warehouse management and controls
Cost: Contact for a quote
32. AEB Warehouse Management
@AEBGlobal
AEB offers Warehouse Management, a system that supports you with processes in your warehouse, storage facility, or distribution center and helps to streamline workflows. From stock putaway to picking and packing, AEB Warehouse Management empowers managers to design processes that maximize reliability and minimize errors.
Key Features:
Complete transparency for all inventory
Enhanced fulfillment quality and more reliable processes
Shorter lead times
Better on-time performance
Cross-docking and other strategies
Accurate inventory information at all times
Picking accuracy of 99%+
Cost: From £765/month
33. Symphony Retail Warehouse Management
@SymphonyRetail
Aldata and EYC merge as Symphony Retail, a global provider of retailing and distribution optimization solutions. Their Symphony Retail Warehouse Management software enables users to manage, control, and optimize logistics operations and features multi-site, multi-organizational, and multi-lingual capabilities.
Key Features:
Advanced forecasting and replenishment technology to optimize warehouse inventory levels with decision support tools
Accurately anticipate and manage resource anomalies
Optimize warehouse pick slots and allocation processes for reducing storage costs and increasing throughput and labor efficiency
Optimization of truck capacity and transportation routes to reduce transportation costs, speed product delivery, and reduce carbon emissions
Cost: Contact for a quote
34. ExactaWMS
@BastianSolution


Bastian Solutions is a material handling automation firm that helps clients improve their distribution and manufacturing systems. Their ExactaWMS provides a suite of software applications for customizing and viewing a warehouse system in ways to best benefit your business requirements.
Key Features:
Increase productivity and efficiency without adding labor
Reduce operating costs
Increase inventory control and accuracy
More visibility within the warehouse
Enable increased order throughput
Scalable to manage changes in your business
On-time shipments to reduce order cycle time
Cost: Contact for a quote
35. Cin7
@Cin7online
Cin7 is an all-in-one inventory, POS, EDI, and 3L software for retail, wholesale, and B2B. Cin7 enables faster order fulfillment with centralized warehouse management and improves stock visibility while connecting with sales channels.
Key Features:
Easily create branches, warehouses, and stores
Store product in multiple locations and assign fixed zones and bins to products
Balance supply levels using a reliable system
Eliminate data entry and paper processes with Pick n Pack
Offline and online picking
Pick by location
Mobile friendly
Cost: From $299/month
36. Finale Inventory
@finaleinventory
Finale Inventory delivers cloud inventory and order management for SMB that supports integrations for a complete multichannel commerce solution. This warehouse management software is a top inventory control solution that enables you to manage your inventory.
Key Features:
Purchases and sales
Shipping and receiving
Stock control
Reports
Quickbooks inventory management
Barcode systems
Mobile inventory management
Asset management
Cost: From $75/month
37. CoreWarehouse
CoreWarehouse is a warehouse management solution for warehouses of 10,000 square feet or more. This tier 1 cloud warehouse management software is for 3rd party logistics, food industry, high tech, pharmaceuticals, and consumer goods verticals and features world-class functionality with directed putaway, wave picking, and FIFO/LIFO/FEFO allocation.
Key Features:
Easily process shipping, receiving, picking, and more
Efficiently manage inventory, space, equipment, and staff
Optimize warehouse processes with your customer and workforce in mind
Maintain inventory integrity
Cost: Contact for a quote
38. IQMS Warehouse Management System
@IQMSERP


The IQMS Warehouse Management System is a complete WMS and ERP integration for minimizing handling costs and optimizing warehouse efficiency. An extension of EnterpriseIQ ERP software, the IQMS WMS includes advanced tier one features that include rules-based pick and putaway, work order staging, wave planning, palletizing, and more.
Key Features:
Increases order fulfillment speed and accuracy
Eliminates shipping and receiving handling errors
Decreases costs due to underutilized inventory resources
Improves inventory visibility and traceability
Optimizes movement of raw materials, WIP, and finished goods
Cost: Contact for a quote
39. Infor CloudSuite™ WMS
@InforSCM
Infor CloudSuite™ WMS combines best-in-class solutions with industry-specific functionality. From strategic and tactical planning to execution, this software is a solution that empowers warehouse managers to plan and execute strategies for maximum profitability.
Key Features:
Industry-specific functionality for a range of industries, such as food and beverage, consumer goods, chemical and pharmaceuticals, distribution, logistics providers, high tech and electronics, and automotive
Get end-to-end optimization
See the profit impact of supply chain decisions in real-time
Analyze supply chain, manufacturing options, and relevant constraints to choose the plan that best utilizes your assets
Cost: Contact for a quote
40. SKULabs
@skulabs


SKULabs is an all-in-one picking and shipping solution that combines barcode-based picking, one-click shipping, and batch order fulfillment. Their warehouse management solutions make it possible to track inventory across multiple locations and to manage all stocking and shipping centers in one place.
Key Features:
Track stock changes across your entire operation
Break a single warehouse into multiple stock-keeping locations or track inventory across multiple warehouses
Receive and return stock for any warehouse
Transfer inventory between stock locations
Cost: 
Basic: $499/month
Pro: $799/month
Enterprise: Contact for a quote
41. DistributionPlus Warehouse Management
@DistributionPls


DistributionPlus Warehouse Management is a system developed by CP Tech. This software solution ensures orders are shipped correctly and warehouse processes are optimized.
Key Features:
Minimize returns and credits
Check and balance system for order accuracy
Automatically send invoices with shipment
Business intelligence
Document and financial management
Inventory management and purchasing
Cost: Contact for a quote
42. Blue Link Warehouse Management
@BlueLinkERP


Blue Link offers integrated accounting and inventory management ERP software for small and medium-sized wholesalers and distributors. Their warehouse management system is an all-in-one solution that is a fully-integrated system that improves speed and accuracy via automated workflows.
Key Features:
Multiple warehouse locations
Consolidated pick slips
Tracking of bin/shelf plus overflow locations
In-transit warehouse
Pick/pack/ship workflow management
Mobile handheld picking
Generate master shipment and specific box tracking
Barcode verification scanning
Cost: Contact for a quote
43. VeraCore
@VeraCoreSystem


VeraCore is a browser-based order fulfillment software for fulfillment companies, printers, and marketing service providers. Their solution is a powerful suite that combines an order management system, a warehouse management system, and a business management system.
Key Features:
Eliminate manual processes and lower operating costs
Maintain inventory accuracy
Barcode technology to reduce costly errors due to mistakes in fulfillment
Integrate with leading technologies
Cost: Contact for a quote
44. PowerHouseWMS
@QSSI_WMS


Quality Software Systems, Inc. (QSSI) is a leading software development company that specializes in designing and implementing warehouse automation and inventory control systems. Their PowerHouseWMS puts managers in control of warehouses and gives them the flexibility to implement just the right solutions for their operations.
Key Features:
Full functionality
Scalable
Effortless configuration
Flexible interfacing
Swift implementation
Receiving, directed putaway, task interleaving, cycle counting, replenishment, order processing, cross-docking, truck building, yard management, shipping, reporting, and more
Cost: Contact for a quote
45. Beckard Masterworks WMS
@Beckard_ERP


Beckard ERP offers a vast array of distribution software applications and is especially focused on warehousing and logistics solutions. Their warehouse management system, Masterworks WMS, is a multiple company, multiple warehouse, and multiple location software application.
Key Features:
View all of your inventory, no matter where you are
Tracks turn rates and fill rates, to keep the right amount of stock at the right location
Allows for centralized purchasing to distribute to multiple warehouses across the country
Picking and shipping, inventory, and inventory counting
Cost: Contact for a quote
46. Windward Inventory Control
@windward_pos


Windward software helps businesses with their high-end point of sale, accounting, and inventory control software. Windward Inventory Control is a real-time inventory software that delivers the tools needed to manage stock levels and improve cost control processes.
Key Features:
Reduce inventory shrinkage
Optimize cash flow
Improve customer satisfaction
Reduce out-of-stock items
Use barcodes for tighter inventory control
Enhance security with serial number tracking
Search inventory with multiple fields
Cost: From $92/month
47. Camelot 3PL WMS
@CamelotSoftware
Camelot 3PL Software offers 3PLWarehouse Management, a solution that creates value for your bottom line. 3PLink keeps critical data secure and improves accuracy while enabling you to manage your warehouse more efficiently.
Key Features:
Complete WMS designed especially for third-party logistics, public warehouses, public refrigerated warehouses, and packaging fulfillment operations
Warehouse receipts, picking tickets, invoices, inventory reports, transaction history, customer history, account statements, and aged receivables
Receive on the fly, create new items or SKUs on the fly
Pick by FIFO, FEFO, code date, location, lot number, or any other logic
Master files to automate customer and inventory setup
Barcode scanning to support the most popular hardware
Web visibility with real-time, secure access available 24/7
Cost: Contact for a quote
48. Propago
@propagoplatform
Propago is a marketing asset management solution that includes a comprehensive WMS platform. The software supports high-volume order fulfillment operations with tools for fast pick pack, order signature detection, and order consolidation. Propago also helps streamline your operation with multiple methods for organizing pick & pack, receiving, and shipping workflows. 
Key Features:
A flexible 3PL module for integrating with outside vendors
Support for product serialization
Complete lot tracking for quality control
A built-in returns management workflow
Inbound receiving verification for purchase orders
Cost: Plans starting at $449/month
49. Microlistics WMS
@MicrolisticsWMS


Microlistics delivers warehouse management systems worldwide. Their WMS solutions are configured by supply chain experts and are tailored solutions to suit your business. Microlistics offers WMS Enterprise, WMS Chilled, WMS 3PL, and WMS Express.
Key Features:
Eliminate errors
Reduce operating costs
Increase stock accuracy
Integrates to systems and equipment
Cost: Contact for a quote
50. Astro WMS® Cloud
@ConsafeLogistic
Consafe Logistics is one of Europe's leading suppliers in production logistics, enterprise mobility, and warehouse management. Their Astro WMS is a scalable, modular warehouse management system that guarantees complete control of all items, from picking to shipping.
Key Features:
Real-time forecasts
Full traceability
Reduces operating expenses while optimizing workforce, warehouse space, and equipment
Easily integrated with your ERP system
Delivers a better overview of the entire flow
Innovative dashboards and other management tools
Cost: Contact for a quote
51. Aptean WMS irms Edition
@aptean
The Aptean WMS irms Edition provides real-time visibility and end-to-end supply chain management in the cloud without the tier-1 price. Built upon a cutting-edge, fully secure cloud platform and bred from 30 years of supply chain excellence in Fortune 500 warehouses, this completely redesigned Warehouse Management System is incredibly easy to use and affordable for companies of all sizes.
Key Features:
Fully functional on Apple iOS and Android devices
Integrates out-of-the-box with more than 700+ software systems
Utilizes state-of-the-art third-party technologies
Entirely redesigned on an advanced cloud platform
Provides the highest level of data security possible
Cost: Contact for a quote
52. Magaya
@MagayaSoftware
Magaya is an industry-leading platform for logistics management and supply chain automation. Their software provides end-to-end management for your orders and inventory while supporting additional WMS capability. A new WMS mobile app is being released soon that will provide even greater control of inventory management within facilities.
Key Features:
A user-friendly interface
Multiple modules are available for a flexible deployment
Real-time data sync between the mobile app and Magaya system
Choose between a cloud or on-site deployment
Access more extensions and apps through the Magaya Ecosystem
Cost: Contact for a quote
What should you look for when buying warehouse management software?
The number of features in a WMS system can be extensive, making it difficult to make a direct comparison between options in the market. One of the best ways to make an informed purchase is to focus on a few key capabilities that can have a direct impact on the ease of implementation.
Support for important integrations. Since a WMS system will become the central part of your day-to-day operations you want to ensure that you can integrate it with your other hardware and software components. One example is barcode technology, which is critical for efficient inventory management. Looking at your integration requirements upfront will allow you to make important decisions regarding how these systems will work together and any additional upgrades that may be necessary.
Ability to meet your must-have requirements. It is a near certainty that you will have a long list of requirements for your facility. Take the time to prioritize a shortlist of your must-have requirements so that you can make a direct comparison with each WMS system. Some examples of high-value WMS capabilities include real-time inventory updates, complete tracking of order and inventory lifecycles, and support for multiple picking methods.
Scalability to support future growth. Many WMS systems specialize in support for warehouses of a particular size and may even offer unique capabilities for specific industries. Depending upon the size of your current operation you may consider a standalone WMS or one that is provided within a larger ERP or SCM suite. Regardless of the software type, it is important to inquire about how the WMS system can be scaled as your operation changes over time. It is always wise to invest in a platform that can grow with your business without having to face major software changes.
How much does a warehouse management software system cost?
The true cost of a warehouse management software can go beyond the price of a software license and it helps to take a holistic approach to evaluate your deployment. Most businesses that consider implementing a WMS system are looking to streamline their operation and improve efficiency. The following ideas can help you determine important costs to consider.
Look at extended costs. Implementing a WMS system can sometimes lead to changes for warehouse layouts, vendors, hardware, and consumables. These can all have a positive or negative impact on your costs and should be considered. In addition, there can be additional training requirements for staff based on the new system.
Measure your return on investment (ROI). Costs are important, but the most valuable metric of an effective WMS implementation will be the ROI that your company achieves. The improvements to process efficiency and added capabilities can be difficult to estimate early on, but having a basic framework can help you decide between various features in WMS systems.  Start with a set price point for your WMS. Looking at your extended costs and ROI will give you a great understanding of both the costs and savings that a WMS system can provide your organization. This will allow you to create a target price point for your WMS software rollout and help you set reasonable terms for contracts, installations, and training for your new system.
What are the key functions of a warehouse management system?
Warehouse management systems serve several different functions, and you will often find features that overlap with other types of software. Ultimately, a WMS platform can be used to monitor all important workflows within a warehouse. By using a centralized system, it is possible to streamline existing procedures and optimize performance. These are a few of the most important key functions of a warehouse management system.
Inventory Tracking. All warehouses must maintain suitable inventory levels and accurate cycle counts. A WMS platform helps collect all of the tracking information for inventory items in a single database that can be shared with team members and used for many different purposes. These systems also allow you to store important maintenance and warranty records for important assets.
Storage Management. Each warehouse layout is typically customized to meet local needs and provide for the smooth flow of inventory through the facility. Most WMS systems include several tools for managing and optimizing warehouse layouts. Key functions of these tools include identifying dedicated work areas, managing returns, and support for unique barcode formats. Optimizing space within a warehouse often requires a number of different tagging solutions that are integrated with handheld or fixed scanners.
Shipping and Receiving. In addition to other Enterprise Resource Planning (ERP) tools, a WMS provides support for shipping and receiving activities. These are often some of the busiest areas within a warehouse. In order to process orders efficiently several processes must often be carried out in parallel, and a warehouse management system provides visibility for the status and readiness of these functions.
Picking and Sorting. Inventory that is stored within a warehouse will eventually be retrieved to fulfill orders. Picking and sorting procedures can be managed within a WMS with a central function being order management. The ability to view and assign orders from a single system makes it easy for the entire warehouse team to coordinate their work efficiently.
What are the different types of warehouse management software systems?
When reviewing warehouse management software systems, you will find a wide range of features and product categories. There is truly no one-size-fits-all platform and warehouse managers need to choose tools that provide the most value for their unique operation. The following are four of the major WMS software categories that are used by 3PL providers.
Standalone Systems. This is what many consider to be a standard offering in the WMS space and most often includes an onsite installation of software. Standalone systems can be used to manage warehouse, inventory, and asset workflows. Some software providers offer additional modules with expanded capabilities.
Cloud Solutions. In recent years, many WMS providers have created completely cloud-based solutions. These systems are compatible with most mobile devices and often require little to no onsite software installation. Many of the core features are the same as a standalone platform but are often optimized for remote access and integration with other systems.
ERP Modules. Enterprise Resource Planning (ERP) systems have been used for decades as a way to integrate the supply chain, planning, and corporate management needs of even the largest businesses. You may also find warehouse management modules as part of these software suites with features that align with standalone or cloud-based WMS platforms.
Supply Chain Modules. Supply Chain Management (SCM) includes a large category of software and many of these platforms include a module for warehouse management. Features will vary depending upon the provider and may offer excellent integration with other modules from the same vendor.
Asset Tracking Solutions from Camcode: