Removable Asset Labels for Short-Term Asset Tagging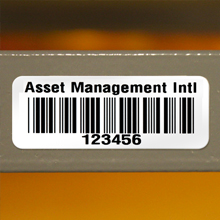 Camcode's Removable Asset Label is designed for applications requiring a more durable short-term label which can also be cleanly removed or repositioned. Camcode's Removable Asset Labels are used for chemical drums, shipping containers, shelf marking, parts inventory, and short-term asset-tracking applications. This asset tag is constructed of a biaxially-oriented polypropylene with a removable application adhesive. The tag has good resistance to general purpose cleaners, mild acids, oil and water. Expected exterior life is up to two years.
Product Features
Specially formulated adhesive removes cleanly from its mating surface.
Flexible BOPP material conforms well on non-flat surfaces.
Durable black or color print options withstand more challenging environments.
Product Specifications
Material
3.5 mil biaxially-oriented polypropylene.
Adhensive
.85 mil adhesive formulated for clean removal after short-term field use.
Label Copy
Several font types are available, as well as logos or other design elements.
Symbologies
All common symbologies available, including code 3 of 9, I2 of 5, 128, Data matrix and QR codes.
Colors
Black graphics on white background; color options available.
Standard Sizes
2.0″ x .75″ Common. Several standard and custom sizes available.
Packaging
Shipped in sequential order, in rolls, in boxes. 100% no missing numbers.
Shipment
10 working days from receipt of order and approval of artwork. Expedited shipment is available for an additional charge.