Bar Code Labels to Resist Paint, Acids and More
Camcode's Paint-Resistant Bar Code Labels will endure the toughest WIP applications which require resistance to cleaning, pickling, painting, e-coat, and powder coating processes, as well as caustics and strong acids.
Your product choices include: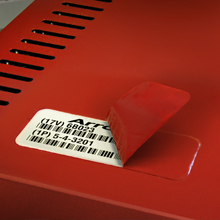 Our Polyester Paint Mask Label is designed for production-line applications that include a one-time painting operation. The label comes with a special paint mask designed to remove cleanly after painting, leaving the label ready to be scanned. Read more about our Polyester Paint Mask Bar Code Labels.
Camcode's 
Metalphoto® with Teflon® Bar Code Labels 
offer the very best paint resistance of any bar code label on the market today.
Teflon Options:

Our Metalphoto Laminated FEP Bar Code Labels are a cost-effective low-volume solution for applications with temperatures below 300°F.

Our Metalphoto Fused PTFE Bar Code Labels have outstanding paint shedding characteristics for applications with temperatures up to 500°F. This tag is dead soft, which allows it to more easily form to uneven surfaces.
Our Metalphoto Fused FEP Bar Code Labels has resistance to temperatures up to 400°F. This tag is rigid and better for some mechanical attachment applications.

Read more about our 

Metalphoto with Teflon Bar Code Labels

.
We always recommend testing our bar code labels in your paint process. Just ask us to send you 
free samples
.
What do Paint-Resistant Bar Code Labels cost?
Our minimum order is $300 to $399. Higher-volume orders reduce the per-unit cost depend on the material construction, size and quantity. For help specifying the right label or to get an exact quotation, just request a quote.
Teflon™ is a registered trademark of The Chemours Company FC, LLC.