Metalphoto® Pallet Barcode Labels and Tags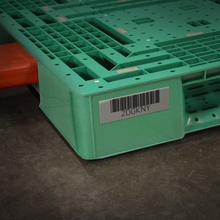 Camcode's Metalphoto Pallet Barcode Labels and Pallet Rack Tags are designed to withstand abuse from forklifts and the inclement conditions of both warehouse environments and the outdoors. Our pallet label is constructed of an anodized aluminum .020″ face stock (optional thicknesses from .008″ to .063″), with a high-performance-permanent pressure-sensitive adhesive and/or holes for mechanical attachment. The adhesive is designed to permanently bond to high surface energy metals and plastics, and textured and contoured surfaces on any pallet. Our pallet label has excellent resistance to chemicals, abrasion, solvents; and will withstand exterior exposure in the harshest environments, including extreme cold, heat and UV. When treated with our image intensification process, Metalphoto's expected exterior life exceeds 20 years.
Product Features
Designed for exceptional durability; image is sealed beneath an anodic layer of the aluminum.
Superior resistance to chemicals, abrasion, solvents, extreme temperatures and UV.
Highly readable crisp graphics on black or silver background.
High-performance adhesives and/or holes for mechanical attachment.
Product Specifications
Material
Anodized aluminum .020″ face stock (optional thicknesses from .008″ to .063″).
Attachment
Permanent pressure-sensitive adhesive and/or holes for mechanical attachment (also available with low surface energy adhesive).
Label Copy
Several font types are available, as well as logos or other design elements.
Symbologies
All common symbologies available, including code 3 of 9, I2 of 5, 128, Data matrix and QR codes.
Colors
Black graphics on silver background; color options available.
Standard Sizes
Standard and custom sizes available.
Packaging
Shipped in sequential order, in boxes. 100% no missing numbers.
Shipment
10-15 working days from receipt of order and approval of artwork. Expedited shipment is available for an additional charge.
Common Use Cases for Metal Pallet Labels
The major benefit of using pallets is the ability to secure and transport materials in a convenient way. One of the best ways to do this in an efficient manner is to utilize pallet labels that can be attached to each unit and easily scanned. Metal pallet labels are a popular choice for many businesses that have demanding logistics requirements. Here are two of the biggest benefits of pallet tags:
Transportation. Pallets often spend time in a multitude of different locations during their use. They are used to transport goods across the country and internationally using various vehicles, aircraft, and marine vessels. To help facilitate shipment tracking and reduce costs, many companies also tag their pallets with barcode labels. Having a durable tag attached directly to the pallet helps companies monitor their pallet usage and reduce waste from lost units.
Inventory Management. When a pallet is used, it represents an entire unit of items or goods. In addition to product labels and other inventory tags, metal pallet labels are used to easily scan units when they are moved or relocated. This can also streamline inventory management activities and help differentiate between pallets that are carrying the same items. In many storage facilities and warehouses, the entire rack design is optimized for pallet storage. An optimized warehouse rack layout makes it easier for personnel to position and operate scanners while reviewing inventory counts and managing picking and other warehouse activities.
What to Look for When Buying Metal Pallet Labels
Metal pallet tags are designed for demanding applications and can be customized to meet the needs of each facility and logistics operation. Before buying a set of pallet tags, it's important to review a couple of key features to make sure that the labels you receive will be fully compatible with your requirements and application specifications:
Attachment Method. Since pallets can be fabricated of wood, plastic, or other materials, it is always best to select an attachment method that will create a firm and secure hold. Options include a permanent pressure-sensitive adhesive, low surface energy adhesive, or mechanical attachment. Since our metal pallet tags are created with Metalphoto® aluminum, the label itself is extremely durable. It is therefore important to consider the pallet material and attachment to make sure that the pallet tag can withstand the abuse of forklifts, exposure to weather elements, and constant movement during transportation.
Customization. The tag size and graphics of a metal pallet label can be fully customized. Always confirm that the label size and barcode symbology you select are compatible with your scanning hardware and software platforms. You can also choose different surface colors and fonts to align the look of your tags with your corporate branding. Logos are easy to add for a finishing touch, and the surface of these metal pallet labels can withstand harsh conditions. One of the primary benefits of Metalphoto® labels is the fact that the graphics remain crisp and highly readable throughout the lifespan of your assets.