Utility Maintenance Tracking
Track and maintain your utility assets to keep operations running smoothly.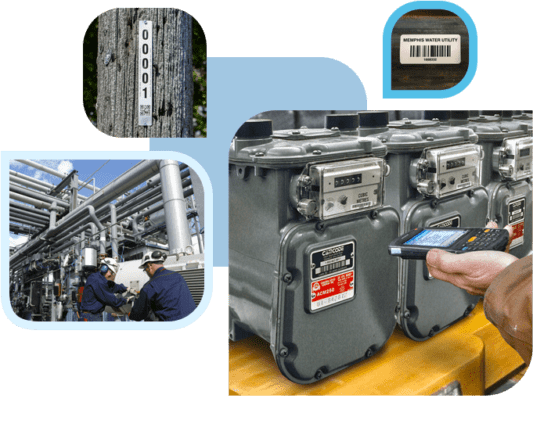 Efficient Asset Management Systems Begin with Camcode Bar Code Labels
Utilities have proven that data collection using bar code is faster, less expensive and more accurate than manual data collection. From meter tags used for meter maintenance systems to pole tags used to track inspection and treatment, utilities rely on Camcode's highly durable anodized aluminum bar code labels. The image is sealed below the surface of the label, creating an impenetrable barrier to sunlight, water, salt, dirt, chemicals, solvents and temperatures up to 650°F. Teflon™ fluorocarbon film treatments are added for applications that require resistance to paint. When treated with our image intensification process, all of our labels have a 20-year life outdoors!
Camcode is the leader in the design and manufacture of bar coded utility marking products. Our labels will last 20 years in even the harshest environment. Never re-label again with Camcode's proven technology. Camcode has helped utilities catalog assets in conjunction with Maximo® and other leading asset management solutions.
Get a Free Utility Tag Evaluation Kit
Request a free utility tag sample kit today and we will send you a kit to test our utlity tags in your own operating environment.
Get Free Label Samples ›
Find Your Utility Maintenance Tracking Asset Tags
Our minimum order is $399. Higher-volume orders reduce the per-unit cost – to as low as $0.50 each for an order of several thousand small CMMS asset tags – and exact prices depend on the material construction, size and quantity. Getting an exact quotation is easy; just request a quote.
Get a Custom Quote ›
Utility Labels And Tags Custom Designed For Your Application
All of our labels and tags are customed designed to your specific specifications, and are available in a variety of shapes, sizes, materials and thicknesses, with a variety of data and graphic options, as well as adhesive and mechanical attachment options.  See some of our actual customer label configurations below.  Don't see exactly what you need?  Contact our experienced sales engineers and we'll help design the perfect labels for your application.
Let's Talk ›
"Camcode had the knowledge and experience to help us select a bar code label that will survive the average life span of our assets"
"This has greatly improved our efficiency."
"Having the labels makes it much easier than manually entering an asset ID number. I feel it's cutting down on the time it takes to make sure we have the right equipment at the right location."
Dennis F.
Production Supervisor
Keep Operations Efficient with Barcode Asset Tracking Tags
If you're having trouble finding the ideal tracking solution for your project or organization, build it with Camcode. Talk to our team today.
Let's Talk ›