Get a Free Nameplate, Front Panel, Label & Tag Evaluation Kit
Please fill in your mailing information below, and we'll mail you a free evaluation kit containing samples of our labels, nameplates, panel faceplates, barcode tags and graphic overlays, so that you can test our products in your own facility or operating environment.
Industrial Identification Featuring Unmatched Fabrication Capabilities With Superior Durability
What You'll Receive In This Kit
Nameplate Samples
1 rigid Metalphoto nameplate with mounting holes and color
1 rigid Metalphoto adhesive backed nameplate
1 full color polycarbonate adhesive backed nameplate
Front Panel Samples
1 rigid Metalphoto panel faceplate with color
1 polycarbonate adhesive backed full color graphic overlay
Labels & Tag Samples
1 rigid Metalphoto tag with mounting holes and color
1 foil Metalphoto adhesive backed decal
1 full color polycarbonate adhseive backed warning label
2 rigid Metalphoto adhesive backed barcode asset labels with color
4 foil Metalphoto adhesive backed barcode asset labels with full color
4 premium polyester barcode asset label stickers with full color
2 premium polyester 2-part barcode asset labels
2 tamper evident polyester barcode security asset labels
2 destructible vinyl security asset labels
"Our order was 60,000 pieces and we never missed a deadline."
Camcode worked to meet our timelines…ensuring they did not over promise and under deliver. I was impressed. Our order was 60,000 pieces and we never missed a deadline.
Tom P.
Team Lead of Operations and Maintenance Services
ORGANIZATIONS THAT CHOOSE CAMCODE






What Makes Camcode Identification Better?
OUR IDENTIFICATION PRODUCTS ARE CREATED WITH A PROPRIETARY PHOTOSENSITIVE ANODIZED ALUMINUM SUBSTRATE: METALPHOTO
Metalphoto offers many unique features including:
Exceptional image resolution that allows for serialized information, barcode, QR code, security and microprint options.
Light but strong anodized aluminum can be custom fabricated to any size, shape and thickness.
Uniquely durable products that last over 20 years outdoors without fading or degredation.
The Superior Durability of Metalphoto©
TRUSTED FOR OVER 50 YEARS BY THE US ARMED FORCES, NASA, CATERPILLAR, AND BOEING
Metalphoto is a photosensitive anodized aluminum that can hold the line in demanding industries.  It features a sub-surface image that has the fine image resolution to support bar codes and QR codes of any symbology, and offers unparalled resistance to damage from abrasion, weather, chemicals, corrosion, and UV exposure.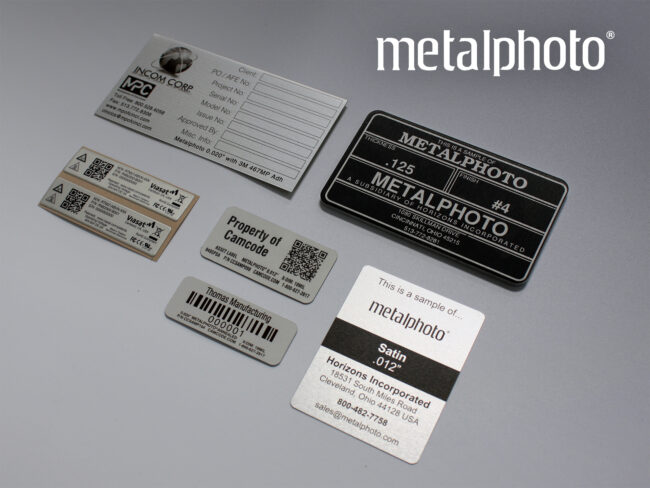 Field Proven for Over 40 Years
Founded in 1979, Camcode is a worldwide leader in the design and manufacturing of durable, pre-printed barcode labels.  We offer customized services for asset and data tracking applications that utilize automatic identification & data capture.
Camcode's extensive collection of tailored services includes project management, data management, and uniquely engineered identification products to deliver a completely personalized asset tracking solution.
Horizons Incorporated does not warrant performance of its materials in any environment.
Materials must be tested in specific anticipated operating environment.