Get the "5 Best Practices for Utility Company Asset Tracking and Management" Guide
Request the free guide by completing the form below and we'll email you a PDF version to read online or download to your device.
INCREASING EFFICIENCY ACROSS YOUR ORGANIZATION
Improve Efficiency. Minimize Risk. Reduce Operating Costs.
Proper asset management allows utility companies to effectively service the nation's energy and power needs. Proper utility company asset tracking and management mean knowing what type of valves were placed in a waste management system and how old they are. It's being aware of what wood pole structures energy companies need to replace after a natural or man-made disaster.  We've pulled together this list of five common best practices utility companies should follow for asset tracking and management.  In this guide you'll learn how to:
Extend the life of assets through proper maintenance
Base your rates on accurate operational & financial reviews
Allows you to respond to emergencies more efficiently
Reduce operating costs in the long-term
"Our salesperson was very helpful in explaining how bar codes work."
"There was a lot that I didn't understand about the implications of bar code symbologies. Our salesperson was very helpful in explaining how bar codes work, and helped us select a different product than we had envisioned."
James B.
Manager of Information Technology
"We needed the 'Swiss Army Knife' of tags."
"It was necessary to have an asset tag that could withstand the outdoor elements, yet was simple enough to meet basic tracking needs. We achieved both with Camcode's asset tags."
ORGANIZATIONS THAT CHOOSE CAMCODE






Efficient Asset Management Systems Begin with Camcode Bar Code Labels
Utilities have proven that data collection using bar code is faster, less expensive and more accurate than manual data collection. From meter tags used for meter maintenance systems to pole tags used to track inspection and treatment, utilities rely on Camcode's highly durable Metalphoto bar code labels.
Camcode is the leader in the design and manufacture of bar coded utility marking products. Our labels will last 20 years in even the harshest environment. Never re-label again with Camcode's proven technology. Camcode has helped utilities catalog assets in conjunction with Maximo and other leading asset management solutions.
The Superior Durability of Metalphoto©
TRUSTED FOR OVER 50 YEARS BY THE US ARMED FORCES, NASA, CATERPILLAR AND BOEING
Metalphoto is a photosensitive anodized aluminum that can hold the line in demanding industries.  It features a sub-surface image that has the fine image resolution to support baercodes and QR codes of any symbology, and offers unparalled resistance to damage from abrasion, weather, chemicals, corrosion, and UV exposure.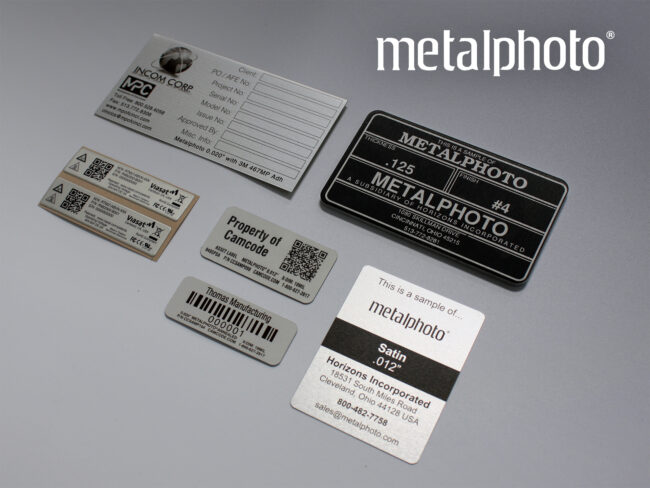 Field Proven for Over 40 Years
Founded in 1979, Camcode© Is a worldwide leader in the design and manufacturing of durable, pre-printed barcode labels. We offer customized services for asset and data tracking applications that utilize automatic identification & data capture.
Camcode's extensive collection of tailored services includes project management, data management, and uniquely engineered identification products to deliver a completely personalized asset tracking solution.
Horizons Incorporated does not warrant performance of its materials in any environment.
Materials must be tested in specific anticipated operating environment.