Industrial, Durable, Metal Barcode Labels, Tags and Stickers
Camcode has durable barcode labels for every industrial application. These plastic and metal bar code labels, stickers and tags perform in the harshest environments, including chemicals, cleaning processes, painting processes, outdoor exposure and temperatures up to 1200°F. Our most widely used products are listed below. Contact us and we will design the right barcode label for your application!
We are experts in receiving label requirements electronically, managing multiple shipments of products, and shipping labels to meet JIT production systems. Our ability to manage sequential numbering of multiple shipments is proven and guaranteed, making Camcode the top barcode label manufacturer.
Your barcode label choices include: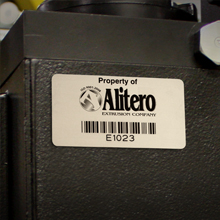 The graphics are sealed beneath a sapphire-hard anodic layer of this metal barcode label, creating an impenetrable barrier to chemicals, solvents, salts, and can survive in temperatures up to 650°F. The result is a durable barcode label design with excellent readability in the harshest environments. This label lasts the life of the part. Read more about Metalphoto Aluminum Durable Bar Code Labels.
Ideal for applications that require resistance to cleaning, pickling and/or painting, e-coat or powder coating processes. These labels also resist contact with caustics and strong acids. Our laminated barcode stickers resists temperatures up to 300°F, and our fused product resists temperatures up to 500°F. Read more about Teflon on Aluminum Durable Bar Code Labels.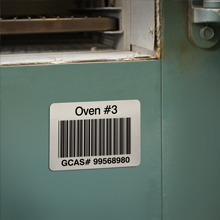 Our proprietary XHT process enhances a Metalphoto label that resists temperatures up to 1200°F. These high-temperature metal barcode tags are ideal for your work-in-process or product identification applications exposed to extremely high temperatures. Read more about Extra High Temperature Durable Bar Code Labels.
Our Stainless Steel Barcode Labels are designed specifically for applications that require resistance to frequent cleaning with strong caustics, such as food processing, laboratory, chemical, medical, petroleum, textile and marine environments. Produced from Type 316 or Type 304 Stainless Steel, these labels remain durable after exposure in harsh environments. Read more about our Stainless Steel Bar Code Labels.
Other Durable Bar Code Labels: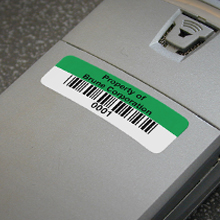 A cost-effective choice for environments that require a durable label, but not the ruggedness of a metal tag. Our polyester bar code labels have a protective overlaminate that provides resistance to chemicals and abrasion. Permanent pressure-sensitive adhesive provides lifetime adherence. Read more about Premium Polyester Durable Bar Code Labels.
An ideal non-metal solution for less demanding applications, certain caustic environments, or where more flexibility is desired. The Premium Polyester Plus Bar Code Label features a thicker adhesive coating (2.0 mils) than our regular Premium Polyester Labels. Read more about our Premium Polyester Plus Durable Bar Code Labels.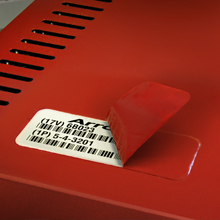 An ideal product designed for production-line applications that include a one-time painting operation. The label comes with a special paint mask designed to remove cleanly after painting, leaving the bar code ready to be scanned. Read more about our Paint Mask Durable Bar Code Labels.
What do Durable Barcode Labels Cost?
Our minimum order for barcode labels is $300 to $399. Higher-volume orders reduce the per-unit cost and exact prices depend on the material construction, size and quantity. Getting an exact quotation is easy; just request a quote for our custom metal barcode labels, our industrial barcode stickers or our industrial barcode tags.
Give us a try – contact us today!
Teflon™ is a registered trademark of The Chemours Company FC, LLC.
How Do Durable Barcode Labels Work?
Durable barcode labels are affixed to physical assets used for identification and asset tracking. The barcode images, depending on the type of barcode, typically consist of a series of parallel lines of varying widths with varying amounts of space between them, or they may consist of a series of rectangles, dots, and other geometric patterns.  They serve as a visual representation of data, with specific patterns of lines and spacing or other shapes in specific patterns representing certain text characters. These visual encoded images can be read by a machine, such as a barcode scanner or image scanner, and interpreted by a computer. Smartphones, when equipped with a barcode scanning app, can also read some types of barcodes.
Durable barcode labels are designed to withstand harsh environmental conditions, such as weather conditions or exposure to extreme cold or heat. Durable barcode tags are constructed of durable materials that protect the barcode image from fading and wear that can render barcodes unreadable. Anodized aluminum, Metalphoto®, and Teflon™ are materials commonly used for durable barcode labels. The barcode image is printed on a layer of anodized aluminum and sealed beneath an anodic layer of the aluminum, offering excellent resistance to chemicals, abrasives, solvents, extreme temperatures, and UV exposure. Stainless steel, treated aluminum, and premium polyester are also commonly used materials. Durable barcode tags offer varying levels of resistance to harsh conditions, depending on the materials used, so it's important to consider the operating environment before choosing durable barcode labels. 
What are the Attachment Options for Durable Barcode Tags?
Typically, durable barcode labels are attached to physical assets with a high-performance, permanent pressure-sensitive adhesive or mechanical attachments. The pressure-sensitive adhesive is designed to permanently bond barcode tags to a variety of surfaces, such as metals, plastics, and textured or contoured surfaces.
Without reliable permanent attachments, barcode labels may become loose or fall off over time or after exposure to chemicals or solvents that break down ordinary adhesives, making it more difficult to identify and track those assets. It also necessitates replacing the barcode label, driving up the overall cost of barcode tagging. By choosing durable barcode labels capable of withstanding exposure to harsh environments, you'll minimize your barcode tagging investment by eliminating the need to repeatedly replace faded or lost barcode tags. 
What Information Does a Barcode Tag Hold?
Barcode tagging is valuable for more than identifying items. Barcode labels may contain a variety of different information depending on the type of asset being identified and the type of barcode used. Some barcodes may contain short item descriptions, item identification numbers, prices, and other information.
Linear, or one-dimensional barcodes, can contain between 8 and 25 characters, except special characters. The more information stored, the larger the barcode image. These barcodes are often used to store item identifying information, such as an item ID number, which is linked to a database containing more detailed information about the asset, such as vendor information, maintenance history, replacement part numbers, location information, and other details. There are several barcode symbologies with varying restrictions and capabilities. Some industry standards require the use of certain decoding symbologies to comply with industry regulations. 
Two-dimensional barcodes can store between 1 and 7,089 characters (depending on the specific type of 2D barcode); however, 2D barcodes can't be read by a standard barcode scanner, instead requiring the use of an image scanner. Unlike 1D barcodes, 2D barcodes can store special characters, images, and even hyperlinks. 
Common Use Cases for Durable Barcode Labels
Durable barcode labels are used in industries with applications that require tagging solutions with a high level of strength and the ability to protect against a wide variety of hazards. Outdoor environments can be especially challenging, and there are only certain materials that can withstand these conditions for long periods of time. Here are a few examples of typical applications for which durable barcode labels are commonly used.
Dispersed Asset Tracking. Durable barcode labels are frequently chosen for government applications, such as for tracking traffic sign locations and conditions. Durable barcode labels are also used for barcoding airport assets to track maintenance and comply with contractual obligations. These entities need to manage assets that are often dispersed over large distances and include items such as traffic and street signs, air handlers on ceilings, and even maintenance areas like hallways, stairwells, and restrooms. With the need for tracking both indoor and outdoor equipment, some of which are outside for the duration of their use, it is important to use a durable barcode for any labeling needs. Conditions certainly vary based on the region of the country or world, but rain, snow, extreme temperatures, and UV exposure are a constant threat in many places. Using a durable solution for barcode tagging gives these industries the confidence that the labels will remain in place and be visible for decades.
High Temperatures. Many industrial applications utilize high heat to manufacture various parts and components. In some cases, the temperatures can reach beyond 650°F and require a special type of durable heat-resistant barcode label. Metalphoto® XHT barcode labels, which can withstand temperatures up to 1200°F, are often the only choice available for such extreme applications.
Site Safety & Compliance. In a number of industries, such as defense and aerospace, there are strict regulatory requirements for equipment operation and management. These regulations may be set by local, state, or federal governments or industry regulators and are designed to ensure safety and good business practices. Because asset management is such an important part of these operations, durable barcode labels are frequently selected as the best solution to meet requirements and ensure a robust and reliable system. Likewise, industrial applications require durable barcode labels for auditing supplies, reviewing maintenance activities, and quickly finding the location of equipment.
What to Look for When Buying Durable Barcode Tags
Selecting a proper durable barcode tag requires a close look at your application's requirements. Choosing a label that is far more durable than your application requires could add unnecessary costs to your project. On the other hand, selecting one which is not adequate could jeopardize the reliability of your asset tracking system. To help, here are a few important things to look out for when buying a durable barcode label.
Surface Materials. A good starting point in the selection process is to consider the surface material of the items to be tagged. Any curved or irregular shapes may require a flexible label material. The general rule of thumb is to choose a label that is at least as durable as the item itself. You can select from the metal, plastic, or specialty tag substrates by looking at the technical specifications compared to the environmental conditions of your application.
Symbology and Design. The right label size, barcode symbology, and design depend on your application requirements as well as the scanning hardware and asset tracking system that you use. Some barcode scanners are only compatible with 1D barcodes, for instance, while others are compatible with ID, 2D, and postal codes. Asset tracking software solutions may also have compatibility requirements, so if you already have a software solution in place, it's a good idea to first determine any compatibility limitations before selecting barcode labels. In addition, think distances that will be used for scanning and how often the tagged items may be moved or relocated.