Industrial Barcode Labels, Stickers, Tags: Metal Bar Code Manufacturer
Camcode has durable barcode labels for every industrial application. These plastic and metal bar code labels, stickers and tags perform in the harshest environments, including chemicals, cleaning processes, painting processes, outdoor exposure and temperatures up to 1200°F. Our most widely used products are listed below. Contact us and we will design the right barcode label for your application!
We are experts in receiving label requirements electronically, managing multiple shipments of products, and shipping labels to meet JIT production systems. Our ability to manage sequential numbering of multiple shipments is proven and guaranteed, making Camcode the top barcode label manufacturer.
Your barcode label choices include: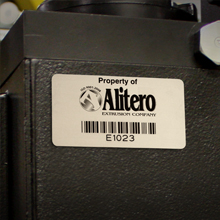 The graphics are sealed beneath a sapphire-hard anodic layer of this metal barcode label, creating an impenetrable barrier to chemicals, solvents, salts, and can survive in temperatures up to 650°F. The result is a durable barcode label design with excellent readability in the harshest environments. This label lasts the life of the part. Read more about Metalphoto Aluminum Durable Bar Code Labels.
Ideal for applications that require resistance to cleaning, pickling and/or painting, e-coat or powder coating processes. These labels also resist contact with caustics and strong acids. Our laminated barcode stickers resists temperatures up to 300°F, and our fused product resists temperatures up to 500°F. Read more about Teflon on Aluminum Durable Bar Code Labels.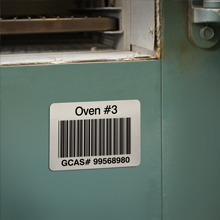 Our proprietary XHT process enhances a Metalphoto label that resists temperatures up to 1200°F. These high-temperature metal barcode tags are ideal for your work-in-process or product identification applications exposed to extremely high temperatures. Read more about Extra High Temperature Durable Bar Code Labels.
Our Stainless Steel Barcode Labels are designed specifically for applications that require resistance to frequent cleaning with strong caustics, such as food processing, laboratory, chemical, medical, petroleum, textile and marine environments. Produced from Type 316 or Type 304 Stainless Steel, these labels remain durable after exposure in harsh environments. Read more about our Stainless Steel Bar Code Labels.
Other Durable Bar Code Labels: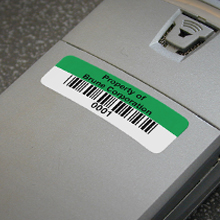 A cost-effective choice for environments that require a durable label, but not the ruggedness of a metal tag. Our polyester bar code labels have a protective overlaminate that provides resistance to chemicals and abrasion. Permanent pressure-sensitive adhesive provides lifetime adherence. Read more about Premium Polyester Durable Bar Code Labels.
An ideal non-metal solution for less demanding applications, certain caustic environments, or where more flexibility is desired. The Premium Polyester Plus Bar Code Label features a thicker adhesive coating (2.0 mils) than our regular Premium Polyester Labels. Read more about our Premium Polyester Plus Durable Bar Code Labels.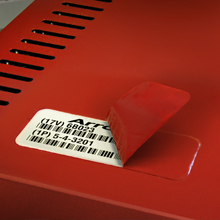 An ideal product designed for production-line applications that include a one-time painting operation. The label comes with a special paint mask designed to remove cleanly after painting, leaving the bar code ready to be scanned. Read more about our Paint Mask Durable Bar Code Labels.
What do Durable Barcode Labels Cost?
Our minimum order for barcode labels is $300 to $399. Higher-volume orders reduce the per-unit cost and exact prices depend on the material construction, size and quantity. Getting an exact quotation is easy; just request a quote for our custom metal barcode labels, our industrial barcode stickers or our industrial barcode tags.
Give us a try – contact us today!
Teflon™ is a registered trademark of The Chemours Company FC, LLC.