Cover-Up Correction Warehouse Rack Labels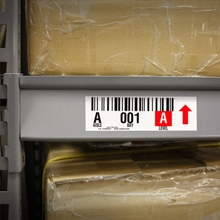 Camcode's Cover-Up Warehouse Rack Label is designed to be installed over existing labels with no bleed-through from the underlying label. This label is constructed of a 2.3 mil cover up film over laminated with a 1.0 mil clear polyester face stock, and a permanent pressure sensitive application adhesive. The adhesive performs well on a variety of surfaces including low and high surface energy plastics, metal, paint and powder-coated paint. Our Cover-Up Correction Warehouse Rack Label has very good abrasion resistance, good resistance to general purpose and household cleaners, mild acids, oil and water.
Need help installing your Cover-Up Warehouse Rack Labels? Camcode now provides Warehouse Installation Services.
Product Features
Special 100% opaque material for no-bleed-through re-labeling or correction labeling.
Superior abrasion and chemical resistance.
Highly readable crisp black and color graphics on matte white background.
Product Specifications
Material
2.3 mil white opaque film over laminated with a 1.0 mil clear polyester face stock.
Adhesive
High-performance permanent pressure-sensitive adhesive.
Label Copy
Several font types are available, as well as logos or other design elements. All type is protected with a clear polyester over laminate.
Symbologies
All common symbologies available, including code 3 of 9, I2 of 5, 128, Data matrix and QR codes.
Colors
Black and color graphics on white background.
Standard Sizes
Several standard and custom sizes available.
Packaging
Shipped in sequential order. 100% no missing numbers.
Shipment
10 working days from receipt of order and approval of artwork. Expedited shipment is available for an additional charge.