Cable Labels: Pre-Printed, Durable Bar Code Labels for Cable Marking
Camcode's Cable Bar Code Labels are designed specifically for cable or hose applications requiring a durable bar code label.
Your product choices include: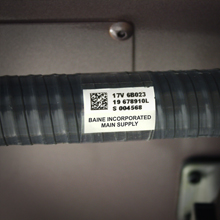 Constructed of a clear polypropylene (or optional polyester for applications requiring short-term UV resistance), Camcode's Durable Polyester Cable Label over-laminates onto itself, encapsulating the bar code within a layer of clear plastic.
What do Pre-Printed Bar Code Cable Labels cost?
Our minimum order is $300. Higher-volume orders reduce the per-unit cost and exact prices depend on the material construction, size and quantity. For help specifying the right cable label and to get an exact quotation, just request a quote.