Cable Labels: Pre-Printed, Durable Bar Code Labels for Cable Marking
Camcode's Cable Bar Code Labels are designed specifically for cable or hose applications requiring a durable bar code label.
Your product choices include: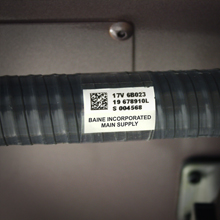 Constructed of a clear polypropylene (or optional polyester for applications requiring short-term UV resistance), Camcode's Durable Polyester Cable Label over-laminates onto itself, encapsulating the bar code within a layer of clear plastic.
What do Pre-Printed Bar Code Cable Labels cost?
Our minimum order is $300. Higher-volume orders reduce the per-unit cost and exact prices depend on the material construction, size and quantity. For help specifying the right cable label and to get an exact quotation, just request a quote.
Cable manufacturers, installers, and owners rely on their cable management plan to keep facilities organized. Labels play an important role in most operations as a means to keep personnel informed and reduce confusion when installing and servicing equipment. Cutting or disconnecting the wrong cable can be a costly mistake, and in some situations, it can pose a safety hazard. As a result, cable labels continue to be used as an easy way to communicate and document important information.
Safety and Convenience. Adding barcodes to cables in a facility or warehouse makes them very easy to track and manage. For suppliers, this is especially helpful, as labels represent a secure option that can be added to the product and used to track it throughout a distribution channel. This keeps inventory counts accurate and further helps the customer sort and arrange their cables for installation. In the case of large industrial builds, cable labels are especially vital due to the large number of materials onsite and often complex layout of supply line installations.
Productivity. Having durable barcode labels attached to cables helps to streamline maintenance and troubleshooting activities. Cable labels ensure that cables can be quickly identified and differentiated from each other, which reduces the risk of misidentification and mistakes. Since cable labels can also be customized, it is possible to display the most critical information that is useful for your operation. Doing so not only makes your team more productive but also helps fulfill any regulatory requirements regarding equipment identification.
Durability. Cables are often stored in mass quantities and can be placed in locations that are challenging to access. With normal use, it is possible for cables, and their labels, to become exposed to various environmental and operating conditions. These can include things like dirt, dust, water and cleaning materials. It is always beneficial to match the durability of your cable labels to that of the cables themselves. Having labels that are at least as strong as the cabling will ensure they will last for the lifetime of the cable.
Common Use Cases for Cable Labels
Cable labels are used in nearly all industries and are especially important for telecommunications and utilities companies that have wide, distributed networks of cables. These labels are also found in many different points of the supply chain, from cable manufacturing through the end use of the products.
Manufacturing and Warehousing. When large batches of cables are manufactured, they must have proper identification on them at all times. Many cables may look the same but may have different internal components that are not visible. They may also have different configurations or connections that can be easily identified by reviewing the label. These durable cable labels offer an affordable and convenient way to facilitate better inventory control.
Distributed Networks. Companies that operate in the power distribution, IT, and telecommunications industries often have to manage a large quantity of cables. By using custom cable labels, they are able to keep their networks organized and prepared for any maintenance or installation needs that may arise. Cable labels made of polypropylene have good UV and water resistance and can be used indoors or with cables that may be exposed to outdoor conditions, as well.