Warehouse signs can make your facility easier to navigate and your staff more efficient, but the sheer number of choices can make the decision-making process somewhat murky. From indoor and outdoor warehouse signs to fixed warehouse signs, aisle signs, warehouse hanging signs, and other options such as retro-reflective signs for long-range scanning, there are a multitude of signage options for making docks, aisles, and areas within your facility clearly identifiable.
Why You Need Warehouse Signs 

Warehouse signs provide the top level of identification hierarchy within your building, enabling employees to narrow down precise stock locations by first identifying the proper area and the appropriate aisle, then identifying specific products using more specific warehouse barcode labeling options such as warehouse rack labels.
Warehouse signs cut down on the time it takes your staff to pinpoint locations for stocking and picking by making it easy to locate virtually any area or aisle within the building from a reasonable distance. That means it's not necessary to stop the forklift to check aisle numbers that aren't easily visible from several feet away.
While many employees know the warehouse layout by heart after a few months, warehouses that frequently re-organize the building's layout and relocate stock (shifting fast-moving, seasonal stock to areas closer to docks and shipping areas, for instance, while off-season stock is moved to harder-to-access areas in the building during off seasons) will find warehouse signs a valuable tool for maintaining productivity despite frequent inventory reorganization and warehouse layout optimization.
Even warehouses that maintain a consistent layout with infrequent changes will benefit from productivity gains by clearly labeling docks, aisles, and other high-level areas within the building for easy navigation. With a custom warehouse signage solution, your organization benefits from: 
Easy pinpointing of products and locations for incoming and outgoing shipments
Easy matching of shipments to the appropriate outdoor dock for streamlined shipping to keep the supply chain in check
Simple identification of rows and aisles for picking and stocking
The flexibility to customize signage to label vendors or categories
Provide traffic cues to streamline navigation, improve safety, and cut down on traffic jams between aisles that hinder productivity
Get more leverage out of your signage investment with multiple attachment options – magnetic attachment for moveable signs, mechanical attachments, or adhesive backers for durable, permanent bonding
Better visibility even in areas where packed-to-the-ceiling inventory typically blocks signage views
Durable outdoor options that withstand harsh weather elements for lasting readability
Gain efficiency and accuracy for meeting consumer demands; improved overall warehouse operations
Simple installation options to reduce material and labor costs and speed time to implementation
Types of Warehouse Signs
Warehouse signs have several different applications. For labeling broad areas of the building, warehouses often use hanging warehouse signs or fixed-mount warehouse signs. Both designed for clear identification and high visibility, these signs hang from or mount to rafters, or they can be mounted to a wall or other surface.
Many warehouses also identify loading docks with signs, both indoors and outdoors. Outdoor dock signs – also used for identifying doors – make it easy to locate the correct location for deliveries, and indoor dock and door signs allow staff to easily report to the proper dock for unloading new inventory.
Warehouse aisle signs make racks and aisle ends easily identifiable from the aisles, reducing downtime for pinpointing aisle locations for stocking and picking. And when you need signs for long-range scanning, retro-reflective signs come in several options and styles to ensure the ideal scanning angle from distances of 50 feet or more, making it even simpler to navigate the facility with precision. Combining these options provides an easy-to-navigate, top-level view of the organizational layout of your facility.
Choosing the Right Dock and Door Signs: Materials and Other Considerations

Because warehouse dock and door signs have both indoor and outdoor applications, the materials used play an important role in the longevity of your signage investment. Outdoor dock signs, for instance, should be constructed of durable materials that can withstand exposure to harsh outdoor weather elements such as wind, rain, and UV. Non-durable signs may deteriorate prematurely or fade, rendering them far less useful for deliveries targeting a specific dock for unloading.
Camcode's Metalphoto® Warehouse Outdoor Door and Dock Signs are specially designed to withstand outdoor elements with an expected exterior lifespan of 20 years or more. Constructed of an anodized aluminum face stock (thicknesses from .008″ to .063″), these outdoor dock signs can withstand not only extreme temperatures and UV but also chemicals, solvents, and abrasion. They will stand up to the harshest weather conditions to resist fading and remain readable for years. These signs are customizable to your needs, as well, with color options available and a variety of printing options such as logos, several font types, and common barcode symbologies.
Indoor dock and door signs aren't exposed to the same harsh conditions as outdoor dock signs, so less-durable materials can be used without shortening the expected lifespan. Camcode's Custom Indoor Door and Dock Warehouse Signs are printed on a tough-yet-lightweight backer (4.0 mil white vinyl face stock) with oversized, crisp text for long-distance readability.
Like outdoor warehouse dock signs, indoor dock and door signs are customizable for every warehouse's unique specifications. From a choice of several font types, common barcode symbologies, and other design elements, there are several ways to create custom, clearly visible identification for your indoor docks and doors.
Buying Considerations for Indoor Hanging and Fixed-Mount Warehouse Signs 

Identifying your docks and doors, both indoors and outdoors, helps to reduce shipping and receiving mix-ups. But within your warehouse, finding the correct area and the specific aisle for picking and restocking can be a time-consuming effort for your staff if they don't know your facility like the back of their hand. In today's fast-paced environment, shipping delays can create havoc in the entire supply chain, not to mention lead to unhappy end consumers.
Frequent delays originating from your facility can quickly cost you valuable business as your customers turn to other fulfillment services to reduce shipping delays and mistakes and boost customer satisfaction among their consumers. Why leave mishaps and mistakes to chance when you can clearly label every aisle within your warehouse?
Hanging warehouse signs can be suspended from a ceiling or beam, offering long-range visibility where aisles and racks can block the visibility of other signage, such as aisle signs. Likewise, fixed-mount warehouse signs can be used in a similar manner, depending on your preferred method of attachment, making it easy to navigate to any area or aisle regardless of obstacles blocking the line of sight to aisle and rack ends.
As both hanging warehouse signs and fixed-mount warehouse signs are typically used for indoor applications, durability isn't as serious a concern – but you do want to get the most out of your signage investment. Camcode's Warehouse Hanging Signs are made from a tough, lightweight, rigid PVC backer with the option of graphics printed directly on the backer or on a white vinyl label adhered to the backer. In either case, you'll get crisp, oversized black graphics printed on a white background for easy readability from a distance. You can choose to print any common symbology, logos, or choose from several font styles and color elements for a completely custom signage solution.
Camcode's Fixed-Mount Warehouse Signs offer similar durable construction, made from a rigid PVC backer with holes or adhesive strips for mounting. Printed with oversized, crisp black text in several font options, barcodes, or color elements of your choice such as a logo, fixed-mount warehouse signs ensure high visibility and long-range readability.
Warehouse Aisle Signs: Customization Options, Materials, and Other Considerations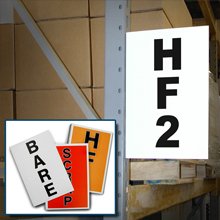 While hanging and fixed-mount warehouse signs offer exceptional visibility from long distances, labeling every aisle with a clear and visible aisle sign ensures that aisles are identifiable from a variety of distances and locations. Camcode's Custom Warehouse Aisle Signs make it possible to label every rack and shelf end with your custom numbering system, fonts, colors, and other elements to ensure your racks and shelves are easily identifiable, which enhances staff productivity and reduces errors at the same time.
Constructed of the same proven, rigid PVC backer as our hanging and fixed-mount warehouse signs with graphics printed on a 4.0 mil white vinyl face stock, Camcode's Custom Warehouse Aisle Signs offer durability coupled with exceptional long-range readability. Custom-designed to meet your warehouse's unique specifications, oversized, crisp black graphics are printed on a white background for easy readability, or you can choose from any combination of logos, color elements, a choice of several font styles, barcodes, and other options for a customized solution that streamlines navigation within your facility.
What's more, Camcode's warehouse aisle signs are designed to meet the needs of the modern warehouse with flexible attachment options. For warehouses that frequently relocate stock to make high-demand inventory easily accessible or in close proximity to loading docks, magentic attachments help you get more leverage from every aisle sign investment by making it easy to relocate your aisle signs as needed. You can also opt for holes for mechanical attachment (ideal if you reorganize your layout less frequently) or adhesive strips for a permanent bond.
Retro-Reflective Warehouse Sign Solutions for Long-Range Applications
Warehouses are large buildings by design, but the sheer size of some warehouses can mean reduced productivity without proper planning as staff make their way from one end of the facility to the other to pick or restock inventory or other purposes. Retro-reflective labels are perfectly suited for your long-range scanning needs, readable from a distance of up to 50 feet with a long-range barcode scanner.
Retro-reflective warehouse signs are available for every application in similar styles as hanging and fixed-mount warehouse signs, as well as other options. Like other warehouse sign options, retro-reflective warehouse signs are customizable to create a signage solution that complements your facility's layout and workflows.
Regardless of the complexity of your layout or uniqueness of your specifications, Camcode's selection of warehouse signs is completely customizable to meet your needs and accommodate, rather than interrupt, your existing workflows. Whether you restructure your facility's layout quarterly or maintain a static floor plan, warehouse signs provide the top-level labeling hierarchy to make your facility easy to navigate, inventory simple to locate, and shipments more accurate and on-schedule.
Other Helpful Resources: Learn More About Warehouse Labels, Warehouse Management Software, Inventory Management, and More from the Resources Below: 
Asset Tracking Solutions from Camcode: