Warehouse signage and label solutions encompass a variety of tools that improve navigation, streamline picking and stocking, and enable better optimization of layouts, slotting, and processes by facilitating automatic data collection. While warehouse rack labels and dock signs may be the more obvious label solutions that contribute to these outcomes, warehouse floor labels are an often-overlooked resource that offer several benefits.
We've put together this guide to serve as a resource for warehouse operators and managers who are researching warehouse label solutions or seeking to add warehouse floor labels to their existing label solution.
Click on a topic below to jump to a specific section:
Why Choose Warehouse Floor Labels 
At first glance, it may seem illogical to place a barcode label on the floor of a warehouse facility. After all, being constantly worn by weight and abrasion from forklifts, carts and trucks, order pickers, and other warehouse equipment would wear down even durable labels to the point of non-readability. But there are some specific use cases for floor labels, such as situations in which:
There's no convenient location for a standard label.
You need to label product stored in unconventional areas (such as product unsuitable for rack storage).
You need to label product temporarily, thus require a label that is easily relocatable (vs. a hanging sign, for instance).
There are various options for hanging warehouse signs that are easier to relocate than others. Still, doing so requires both time and equipment: Someone has to reach a height at which they can feasibly remove existing signs and relocate them to a new area. Coordinating the use of ladders and equipment and blocking off what may be a high-traffic area to move hanging signs isn't a task that most warehouse operators want to perform on a frequent basis.
Finally, sometimes floor labels are simply more accessible when warehouse workers are on the move and need to quickly scan areas as they pass to pinpoint their target destination. Many warehouses utilize both hanging warehouse signs and warehouse floor labels, in addition to other labeling options such as rack labels, retro-reflective labels, and application-specific options such as cold storage labels for a comprehensive solution that streamlines workflows and drives optimization.

Image via Pixabay by delphinmedia
Types and Materials
Warehouse floor labels come in two primary types:
Screw-Down Warehouse Floor Labels – Designed to be indestructible, Screw-Down Warehouse Floor Labels are constructed with a 1/8″ beveled aluminum frame for protection, which is anchored to the floor using four concrete anchors. A Metalphoto® aluminum pre-printed bar code label (printed on .012″ anodized aluminum face stock) with semi-permanent adhesive is placed within the frame, protecting the label from ongoing wear and tear from equipment, pallets, and other traffic. While the frame is anchored securely to the facility floor, these labels are designed to stay in one place. That said, the frame itself is the component that's actually anchored; therefore, it's simple to switch out the label should you store different product in the same area or need to switch labels for any reason. Camcode's Screw-Down Warehouse Floor Labels come complete with four concrete anchors as well as a concrete drill bit and Phillips-head bit, offering a complete solution to enable easy installation. 
Peel & Stick Warehouse Floor Labels – For warehouse operators who don't want to or aren't authorized to drill holes into the facility floor,  Peel & Stick Warehouse Floor Labels are the perfect solution. The most durable adhesive-applied floor label, Camcode's Peel & Stick Warehouse Floor Label Kit installs in half the time it takes to install screw-down floor label systems. You're not sacrificing durability by opting for peel and stick labels, either: a protective 1/8″ beveled aluminum frame is secured to the floor with specially formulated adhesive designed to easily and securely adhere to a prepared floor surface. Like Screw-Down Warehouse Floor Labels, Peel & Stick Warehouse Floor Labels rely on the durable frame to spare the label itself from rough, continuous abrasion from equipment and pallet traffic. A Metalphotoaluminum pre-printed bar code label (.012″ anodized aluminum face stock) with semi-permanent adhesive is placed within the frame, offering the same durability and long-life readability of other Metalphoto labels. What's more, it's also possible to simply change out the label in Peel & Stick Warehouse Floor Labels rather than remove the entire frame. The label can be popped out with a screwdriver and replaced with a new label anytime a change is necessary.
The exceptional durability of Metalphoto labels combined with the protective design of the beveled aluminum frame makes both Screw-Down and Peel & Stick Warehouse Floor Labels are rugged solution for the tough warehouse environment.

Benefits of Warehouse Floor Labels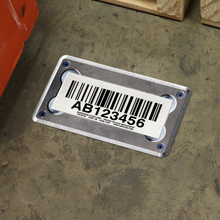 Any barcode label designed to be placed on a warehouse floor must have the strength and endurance to withstand constant pressure and abrasion from fork lifts, foot traffic, pallets, and other equipment and machinery common in the warehouse environment. Warehouses are constantly bustling with activity, with traffic so heavy in many cases that it can lead to congestion in aisles and other areas without effective layout optimization. Of course, to achieve optimization and boost efficiency, warehouse operators rely on data to determine which products to store in low- and high-traffic areas and in what proximity to loading and shipping docks.
Warehouse labels facilitate automatic data collection, yet it doesn't make sense economically to invest in label solutions that can't hold up to continuous wear-and-tear. Durable warehouse floor labels like Camcode's Peel & Stick Warehouse Floor Labels and Screw-Down Warehouse Floor Labels are able to withstand everyday warehouse traffic, allowing warehouse workers to carry on with usual business activities – including cleaning activities – without the risk of reducing the lifespan of a costly investment in warehouse labels.
Camcode's warehouse floor labels feature highly readable, crisp graphics printed on a black or silver background, with the image sealed below an anodic layer of aluminum for superior durability. This design ensures that even with exposure to items such as solvents used for cleaning purposes, your warehouse floor labels will remain readable so that you get the full value from your investment. And, because the protective, durable frame is beveled, your forklifts, tow motors, and other equipment won't get their tires hung up on raised label edges.

Buying Considerations
Determining whether screw-down or peel and stick labels are best-suited for your facility is the primary buying consideration when selecting warehouse floor labels. This decision hinges on whether or not it's possible to alter the facility floor. Both options allow for replacing the barcode label with another; however, screw-down labels are anchored with concrete anchors and thus will leave permanent holes in the facility floor.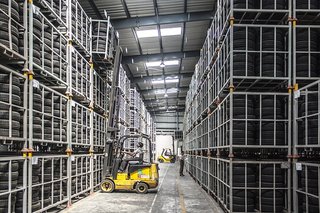 Like other types of warehouse labels, there are many options in terms of the look of your warehouse floor labels. While the basic construct is the same for all options to ensure durability, it's possible to customize your barcode label with a choice of several font types, logos and other graphic elements, and all common symbologies, including code 3 of 9, I2 of 5, 128, Data matrix, and QR codes. This breadth of options ensures that warehouse operators are able to maintain consistency with other warehouse label solutions used throughout the facility (in terms of symbologies and other specifications) for a complete, customized, and comprehensive warehouse label and signage solution that supports your workflows and enhances productivity.
Image via Pixabay by pashminu
Asset Tracking Solutions from Camcode: